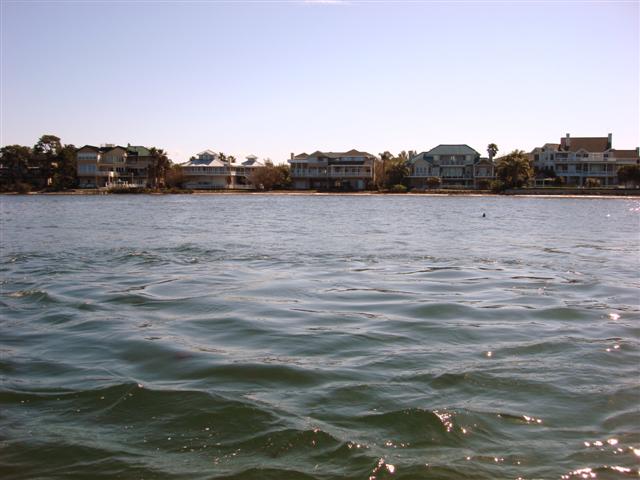 Portions of the following information were taken from Florida Geological Survey Bulletin 66.
From the intersection of US Alt 19 and Crystal Beach Avenue in Crystal Beach, head west on Crystal Beach Avenue approximately 0.5 miles to the intersection with Mayo Street. Turn south (left) onto Mayo Street and travel approximately 0.4 miles to the intersection with Florida Boulevard. Turn west (right) onto Florida Boulevard and travel approximately 0.1 miles to a 90 degree bend in the road to the south. This road becomes Point Seaside Drive. Drive south on Point Seaside Drive approximately 0.1 miles and the submarine spring is located just 0.1 miles offshore in St. Joseph Sound. It is directly offshore from some private homes.
Description
– Crystal Beach Spring occupies a roughly circular, bowl-shaped depression 40 ft in diameter. Maximum depth is 25 ft. Some sea grass grows along the edges. The bottom is sand with limestone and barnacles. The water at the vent opening is clear but is surrounded by cloudy bay water and therefore the spring is only discernible by the large boil visible on the surface. The spring is located off shore and has no associated run. The developed coastline is directly east of the spring and the rest is surrounded by open water associated with St. Joseph Sound. Discharge was estimated at 5 to 10 ft3/sec(1).
Date
Submitter
Visbility
Remarks
6/14/2014
Dave Jones
10-20' (SW) 30-40' (FW)
We dropped in after the high tide one day after full moon, so the cave was siphoning seawater. This made negotiating the first three restrictions a snap, since there was mild flow going in. Once we were a couple of hundred feet or so along the Gold Line we started hitting pockets of much cooler (and clearer) freshwater trapped against the ceiling. Eventually this gave way to two distinct water masses and I swam with my mask at the interface of the halocline. At one point the salty layer veered off to the right, forming what looked like an underwater waterfall flowing down a small passage. It re-entered the main passage a couple of hundred feet farther where it once again combined with the freshwater layer. It was quite interesting to see these two water masses intermingle as the salt layer flowed inward and the fresh layer tried to flow outward. We turned the dive in the R&B room, where there was still a healthy dose of seawater. While exiting we noticed a good-sized blind crayfish, the remains of a turtle, and an LED backup light attached to a Goodman handle near the Changing Room. The light had apparently been in there since Easter and still worked. Overall, visibility was 10-20' (seawater) and 30-40' (freshwater).
7/21/2012
Andy Pitkin
20-30'
My first dive in this cave. Very cool. Blowing very clear water out of the entrance, which is not bad in sidemounts. Had to do it twice after the clip holding my fins came undone and I had to do a search pattern in the depression around the entrance to find them. Scootered back to the T and went right for about 3-400', vis maybe slightly better there. Came back and went into the Dragon's Lair - very strong halocline and worse visibility, maybe 15-20'. Apart from a few minor gear issues, a fun dive.
8/18/2010
Brett B Hemphill
Crystal Beach
As to the remark made on 5/7/2010 concerning AMAZING room. This was a comment translated by a friend. The new section is more of a large passage about 15' high and almost 60' wide. The passage is running at a depth just bellow 120' as I recall. There are at least two lenses in the water halocline and possibly bacterial in nature. As you move into the cave threw this almost 500' section of passage there are several large pits in the floor with tannic water in them that nearly take up the entire width of the passage. The tannic water is being held at bay by the pressure of the water flowing over the top. The depth of these pits is still as of this time a mystery. It is some of the STRANGEST PASSAGE I have ever seen. Brett.
8/18/2010
Bill G.
20-30
Flow was kicking HARD!!!! Struggled through the third restriction. First 500 feet looked great. Heavy evidence of recent flooding. Vis. was low as normal, about 20 feet in most spots, lower in others.
5/11/2010
Scott Pulliam
40'
6 Hr. duration between tides. 80 degree saltwater temp. Light wind. I love diving in May.
5/7/2010
Brett B Hemphill
40
Another AMAZING dive. We pushed the EOL and added another 450' to the most beautiful room I have ever seen in a cave!
5/4/2010
Brett B Hemphill
40'
Blue sink or BUST.
3/14/2010
Walter Pickel
40'
We ended up having a perfect day to be out on the water. After some challenges at the entrance, the team got everything sorted out in the Fitting Room. The team ended up making it the R&B Room and turned the dive. The flow is very positive but viz was as good as it could be.
9/22/2006
Maestro
45'
The system is flowing through all tide cycles except extreme highs. Even during extreme highs, it is not siphoning. It is hazy but clear and it is a good time to dive the Beach. The boat is now sitting on top of the hole.

Added 175' of line at the end of Cookies and Cream. The line now ends at a side mount restriction around 4,100'.
11/11/2005
Eric Deister
40' - 50'
Mom guess what? Remember me talking about Crystal beach? Well I finally got someone to take me out there! 4 of us went to the site (1 was a very nice young lady who watched the boats [and threw trash in to the water!]). We rented 2 boats and made our way out to cave. After about a 20 minute boat ride we came up on the boil, both of the guys I was with said it was way UP, we were hitting it about 3 hours after high tide and low tide was in about 3 hours away. Getting in to our suits and jumping in the 2 feet of water we started to haul tanks down to the spring head. Vis was about 5 feet in the basin. Earlier the lead diver – Maestro told me about the site "he's laid most of the line in there and most of the mapping", the way to get in and what to expect in there. He also showed me the "TACO" configuration for doubles. So jumping in the water with my drysuit and weight belt I headed off to the entrance. Castro (the other diver - a cigar smoking, gun nut, distiller, who's political view I kind of agree with) said that the boat in the spring has gotten closer to the entrance. Maestro went in first then Castro, pushing Maestro's and his gear in, all the while our vision is blurred do the mix of fresh and salt water. I watched my doubles with my stage bottle go in front of me as I pushed my "entrance / exit " bottle in the small hole, I kept thinking to myself that the flow isn't that bad. Making it past the first of three restrictions we leaped frogged moving in to past the 3rd where we rigged up and headed into the system. I've never see so many crayfish, the whole place was full of life, some real cool formations and other things that you have to see, not read about. We went up the main line to about 2,600' which is called Cookies and Cream, we also went to the Dragon's Lair which is well deserving of it's name. Exiting out was as just as fun as coming in, taking off all our gear, putting on a weight belt and making a "Taco". Then back out. After that it was a trip back to the dock (with some minor boat problems) and a nice dinner.

So that was a:

Boat dive
Wreck dive (small boat in the spring)
Cave dive
No mount
Back mount
Fresh water
Salt water

Dive. Nice!

Next report- Rich and Walter's dive in Ginnie's Ballroom.
Click here if you would like to contribute any information or resources for this system.
Sslect Search Radius:
| System | Depth | Cave | Cavern | OW | Last Report | Distance (mi) |
| --- | --- | --- | --- | --- | --- | --- |
| Howard Park Sink | 94 | True | False | False | 10/6/2019 | 5.1 |
| Wall Spring | | True | True | False | 10/22/2010 | 1.7 |
| Knight's Sink | 170 | True | False | False | 4/18/2006 | 4.1 |
| Tarpon Springs Marina Sink | | False | False | False | | 5.5 |
| Cobbs Sink | 110 | True | False | False | | 6.8 |
| Hidden Lake Sink | 80 | True | False | False | | 4.1 |
| Tarpon Springs Sink | 115 | True | False | False | | 4.6 |
| Lake Tarpon Sink | 170 | True | False | False | | 4.2 |
| Blue Sink | 130 | False | False | False | | 1.1 |