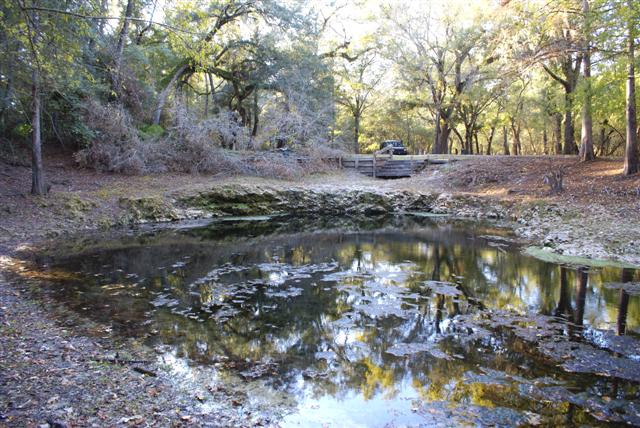 Portions of the following information were taken from Florida Geological Survey Bulletin 66.
Ruth Spring is located 4 miles northwest of Branford within the SRWMD Troy Spring Conservation Area. From the bridge over the Suwannee River in Branford, travel west and northwest for approximately 4.8 miles on US 27, then turn north (right) on CR 425. Drive 1 mile and turn east (right) into the Troy Spring Conservation Area. Follow dirt road 1.1 miles, turn north (left) on another dirt road and continue 0.1 mile to the spring.
Description
- Ruth Spring pool measures 75 ft in diameter north to south and 51 ft east to west. The vent is located beneath a limestone ledge on the west side of the pool, where the depth measured 5.9 ft. There is a wooden erosion control wall built along the west side of the depression approximately 3 ft higher than the spring water level at the time of the visit. The bottom of the spring pool is mainly exposed sand. Limestone crops out around the pool edge. The water is clear, with a slight greenish hue and a small boil present on the pool surface near the vent. There is very little aquatic vegetation and algae. The shallow, sand-bottomed spring run travels eastward approximately 550 ft and flows into the Suwannee River. On the south and west sides of the spring, the land rises steeply to approximately 20 ft above the lowlands that contain the spring and its run. All lowlands and adjacent uplands are forested. There is a dirt access road and small parking area near the west side of the spring. Ruth Spring also is locally known as Sulfur Spring. Local swimmers reported that the spring often has a slight hydrogen sulfide odor, but this was not the case in March 2002.
Utilization
- The spring is undeveloped, open to the public, and is a popular local swimming area.
| Date | Submitter | Visbility | Remarks |
| --- | --- | --- | --- |
| 6/11/2023 | Ghost | 30 | Been Diving this system quite a bit recently, went almost 5000ft back, if diving this system expect 0 viz exits, love this system its very fun Seems there are multiple sulfer springs in the cave system at 750ft is the first sinkhole off to the left in a tight space, after that is X log jammin where following the line you come within a few feet of the surface at the second sink 930ft back, after that is the third sink hole further back assuming at 1600ft where placing a marker would be suggested, after that around 2000ft in is the main T where main line connects to another line that goes right or left to the right at the T is nice sandy clean tunnels where iv been 4000ft, to the left is more silty and sulfer tunnels, really cool looks like fuzzy bacteria all over the walls with white almost like spider webs everywhere with a neat restriction almost like the lips at ginnie springs, I re-tied the T so its a little more secure, line is black but in decent shape It takes me around 40 minutes to make it to the main T turned after 60 minutes, total dive 95 minutes |
| 4/2/2023 | Ghost | 30-35 | decent viz, some sections line is hidden under silt, at 3rd sink where 1st T is, it was under silt and we didn't even see that it went to another tunnel till we were heading back down from the surface, if diving here be aware you will loose viz a few times normally |
| 1/2/2022 | Jenny Dillaman | 10-20 | Basin was nice and clear, some flow, wish there was more because of the crazy amount of silt. Sidemount only. We had sidemount with choptimas and found we were still to big to fit through some of the restrictions. Could have dug through but the silt produced would have trashed it and not enough flow to clear it out. |
| 11/27/2021 | Matthew Perkins | 10 ft | Low Flow and Silty. Line covered in sand dunes in a few places. Zero viz in a few places pushing through on the turn. Better to let if flush out for a second at times. |
| 4/16/2021 | Greg | 10-20 | First time at this site. Water level below bottom step. Vis was 8-10 ft initially with appreciable flow. Vis gradually improved and By the time we made it to the sink vis was 20ft. Had to really scrape through one sandy restriction to make it to the sink. Much easier to get through the other direction with flow assisting. Plenty of percolation. Line is darkly stained as are the arrows but in good condition. Tan coloration of limestone reminds me of Peacock. |
| 11/29/2020 | Joseph Firkaly-Paciera | 30-40ft | Had some campers at the site they were nice. Low algae growth in the run. Vis was surprisingly good on the way in, flow was not strong enough to clear out all silt on way out. |
| 5/25/2020 | diver | 10-15 Ft | Max depth 56 ft with the cave rising to as shallow as 17ft. Found some beer bottles over 600 ft back into the system. Cool dive, a lot of particulate but mild flow. Jump to nowhere did have a slight hydrogen sulfide smell so would guess that's where the "Sulfur Spring" smell comes from. That jump line was slack so don't think anyone has been back there in awhile and didn't go far on that jump as think it would silt out fast. Fun Dive. |
| 2/2/2020 | KERRY VESS | 25-30 | Vis 25-30 till I got to about 400 feet in and went to less than 5 turned the dive and exited slight Sulphur smell layer of silt on everything |
| 5/12/2019 | Mikel Scarn | 30-40 | Did several dives here over the past week. Flow made it a lot of work to swim in with nothing to grab onto. Line is in decent shape. The stretch between the entrance and first sink is easily passable. In many places the line is buried under sand, with the problem becoming more severe the further back you go. After digging through several restrictions we turned around, the passage being almost completely blocked by sand dunes in several places. |
| 12/8/2017 | Peter | 20' | Basin is full with a healthy runoff flow. There was a slight sulphuric whiff at the surface but I did not see any sulfide layer in the cave. Cave line and silt stakes in good shape. Gentle flow in cave. |
| 11/21/2016 | Jason | 20 | Looks pretty decent from the surface. 15-25 feet. |
| 7/25/2016 | Sandy Koster | 20-40 ft. | Awesome dive. Passed 1 sink to gap before Big Sandy, a double restriction requiring one to plough through a sand dune, and then back to the T, ~p.1212, where we turned the dive. Look for some cool, old bottles. Max depth was 57 ft. good vis., nice parking, and overall, great dive. |
| 9/4/2015 | Victor | 30-40ft | Visibility was fantastic. I was told it had become much improved with rising river levels relative to the day before (10-20ft). |
| 1/5/2015 | FW | < 2' | Ruth is part of Troy Spring state park. Here is the alert from the troy website. Park Alerts for Troy Spring State Park Due to rapidly rising water levels, and brown out of the spring creating unsafe conditions, Troy Spring State Park has been closed to swimming and diving until conditions improve. Please check back for updates or call the park for more information. 12/26/2014 |
| 11/29/2014 | Peter | 10-20' | Basin full of clear water with big runoff channel to Suwanee. Slight current inside cave. Very silty makes it a challenge to not silt out at restrictions but cave opens up to lots of space. Turned at chimney. |
| 10/16/2013 | Bluetickle | 10-20 ft | High flow and hazy poor conditions. I've seen better. |
| 6/3/2013 | Eli | 10' | dark & dirty. extremely tight sidemount squeeze burrowing thru sand & sticks just before the sink. fun tho. |
| 1/1/2013 | Xenia | 40-50 ft | Did two dives. Lots of catfish. Did not see any crayfish. Gorgeous cave. First dive went past the sinkhole witout a name turned it 200 ft in before the duckunder. Secont dive we went further up to the end of braided line (1200 ft). Line changes to twisted and it got quite nasty for two people about 100 ft past that. |
| 7/1/2012 | Kristi Draper | unknown | Flood waters from Tropical Storm Debby have encroached into the parking area. The parking barriers are barely above water. The springs looks like a garbage dump with all the debris from careless day trippers. I was there on 7/1 to evaluate flooding only and did not dive. |
| 10/22/2011 | Jerry | 30 | No flow; green but clear. |
| 7/9/2011 | flyczek | 40 | low flow and excellent vis. road is in good shape, but even the bad weather and late night dive time didnt't keep crowds away. when we surfaced at second sink the dead tree collapsed into the sink entangling and or burying some of the line in a mass of debris. we cleaned it up best we could, line is now tied to limestone at surface. continued past the T until I couldn't fit. lines a bit loose in this area, but I left them alone |
| 1/27/2011 | Atedeschi | 20' | first time here, awesome lil cave, def something different then the normal. Check out narceddiving.blogspot.com for full report. |
| 10/2/2010 | James Garrett | 30-50ft | Viz was enough to see most all the cave even in the bigger rooms. Very mild flow. |
| 6/22/2010 | fgray1 | 5 ft | one word NASTY. Vis is way down. Silt is real bad. Mild flow once inside. |
| 6/19/2010 | Michael | 15-20' | Water is now down below the steps, about 3' below rock overhanging the entrance. Road is washed out, but passable with care by most cars--either straddle the rut if you can handle the drop off at the bottom, or stay to the side, but either way, stop and look before you drive down just to be safe. Viz isn't amazing, but perfectly good enough to enjoy the dive. Dusty enough inside that the first diver sees more cave. |
| 3/27/2010 | Mathew Bull | Uber Flooded | Water was up past the wall and just the top of the handrail was sticking up above the water's surface. Floodplains are flooded. Water level was a good 4-5' higher than in January. |
| 1/16/2010 | Mathew Bull | Tannic from the surface | Tannic water from elevated river levels, getting a bit difficult to get out there with the wet roads(dirt). Didn't dive it. |
| 11/27/2009 | Shirley Kasser | Good | Nice, but very slight, flow...just enough to keep things cleaned up behind me a bit. Viz was was nice for a such a silty little cave. |
| 11/15/2009 | Fred Gray | 15 ft | No flow to speak of. lots of silt, Went back to the sink with no problem but there were a couple of tight spots. Don't do it in back mount the mounds are way up. |
| 9/20/2009 | Stanley Fatmax | 20-30 | good flow for ruth, especially at the verticle restriction. lots of organic fluff. great dive |
| 8/29/2009 | Craig Gaffka | 10 | The flow seems to be about normal for Ruth, viss in the cave was low. Line seems to be in good condition. |
| 8/8/2009 | Billy Fowler | 20-30 | The Basin looks great, slight green tint and a high flow. The viz was 30 ft at the entrance and through quite a bit of the cave but in some spots it dropped to about 15 ft. I freed the line from the spots where it was buried and in one spot I tied it to the ceiling to keep it from getting buried again. Looks like there's a new passage into the sink, after getting past the buried line I got to where I could see light but the line went to the right instead of up to the sink, at first I assumed someone had rerouted the line after this year's flooding, I continued up the line which started to head up and then I saw light and I realized that this was the original route and that the other opening was new. Looking at the map there is a bulge to the left just before the sink; I believe that this is what connects to the sink. |
| 7/25/2009 | Cwalters | 20 - 25' | A very interesting dive in Ruth for the first time in several months. Basin is clear with a green tint. There is substantial flow in the system, far more than we had ever experienced before. The flow seemed to increase in the deeper area of the cave, especially near the spot where the line goes straight up. Perhaps there is another vent in this area or maybe the flow is more constricted. There is heavy flocculant material everywhere and any movement stirred it up above and below; however, the higher flow flushed it out quickly keeping the viz. reasonable most of the time. About 100' before the second sink, the line is buried by a large sand mound and we ran a reel to gap the buried line. Shortly after the line reappeared, it disappears again in another pile of sand that we didn't attempt to pass because the passage over it was quite small or possibly not passable and we turned the dive at this point. Other than the buried spots, the line is in reasonably good condition except that what had been the line in the "jump to nowhere" was flapping loose in the main tunnel and we removed it. I walked back and looked at the second sink after the dive and it appears as usual with obvious flow coming out of the cave beyond the sink. As always, the area around the sinks looks very unstable. |
| 12/2/2008 | Ginger | pretty good | The vis is alright, little bit of flow going through the cave. Area between Ruth Springs and the first sink has a bunch of dead baby cat fish in it. Very strange as it is the only part of the cave where this happens. The tree is still in the second sink, you can get through but be careful when negotiating as the area is unstable. |
| 10/12/2008 | Raphael Tremblay | 20 | Vis 20'. Flow is significant enough to ride out. No need to kick much to swim out. Line is under silt at a few spots but in good shape. SM cave. |
| 9/19/2008 | Stanley Fatmax | 10-15 | flow is up and should clear out in the next few days. |
| 6/12/2008 | Cwalters | 30-35' | Pool clear with slight green tint. Viz. in cave around 30' on average and flow a little more than I remember pre-flood. The primary line is in good shape as far as I went. Very nice! |
| 5/2/2008 | Koltz | 5 (in basin) | Springing again...slight boil visible. Basin is very green. Visibility can't be more than 5 feet. |
| 4/15/2008 | DogDiver | 2 | Water is down out of the parking lot. Only one step is covered with water. However, no movement of water is observed. Clear tannic in the basin and nasty bottom. Maby in a few more weeks... |
| 2/28/2008 | DogDiver | 0 | Flooded and reversing |
| 2/22/2008 | Jerry | 25-30 | Vis wasn't bad-bigger than the cave in most places; next to no flow. Getting through the sink wasn't any issue. Gorgeous cave; lots of amphipods. |
| 2/22/2008 | Stanley Fatmax | beautiful | take a saw in there and expect a can of ass whoopin |
| 2/1/2008 | Ken Anderson | 20 | Did the traverse to the unnamed sink located a few hundred yards away. Getting past the fallen log that blocked the passage was a b****. Think I'll take a small saw along or toss it into the sink before I go in to relieve some stress on the one section of this system.....nice sidemount dive. |
| 1/27/2008 | Ken Anderson | 30 | Nice dive, a sidemount heaven. Lots of silt, lots of restrictions and minimal flow. Just enough to clear out the silt monsters. I was supprised to find double arrows pointing in opposite directions. Didn't know this was a traverse..... After the dive we scouted the area and found the traverse sink about 200 yards away. The area site is clean and the forrest service has put new limerock in the access road. Ken |
| 11/28/2007 | Jay Titen | 25' | Nice dive. Vis was kinda cloudy and was about 25' max. Line is in good condition. Flow was low and barely noticable. |
| 5/25/2007 | Paul Hartwick | 25 | Great dive - no flow and line is in good condition. |
| 11/19/2006 | Walter Pickel | 35' | Many thanks to Corey for introducing me to this place. It reminds me a lot of Wayne's World. Same heavy localized silt and beautiful formations. We did almost 1,000' and decided to turn it as we were running out of dive time (I had to get back to Tampa). The lines are in good shape and there are also distance markers to at least 900' (last one I saw). |
Click here if you would like to contribute any information or resources for this system.
| Description | Type | Date | Author | Remarks |
| --- | --- | --- | --- | --- |
| Map | Map | | | |
| System Map | Map | 2007 | Joel Clark | |
Sslect Search Radius:
| System | Depth | Cave | Cavern | OW | Last Report | Distance (mi) |
| --- | --- | --- | --- | --- | --- | --- |
| Little River | 110 | True | True | True | 4/30/2023 | 0.6 |
| Peacock Springs - Peacock III | 214 | True | False | False | 3/12/2023 | 12.7 |
| Peacock Springs - Peacock I | 175 | True | True | False | 11/17/2022 | 12.8 |
| Royal Spring | 50 | True | True | True | 11/15/2022 | 8.4 |
| Peacock Springs - Orange Grove | 175 | True | True | True | 3/30/2022 | 12.9 |
| Cow Spring | 110 | True | False | False | 10/10/2021 | 11.1 |
| Troy Spring | 70 | False | True | True | 9/16/2020 | 1.4 |
| Owens Spring | 45 | True | False | False | 10/7/2019 | 5.2 |
| Suwannee Blue Spring | 40 | True | False | False | 6/28/2016 | 8.1 |
| Convict Spring | 30 | True | False | False | 11/23/2015 | 9.6 |
| Mearson Springs | | True | False | False | 6/6/2015 | 4.3 |
| Peacock Springs - Peacock II | | True | False | False | 4/8/2015 | 12.8 |
| Peacock Springs - Waterhole III | 55 | True | False | False | 9/26/2013 | 12.9 |
| Bathtub Spring | 20 | True | False | False | 2/5/2011 | 9.8 |
| Peacock Springs - Baptizing Spring | | True | False | False | 8/15/2010 | 13.5 |
| Branford Spring | 101 | True | False | False | 1/16/2010 | 4 |
| Bonnet Spring | 48 | True | False | False | 8/15/2009 | 13.1 |
| Hidden Spring | | True | False | False | 6/1/2006 | 11 |
| Double Sink | | True | False | False | | 5 |
| Running Springs | | False | False | False | | 11.2 |