Rated 2.4/5 stars (126 ratings) Thanks for rating this cave system!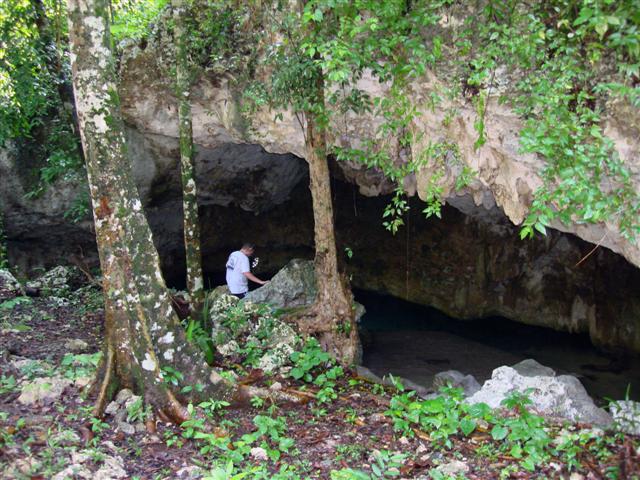 The land owner is Jose Copertino Mass Mahla. The maximum depth is 48 feet/14.6 meters. There are several openings to the surface with one named Cenote Koi.
| Date | Submitter | Visbility | Remarks |
| --- | --- | --- | --- |
| 6/18/2011 | Jeff Schreiber | 100 | First dive in Nai tucha to the Mastodon bones. Awesome, and Coop has run the road to 100' from the sink. Second dive in Coop 1, it's been excavated for an easier entrance then down the well. just awesome. |
| 3/16/2009 | Don Currie | 100' | Same dive was Walter. This place rocks. Connie said that this would be Mexican Power Cave all the way and she was right. Huge passage, lots of decoration. The walk to the water is a bitch, but I had help from the tank sherpa...yeah, I'm lazy when I'm on vacation :-) |
| 3/16/2009 | Walter Pickel | 100' | Took a different path this time. Instead of taking the T to the Mastodon bones we went right. We were looking for a recent discovery by Steve Gerrard of some large animal bones near the next cenote. Unfortunately, the team spent so much time looking for the jump we expended a lot of gas. After Connie put in the final jump to the tunnel with the bones I was close enough to thirds to turn it. I am simply amazed by this system. |
| 10/9/2007 | Walter Pickel | 100' | We dove the mainline to the Mastodon bones then turned. What and amazing system. |
Click here if you would like to contribute any information or resources for this system.
| Description | Type | Date | Author | Remarks |
| --- | --- | --- | --- | --- |
Sslect Search Radius:
| System | Depth | Cave | Cavern | OW | Last Report | Distance (mi) |
| --- | --- | --- | --- | --- | --- | --- |
| Nahoch Nah Chich | 235 | True | True | True | 7/15/2021 | 4.5 |
| Vaca Ha | | True | False | False | 11/13/2018 | 7.4 |
| Gran Cenote | 50 | True | True | True | 9/13/2014 | 8.5 |
| Car Wash | 70 | True | True | True | 5/6/2014 | 7.4 |
| Taj Mahal | 60 | True | True | True | 10/11/2013 | 12.5 |
| Minotauro | | True | False | False | 10/4/2013 | 12.7 |
| Kolimba | | True | False | False | 12/4/2011 | 8.3 |
| Muchachos | 70 | True | False | False | 11/21/2011 | 7.9 |
| Xunaan Ha | 45 | True | False | False | 11/14/2010 | 4 |
| Dos Ojos | 391 | True | True | True | 11/13/2010 | 3.2 |
| Tres Estrellas | 60 | True | False | False | 3/16/2009 | 0.1 |
| Caracol | 55 | True | True | True | 3/15/2009 | 4.5 |
| Temple Of Doom | | True | True | True | 3/13/2009 | 9.5 |
| Uchben Na Illod | 35 | True | False | False | 3/2/2007 | 5 |
| Paanah | | True | False | False | 12/7/2006 | 4.4 |
| Luk Dzonot | | True | False | False | 12/5/2006 | 5.2 |
| Cenote Don Polo | | True | False | False | 12/5/2006 | 5.2 |
| Mol Balam | | True | False | False | 12/4/2006 | 5.2 |
| Chamzizil | | True | False | False | 12/4/2006 | 5.4 |
| The Pich | | True | False | False | | 3 |