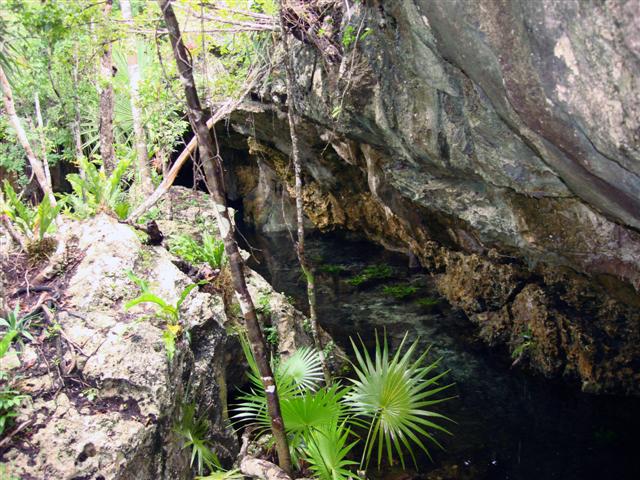 Portions of the following information were taken from www.cavediving.com.
The entrance to Minotauro (the Minotaur, from Greek mythology) is directly across from Club Robinson Tulum, and immediately to the right of the new Pemex station. Be forewarned: The road back is rugged and there is not a lot of parking space at its end.
Minotauro is an excellent example of why it is a good idea to employ a professional guide — at least until you gain a much greater familiarity with area dive sites. Without a guide, you could waste an entire dive simply trying to find the right cave entrance (it is nowhere near as obvious as it may seem).
A good first dive is simply to take the main upstream line all the way to its end (it loops back on itself, forming an enjoyable circuit dive). If your gas consumption is good, you may even be able to take an offshoot tunnel to another cenote, such as Cenote Escalera or Cenote Estrella.
| Date | Submitter | Visbility | Remarks |
| --- | --- | --- | --- |
| 10/4/2013 | James Garrett | limitless | Amazing dive, limitless vis |
| 11/16/2010 | ScubaGypsy | 100' | Did one 79 minute cave dive here with my wife and guide Etienne Rousseau (http://www.closedsystemdiving.com/). Max depth 49', air temp 79 F, fresh water temp 78 F, salt water temp 79 F. Fabulous halocline here where one can observe full transition from above and below. |
| 7/8/2010 | Rob Boozer | 40-100 | Viz was green and low at the entrance be went way up once in the cave. We had a ton of rain the day before. We did the Halocline Circuit in both directions. Each time we turned at 1/3s with a fair amount of overlap. The overlap was probably the most interesting part of the dive. The halocline is pretty magical. Amazing some of the effects you can create when you have time to play. The was a very cool dive and did a good job of challenging me at my current apprentice level of diving. |
| 1/3/2010 | JCDdiver | 100' | Did the halocline circuit...amazing dive! |
| 10/9/2007 | Walter Pickel | 100' | Did the halocline circuit...Amazing breakdown! |
Click here if you would like to contribute any information or resources for this system.
| Description | Type | Date | Author | Remarks |
| --- | --- | --- | --- | --- |
| System Map | Map | 2008 | Fred Devos | |
| Video | YouTube | | | |
Sslect Search Radius:
| System | Depth | Cave | Cavern | OW | Last Report | Distance (mi) |
| --- | --- | --- | --- | --- | --- | --- |
| Taj Mahal | 60 | True | True | True | 10/11/2013 | 0.4 |
| Tux Kapaxa | 60 | True | False | False | 6/18/2011 | 12.7 |
| Xunaan Ha | 45 | True | False | False | 11/14/2010 | 11.2 |
| Tres Estrellas | 60 | True | False | False | 3/16/2009 | 12.6 |
| Chac Mool | | True | True | True | 2/3/2009 | 2.6 |
| Chikin Ha | | True | True | True | 11/25/2007 | 1.3 |
| The Pich | | True | False | False | | 10.9 |
| Ponderosa | 55 | True | True | True | | 1.1 |