Rated 2.8/5 stars (420 ratings) Thanks for rating this cave system!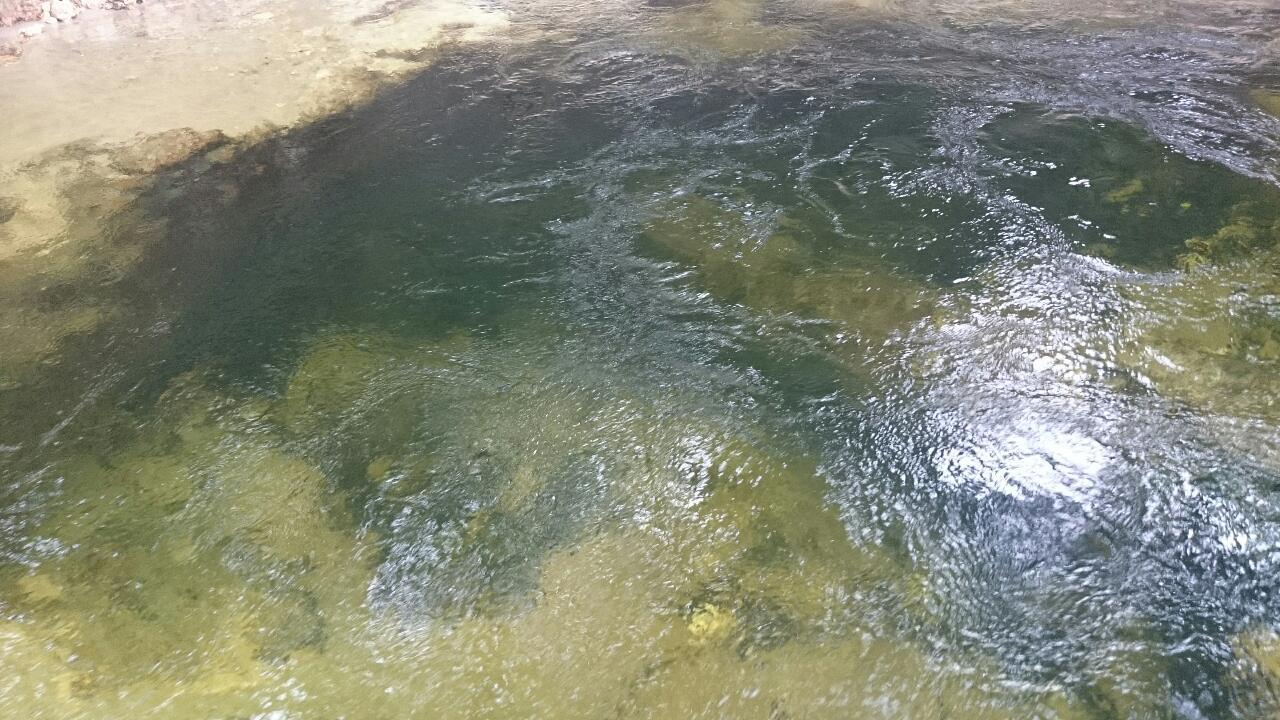 The spring is located on the east bank of the Suwannee River north of Suwannee River State Park. Water flows strongly from a cavern opening in the limestone bank. Recent research suggests this site, which has an average output of 92 cubic feet per second (nearly 60 million gallons a day), is the outflow point of Falmouth Spring, a karst window several miles to the south.
Some believe this spring was named because of its high flow (the name would suggest so and since the line needs replacing quite often). However, it was orignally named by Guy Bryant and Lee Sams after their second dive theres. After surfacing Guy to Lee "man, this place is a real line eater" (meaning that they had layed quite a bit of line in just two dives in this totally unexplored system). They both liked the name so they named it that. At the time the spring was owned by Bernice Warner. He did not have a name for it so Guy asked him if it was OK to name it Lineater. Warner had no problem with the name and said it was OK by him.
A few years ago, Lineater was renamed to Stevenson Spring in honor of Jim Stevenson, the chair of the Florida Springs Task Force and the state
| Date | Submitter | Visbility | Remarks |
| --- | --- | --- | --- |
| 12/8/2016 | Gene | 45 - | Got to dive this site with the fellow that named it ... Georgia gentleman Guy Bryant. A lovely morning all in all. We canoed from the nearby ramp and shot some photos along the way. Flow was not so bad Guy said but still felt strong at times to me. We turned around 850 feet in and the line was fine, just more than one in most places. Can't wait to go back! Thanks Guy.... |
| 6/25/2015 | cavedivecamp.com | 20 | Dark water just eats light. Flow is bookin. Huge tunnel with sandy bottom. Only got 300 feet ran out of reels gaping everything. Did not want to use my last spool. They say it drains falmouth system. Easy to believe once you go there. Bring huge primary save yourself trouble. Can't wait to come back and donate line off explo reel -easier. |
| 11/14/2010 | Tom Hundley | 20 | Fairly strong flow. Line is in better shape now at least as far as we got, but still nothing to write home about. Two sections of missing line were replaced and many more feet were unburied. I feel sure more sections further in will need to have the line repaired past where ended our dive. |
| 8/15/2009 | Kevin Jones | 20' | Very strong flow. The water is dark with about 20' of visibility. The line is in very bad shape. Starts just inside the cave, runs from the floor up to the ceiling, then about 150'. Where the end is tied to a rock and no other going line is found. Would plan on taking a large line reel if you are going to dive Lineater. |
| 5/8/2006 | Guy Bryant | 20' | Entrance is currently semi-plugged with a large log. It is possible to penetrate through the entrance around the log. At this time the flow is extremely strong. It is impossible to swim against the flow. Currently it is pull & crawl to make any headway against the current. |
| 10/3/2005 | Cindy Butler | 20 | Now owned by Suwannee River State park. May still be accessed by the river. Water is murky and vis is around 20 feet at this time. Strong flow |
Click here if you would like to contribute any information or resources for this system.
| Description | Type | Date | Author | Remarks |
| --- | --- | --- | --- | --- |
| System Map | Map | | | |
Sslect Search Radius:
| System | Depth | Cave | Cavern | OW | Last Report | Distance (mi) |
| --- | --- | --- | --- | --- | --- | --- |
| Edward's Spring | 145 | True | False | False | 10/27/2023 | 2.5 |
| Madison Blue Springs | 130 | True | True | False | 10/1/2023 | 7 |
| Suwanacoochee Cave | 125 | True | False | False | 4/22/2019 | 2.4 |
| Anderson Spring | 80 | True | False | False | 7/2/2017 | 4.9 |
| Pot Spring | 70 | True | False | False | 6/18/2017 | 6.1 |
| Cathedral Sink | 200 | True | False | False | 12/29/2014 | 4.4 |
| Falmouth Spring | 200 | True | False | False | 1/1/2014 | 4 |
| Morgan Spring | 208 | True | False | False | 9/4/2011 | 3.3 |
| Adams Spring | | True | False | False | 8/4/2010 | 2.9 |
| Owl's Eye Spring | 40 | True | False | False | | 3.4 |
| Alapaha River Rise | | True | False | False | | 4.1 |
| Tanner Spring | 130 | True | False | False | | 5.1 |
| Holton Creek Rise | | True | False | False | | 5.8 |
| Aquarius Sink | 128 | True | False | False | | 4.1 |
| Big Bamboo Sink | 148 | True | False | False | | 2.3 |
| Jade Hole | 162 | True | False | False | | 3.1 |
| Firecracker Cave | 120 | True | False | False | | 8.7 |
| Goul De Tannerie | | False | False | False | | 5.1 |
| Rossetter Spring | | True | False | False | | 10.6 |
| Lime Spring | | True | False | False | | 2 |