Rated 2.6/5 stars (231 ratings) Thanks for rating this cave system!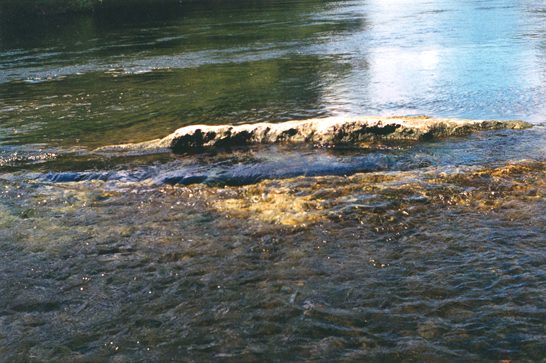 Portions of the following information were taken from Florida Geological Survey Bulletin 66.
From the junction of U.S. 27 and Wilson Springs Road in Ft. White, take Wilson Springs Road west approximately 3.8 miles to the boat ramp on the Santa Fe River. Go downriver on the Santa Fe approximately 0.9 mile (1.5 km), past 2 sets of small shoals and a hairpin turn. The spring lies in the riverbed a little toward the north (Columbia County) side of the river.
Description
– Sunbeam Spring flows from two vents in a riverbed fracture. During the September 2002 visit, a fissure near the north bank of the Santa Fe River was exposed, measuring 7 ft long and up to 1 ft wide. The water flowing from this vent has excellent clarity. The second vent is located to the north of the first and was inundated by the river during the visit. The clarity of the water coming from the second vent is poor and the color is brownish green. Each of the vents produces a prominent boil on the water surface. The adjacent riverbank rises gently to 3 ft above the water surface and there is a wooden deck 100 ft northwest of the two vents. A forested riparian corridor surrounds the river at the spring. Discharge measured September 9, 1997 was 45.6 cfs.
| Date | Submitter | Visbility | Remarks |
| --- | --- | --- | --- |
| 5/2/2020 | CC Rider | 100 | Beautiful cave, line in good condition. Fun entrance, formations in pristine shape. Low flow due to high river levels but still excellent clarity. |
Click here if you would like to contribute any information or resources for this system.
| Description | Type | Date | Author | Remarks |
| --- | --- | --- | --- | --- |
Sslect Search Radius:
| System | Depth | Cave | Cavern | OW | Last Report | Distance (mi) |
| --- | --- | --- | --- | --- | --- | --- |
| Ginnie Springs - Devil's Ear / Eye | 173 | True | True | True | 9/28/2021 | 7.8 |
| Jug Spring | 80 | True | True | False | 11/29/2020 | 3.6 |
| Syphon Creek - Myrtle's Fissure | 95 | True | False | False | 2/29/2020 | 5.3 |
| Treehouse Spring | 65 | True | False | False | 9/1/2019 | 11.2 |
| Gator Hole Spring | 115 | True | False | False | 6/7/2019 | 10.1 |
| Gator Hole Sink | 115 | True | False | False | 5/18/2019 | 10.2 |
| Ginnie Springs - Ginnie Spring | 60 | False | True | True | 9/25/2018 | 7.6 |
| Jess's Hole | | True | False | False | 7/4/2017 | 8.4 |
| Wilson Spring | | True | False | False | 7/18/2015 | 2.1 |
| Rock Bluff Spring | 65 | True | False | False | 5/10/2015 | 12.6 |
| Ginnie Springs - Dogwood Spring | 43 | True | False | False | 9/7/2014 | 7.3 |
| Rose Creek - Sink | 165 | True | True | False | 7/4/2011 | 10.7 |
| Ginnie Springs - Little Devil's | | True | False | False | 7/1/2011 | 7.8 |
| Syphon Creek - Resurgence | | True | False | False | 6/23/2011 | 5.4 |
| Rose Creek - Swallet | 40 | True | False | False | 2/5/2011 | 10.8 |
| Vampire Sink | | True | False | False | 11/21/2010 | 12.6 |
| Branford Spring | 101 | True | False | False | 1/16/2010 | 9.7 |
| Darby Spring | | True | False | False | 4/7/2009 | 11.1 |
| Rose Creek - Mccormick Sink | 150 | True | True | False | 3/1/2009 | 10 |
| Turtle Spring | | True | False | False | 12/26/2007 | 9.1 |
| Syphon Creek - Big Awesome | 110 | True | False | False | | 5.9 |
| Syphon Creek - Lil' Awesome | 80 | True | False | False | | 5.8 |
| Sawdust Spring | | True | False | False | | 7.3 |
| Syphon Creek - Swallow Hole | 188 | True | False | False | | 5.7 |
| Double Sink | | True | False | False | | 12.7 |
| Syphon Creek - Track One | | True | False | False | | 5.4 |