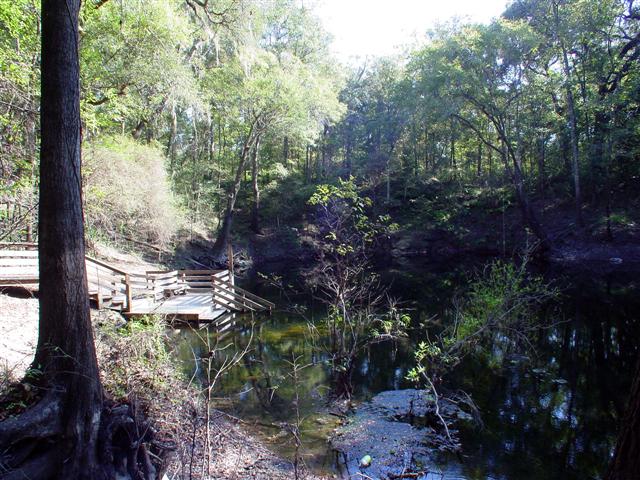 Portions of the following information were taken from Florida Geological Survey Bulletin 66.
Falmouth Spring is 10 miles northwest of Live Oak. From the intersection of I-10 and US 90 northwest of Live Oak, travel about 2.9 miles northwest on US 90. Enter the Falmouth Spring Recreation Area at the SRWMD sign on the south (left) side of the road. The spring is west of the parking area and is accessed by an interpretive hiking path.
Description
– Falmouth Spring is a karst window. At the head of the karst window, the pool measures 87 ft north to south and 81 ft east to west. The depth is 39 ft. The water discharges from a conical depression. The bottom is sand and limestone. Water is fairly clear, greenish with tiny suspended algal particles. The bottom and sides are thickly covered with dark green filamentous algae. There was no visible boil during the October 2001 visit. Limestone is exposed along sides. High sand banks rise steeply along the karst window to 25 to 30 ft above water level. Surrounding high ground has mixed hardwood and pine forest. The run flows 450 ft northeast until disappearing into a siphon. The east side of the karst window has a wooden boardwalk leading down to spring and a foot path along the run. Rosenau et al. (1977) report an underwater cave in this karst window.
| Date | Submitter | Visbility | Remarks |
| --- | --- | --- | --- |
| 1/1/2014 | Georg Stauch | 5ft | Light outflow. Only "ghost-lines", (no intact permanent-line) in it. Dove until 3 of my bigger reels are empty... Big sand slope. Interesting clay-banks. -43m depth. Best condition I've seen in my 3 holidays there! |
| 4/19/2008 | Dogdiver | 5 | There is flow in this system for the first time in years. Nice very tannic flow in this karst window from the left to the right flowing tward Edwards and Swanahoochie. Not divable yet, but NOT posted for no diving... |
| 11/28/2006 | Barbara Dwyer | looks clear, flowing | we walked through and did not dive. Saw the up-and downstream sections. Some lines are visible tied off to the tree and the rock. If there's a sign prohibiting cave diving, I didn't see it. |
| 4/9/2006 | Jay Titen | Clear | The basin and spring run was crystal clear and it looked to have a slight flow. It would have been nice to be able to dive it, but there is a brand new Cave Diving Prohibited sign right as you drive through the park entrance. |
| 10/27/2005 | John LaManna | 40-50 feet | Water was surprisingly clear. Basin clear, with permanent line starting within sight of light. Cave is huge and dark. Cannot see all the way across with 10W Hid. Permanent line starts at ceiling, and goes to floor the rest of the way, with a few small gaps in the line (3' or less) We went as far as our MOD would let us. I will go back and dive it with the proper mix. I would recommend 3 or 4 divers side by side to really light up the place. Again, it's huge. I was about 40' above my partner near the ceiling while he was on the floor, and I could see him perfectly. The site is not closed for diving. |
Click here if you would like to contribute any information or resources for this system.
| Description | Type | Date | Author | Remarks |
| --- | --- | --- | --- | --- |
| System Map | Map | | | |
Sslect Search Radius:
| System | Depth | Cave | Cavern | OW | Last Report | Distance (mi) |
| --- | --- | --- | --- | --- | --- | --- |
| Madison Blue Springs | 130 | True | True | False | 3/28/2023 | 10.5 |
| Suwanacoochee Cave | 125 | True | False | False | 4/22/2019 | 2.8 |
| Edward's Spring | 145 | True | False | False | 4/22/2019 | 2.8 |
| Anderson Spring | 80 | True | False | False | 7/2/2017 | 3.2 |
| Pot Spring | 70 | True | False | False | 6/18/2017 | 9.6 |
| Lineater Spring | | True | False | False | 12/8/2016 | 4 |
| Cathedral Sink | 200 | True | False | False | 12/29/2014 | 0.4 |
| Morgan Spring | 208 | True | False | False | 9/4/2011 | 5.9 |
| Adams Spring | | True | False | False | 8/4/2010 | 6.2 |
| Lime Spring | | True | False | False | | 2.9 |
| Tanner Spring | 130 | True | False | False | | 8.7 |
| Alapaha River Rise | | True | False | False | | 6.1 |
| Holton Creek Rise | | True | False | False | | 7 |
| Aquarius Sink | 128 | True | False | False | | 0.1 |
| Big Bamboo Sink | 148 | True | False | False | | 2 |
| Jade Hole | 162 | True | False | False | | 1.3 |
| Goul De Tannerie | | False | False | False | | 8.7 |
| Owl's Eye Spring | 40 | True | False | False | | 6.1 |