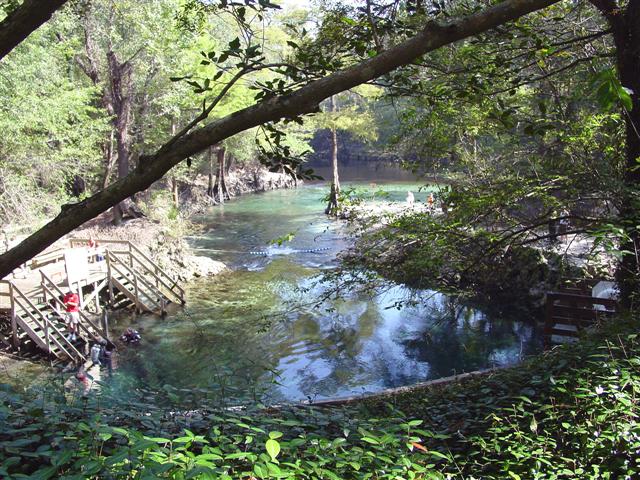 Portions of the following information were taken from Florida Geological Survey Bulletin 66.
Madison Blue Spring is approximately 10 miles east of Madison on the west bank of the Withlacoochee River. From the intersection of US 90 and SR 6 just east of Madison, drive east on SR 6 approximately 8 miles to the bridge over the Withlacoochee River. Turn south (right) at the park sign just before the bridge. The spring is 525 ft south of the highway.
Description
– This spring issues from the bottom of conical depression. The spring pool diameter is about 72 ft north to south and 82 ft northeast to southwest. Pool depth measures 24 ft. The spring has vertical limestone walls. The 100 ft long and 15 to 25 feet wide spring run flows swiftly into the tannic Withlacoochee River. There was no visible boil in October 2001. Nearly the entire spring bottom and sides are covered with dark green algae. Sandy high ground surrounds the spring and rises to approximately 20 ft above water level. Mixed hardwoods and pines occur along with numerous dirt pathways. An underwater cave system has been mapped at Madison Blue Spring.
Utilization
– Madison Blue Spring is state-owned and is managed as a county recreational park with picnic tables, parking lot, and facilities. Swimming and scuba diving occur frequently here. A wooden access platform for scuba diving is located on the north side of the pool.
Date
Submitter
Visbility
Remarks
3/28/2023
sdalcher (via CDF)
40
Visibility was about 40ft with a greenish cast. Still dusty, but flow is kicking.
12/20/2021
Fred Stratton
40-50'
Thrilling dives at Madison today. Introduced a GUE Cave 1 friend to the system. We were limited by his training and experience but had great fun. The flow was typical. Basin was clear and covered only the bottom two steps. Stopped short of Half Hitch then turned to ride the flow to the exit. Super visibility. We were the only divers there today. We ventured into Martz Sink for our third dive. Enjoyed its beauty and the challenge of leaving it clean; silt was mounded quite high in a few locations. Martz wasn't as clear as Madison but visibility was a respectable 20-25', very good considering the flow was imperceptible until we approached the Madison gold line.
10/11/2021
Morgan (via CDF)
50
Basin clear, flow high, visibility dusty and about 50 feet in the cavern, clearer further in. Lots of swimmers, but we were the only divers. Did the Godzilla circuit - nice dive. Martz looked a bit tannic but clear from the surface.
4/4/2021
AndrewJ
60ft
River finally receded, basin looking a little green. Flow really kicking, but still some particulate in the water.
12/31/2020
Gayle
10 ft
Basin - Water up six steps. Big Mullets jumping! Cave - Imperceptible flow and 10 ft viz. Cleared past Martz.
12/9/2020
Mer
80-100
A little tanic in the cavern (60ft vis) as is normal, medium flow (typical for Madison), clear, blue even downstream of Martz. Water level a bit lower than normal, but still mutliple steps in the water.
9/7/2020
Richard Blackburn
80-100
Martz was milky, but as soon as you drop down vis was crackling blue.
2/9/2020
Richard Blackburn
80-100
Water had a greenish tint in the basin and cavern, but cleared up just after you entered the main line tunnel. Godzilla circuit was crystal. Line loose in the Crossunder tunnel. I reattached where I could.
11/18/2019
Mark Janson
80'
Only crew here in the afternoon! Park closes at 1730. Flow moderate. Viz was excellent! Great dive! Water level up to third step on basin staircase.
7/3/2019
Limeyfish.
80'
Basin full of swimmers so a challenge getting in and out.Flow moderate,viz clear. Mainline with side trips to Martz sink and into Godzilla circuit.Only two other teams on site.90 minute run time
4/24/2019
Kyle Nevins
90 foot
Flow is down. We did 2 dives crossunder tunnel and mainline.
2/17/2019
Matt
Green, 40 ft
We were the first team in the system since it reopened. The water level is about 8 feet higher than normal, and a strong boil is visible on the surface. Martz looked clear, but we entered through the main spring. Flow was extremely high until we got into the horseshoe room, where it abated to a mere very high. Water is green with some particulate. We swam the Godzilla circuit, which had noticeable flow throughout.
10/1/2018
Limeyfish
70'
Basin clear,moderate flow.Main line to Half Hitch,nice slow meander back looking at various formations.Saw 3 albino crawfish.80 minute runtime. A big thanks to the volunteers who built the new platform and steps.
8/25/2018
Ja Darr
70'
Dove Saturday 8/25/2018. Viz Range: 40-80 ft viz. Basin good. Color good. Flow Ok. Started lp85s @ 3800. Did Godzilla circuit. Cavern viz: 35-40'. Main line and Godzilla viz 70'. 24:20 to Godzilla room. Dive time 36:50 back at rabbit hole. Took planned option to go into Cross-Under tunnel. Only did 200ft p due to line condition, turned at Dive time 41:01. Cross under viz 45'. 53:30 total time to resurface. 71F at surface, 69F at depth. Had so much gas leftover, lp85s @ 1900, did another dive. Went up main line. Good viz again. 70' at least, and 80' probably further back. Went to half-hitch. 22:40 at half-hitch. Turned with 150 above thirds. Returned to Reaper in Cavern at 33:30. Safety at 35:10. Surfaced at 40:10. 73F at surface, 69 at depth. Fantastic.
7/18/2017
Dominick Gheesling
Plenty
Two Cavern dives here today. Basin was nice and clear. Some flow coming from main entrance.Nice and clear inside. Visibility as far as my light would shine. Plenty of catfish. Great cavern with plenty of huge boulders and lots of fine grey silt laying on the horizontal surfaces to tell the true tale of buoyancy/trim/propulsion. Wondering who would make the decision about possibly removing the big ugly plastic barrel near the entrance to cavern.
10/25/2015
cmint
100 ft
Extremely good conditions. Couldn't get much better. Stairs are still under construction, but with the cave looking as good as it does I'm not going to whine about that!
9/7/2015
K-T team
80
Main stairs still under construction and a lot of holiday swimmers. No other cave divers. Entered at Martz and went back the mainline the first dive to about 1400. The second dive did the Mount jump. Great viz. Flow was strong.
8/15/2015
Niko
80
Madison is looking pretty good right now. The normal stairs are under construction so its a bit of a longer walk to the other side of the spring head. Flow was normal and vis just around 70-80ft. Great time to dive
4/27/2015
Matt
20-100'
Just finished our dive at Madison… visibility goes crystal-clear right after martz… Literally 10 ft after the jump. Prior to Martz, the basin is greenish and the cavern is 20' viz. increasing to 30 in the main passage. Godzilla is sitting on the mainline wait to be moved back to his home. Flow is way down, still present but way better than normal. It took us 18 minutes to swim from open water to the martz jump and we were moving at a leisurely sails pace. Get out there and dive Madison before conditions change. The gnats are bad... Very bad.
1/5/2015
FW
< 2'
Madison is closed, due to river intrusion.
11/21/2014
Louis
100
Vis is way up, flow is way down
11/16/2014
Dene Ulmschneider
crystal clear
This was the nicest dive of the 4 day trip covering Ginnie, Peacock, and Madison Blue. Made it all the way through the ROCKY HORROR restriction as others on my trip made it to the end of the main line and all reports were clear waters and no to low flow which was down HUGE since the last time I was in Madison back in June. WHAT A DELIGHT!
10/18/2014
Niko
100ft
Crystal clear, flow is prefect for a nice slow ride out. Wonderful conditions, did the Godzilla circuit and mainline past the half hitch to 1200ft
10/5/2014
Steve
100
Excellent conditions, clear and moderate flow up the mainline. Went to p. 1,200ft
9/18/2014
Greg
100 ft. Plus
Water is blue and clear. Did the Godzilla circuit. What were those freaky lizards doing?
9/18/2014
Greg
100 ft. Plus
Water is blue and clear. Did the Godzilla circuit. What were those freaky lizards doing?
8/24/2014
Mer
100'
Blue blue blue from main vent cavern back through end of gold line. Moderate flow for Madison which is high flow. Water level relatively low.
8/18/2014
mbaker (via CDF)
100
Entered at Martz with water level in the sink as low as I recall ever seeing it. The cave is crystal clear with what I would consider moderate flow. Have been there when it has been flowing more and have been there when it has been flowing less. Overall excellent conditions at the moment in my opinion.
7/20/2014
floridabob (via CDF)
40-100
We entered at Martz about 945 am. Plan was to swim Rocky Horror thru the Courtyard to the jump to the Sondie siphon. Then the T to the Sondie Siphon tunnel to its end. Close to what we did but we turned short of the end of the Siphon line...not sure exactly how far but we estimate we swam down the siphon about 700 feet.

Martz viz to mainline was 40-50 feet. Mainline to courtyard thru RH was 70-80. Courtyard was 100 plus after about 500'.

Total time in the water was 295 minutes, distance was estimated at "far". Max depth 121. Viz was 100 plus from the courtyard on. The siphon jump and siphon tunnel were beautiful. Very pristine with pin cushions all over and tube worms, and all sorts of other very unusual things.

My advice: go to Madison now!
2/22/2014
Mike Stine (via CDF)
closed
Park closed (to diving) by management due to river level and basin brown-out.
2/17/2014
phil_p (via CDF)
100'
The Withlacoochee was tannic, but the main Madison basin was clear to the submerged platform and beyond; sturgeon, turtles, and spotted bullhead were visible from the platform. Water was up 7-8 steps, with a slight surface boil at the cavern entrance. Flow was moderate: up a little from last winter, but the fastest flow, in the cavern proper, was easily managed with a flutter kick and a little pulling on the wall. My wife and I dove the Godzilla circuit. The circuit had clear viz throughout. For that matter, even the entrance to the cross-under tunnel (which we didn't dive) looked clear. Ditto for Martz Sink, which also looked quite clear, as well as an easier point of entry than last year, now that the water's up there, as well.
12/7/2013
Stud
100 ft
Perfect viz. Manageable flow.
11/23/2013
BUNIT (via CDF)
100
Went to Madison Blue Saturday to dive the Courtyard and decided to take some video. First in the system and the viz was cracklin and the flow was not bad at all. Entered via Martz.
9/14/2013
Ted McCoy
20-100
Cave is back to first magnitude characteristics. Entering the rabbit hole was tough but doable. Vis in the cavern and up to the banana jump 30-40. There is flow coming out of every crack and crevice. 100' into the godzilla jump where it is low for backmount and the line takes a left turn, the sand has shifted. We had to push to get through and a short section of line is under a foot or so of sand, so a bridge of line was put in and left. Throughout the godzilla/ banana area there is high flow and very little silt, and the vis is 20-30. In the godzilla room, water is clear and flow out of the floor is strong. Martz sink is tannic down to 30' then 50-70' in the rest of the tunnel. after Martz on the mainline, Vis is 100' and strong flow all the way through Roto Rooter. Potters Delight/ Rocky horror have reduced flow compared to the mainline, yet it is still strong, with very little silt on the ledges and floor. Flow continues to be moderate to strong once you enter the courtyard and the vis is crackalakka. Thats as far as we went. the lines are all in good shape except for the one spot on the godzilla line.
2/18/2013
Scott J
0-200
The With is up and back-flowing. The Basin is 0 vis and back-flowing into the tunnel. We quickly made the decision to dive from Martz. Martz to 1000 feet up on mainline was 15-20. Then right around 1100 or so a wall of perfect crystal clear water! Still no flow all the way back into the courtyard.
2/10/2013
Matt M
80
Conditions have continually improved... flow has decreased, still present but not the normal butt kicker! Godzilla circuit was beautiful, and all the way to the end of the gold line was 80 viz... great! Checked out martz sink and rocky horror jumps and viz was consistent through both. It is time to dive Madison! Did I mention it was a saturday and we were the only divers in the system!!??
1/28/2013
Matt M
60-70
Same as last time... good vis, normal flow. great dive! http://youtu.be/5yvUiruJ8bQ
12/17/2012
Matt M
75'
Flow seems up... viz was great and park was empty! enjoy this cave... the weather and conditions are great!
11/13/2012
TJ
50-80
Flow is still up, visibility was excellent, the best I have seen there. Went through Rocky Horror the through the courtyard to around 5k. The visibility was excellent everywhere accept going through rocky.
10/20/2012
Brian
20'-50'
First dive was up the main line to around p1200. Flow was moderate. Vis was clear overall, with the worst being between the cavern and Godzilla jump. Cleared up a lot past Godzilla jump. Second dive was to the Godzilla room. Vis was again very silty up to the jump but improved once on the Godzilla line. Overall vis was anywhere between 20'-50'.
7/29/2012
Jason
20-100
Cavern is dark, has the worst vis in the cave. Flow is up significantly. Vis off the mainline or past Martz is good to great. Martz is clear. Godzilla is clear. Past half hitch is blue. There was significant flow on the Godzilla line, and especially in the Godzilla Room. A couple places on the Godzilla line before the Banana Room actually had silt billowing out. No other diver in the system to blame that one, but it seems to explain why the vis is so poor in the cavern. The line was no longer buried anywhere we saw.
6/17/2012
Brandon Cook
30-60
Basin was milky so opted to enter at Martz. Visibility was very good, piles of silt everywhere, line buried in a few places. Slight flow barely noticeable before half-hitch, none past it.
6/11/2012
Mer
30'
Mainline from spring head to 750' had 30' of vis with low flow and lots of un-blown-out silt in normally heavily traveled areas. Did not see conditions improve past Martz, but there had been a team in Potter's right before our dive.
5/11/2012
Riana
20'/60'
Was great dive with tons of silt until you past the Half Hitch then conditions improved drastically. No flow and lots of other teams again. Vis before half hitch was anywhere from 1'-20' then past half hitch it was around 60' in some spots
4/27/2012
Adrian Lisenby
15-20'
Beautiful Dive with tons of silt. Line was covered in some places.
3/25/2012
Robert Sanders
5-10'
THe ranger said Madison had just re-opened and we were the first divers in. The basin was tannic and low as per previous recent reports. We headed toward Godzilla and it was but turned in Monkey. The vis was very low the whole way, and the line was buried in many places. Ranger also said a bunch of rain in Georgia would probably keep it nasty for a while yet.
3/17/2012
Sandy Robinson
CLOSED
The system is still closed for diving. Madison was flowing into the river so no siphoning. However the spring basin was just nasty looking as well as Martz Sink - dark, 1 foot viz, and debris in the water. Madison had a nice smell compliments of a dead snake in the water. I am guessing the water was covering 3 steps. The water level on the measuring post may have read 10.5.
3/4/2012
Avery Z Chipka
What Vis?
Vis extremely low and basin vary tannic. Surface was not visible until about 5' from the surface. Vis at the main line area was around 2'. Viz at Godzilla jump was around 5'. At 800' point vis still around 5'.
2/24/2012
Jim Wyatt
25-45
The basin is brown. Water level has been rising. Vis from head pool to Martz was 30 feet. Vis from Martz to 1400 foot marker was maybe 45 feet. This cave may go this weekend... The crossunder area looked to be near zero vis.
1/21/2012
Jim Callahan
5-6' to 0'
For those who think training is just a waste of time, listen up.My buddy and I dove this system,going in through the rabbit hole. Ran a reel to the main line and clipped of an oxy bottle. He had on 85's and decided on taking a 72 stage and a camera.I had on 121's and was the second diver.As we entered, I noticed he was kicking up a bit of silt, actually it was a stage that was dragging. Somehow we got off the main line??? and ended up in a side mount tunnel(crossover?) and got stuck.Silt city.I pulled out a sidewinder reel and went in search of the main line from a short 25' line that we encountered. It ended at both ends,no line arrows.I found a second line which ended, no line arrows. I left my cookie and reel tied off to the first line ,pulled a second reel and went in search of another line.Buddy stayed behind,and I found the main line after searching and tied this reel off,placing a line arrow as a reference point and watched which way the silt was moving. I followed this line back to our main reel placed another line arrow, reversed and went back for my buddy. The conditions were so bad as to visability, I left the sidewinder in place w/cookie and got my buddy to the main line. I then cut the line on the second reel and we got out of Dodge. That sidewinder saved my and my buddy's life,but most important, excellent training(NSSCDS&NACD)standards taught us the proper techniques to get us out of the cave in a hairy situation.Steve Berman was my trainer and I wish I could give him a big hug for getting me out of something I never thought I would ever get in to begin with. Any body finding that reel with a "Callahan" cookie by it, has found the reel that saved my life. Wayne@Amigos will send someone to clean up my debris,I hope.
1/16/2012
Jim Wyatt
80
Same as last week....after Martz sink the water is cracklin' blue. Godzilla Room was carcklin' blue too...approaches to Godzilla were not so clear.
1/15/2012
Jason
30-80
Tanic and chilly to Martz, 80 and warmer past. Not much flow. Amazing cave!
1/4/2012
Jim Wyatt
100 feet
After Martz sink on the main line the water was crackling blue. In the crossover tunnel the vis was less than 30 feet.
12/20/2011
Nic Alvarado
100
Great Viz, very little flow, swam past half hitch. Had the whole park to ourselves! Great Dive, I can see the appeal of this site.
10/31/2011
Paul V
Unlimited
I was afraid about the visibility for the fist few hundred feet but Unlimited visibility pass Martz tunel. Stop before drop off. Milky in tunel and Monkey room but Crystal clear in Godzilla room. Same condition in Martz sink (clear in room). Nice dive.
10/30/2011
Jerry
~40
Main system rather murky with lots of sediment in the water; cross-under was very green until the aquaduct. Upstream from Martz wasn't bad but was much better in the courtyard.
10/27/2011
Jason
80 to Unlimited
Vis was solid until past Martz, then was damn near unlimited. There is some flow, but not much. Busted my ass in 104s on the submerged steps... VERY SLIPPERY.
9/27/2011
Barbara Dwyer
excellent
A late post--celebrated my birthday with a 2 1/2 hr traverse--Martz to beyond courtyard, then out the front. Who took out the blue arrows at the Mount jump? Lovely dive - we staged the O2 in the front cavern before entering at Martz. Yahoo!
9/18/2011
Mer
100
Water level about same to 6" higher than mid Aug. Debatable if flow slightly higher than mid Aug. Clear from basin to end of mainline as well as Godzilla circuit.
8/13/2011
Mer
100
Flow down. Slight green tint from cavern to Martz, but less than a week ago, totally clear beyond.
8/10/2011
Pete Gelbman
80
Water level way down, flow way down. Water in the basin & cavern to the mainline still have a bit of a tannic tint. Crackling clear on the mainline till the end, and through RH to the CY is beautiful right now.
8/7/2011
Mer
100
A bit green in basin and between headspring and Martz - doesn't affect vis much. Clear upstream of Martz through Rocky Horror/Courtyard. Flow down. Water level up to about 4th step. Ranger watching swimmer "behavior" in basin during weekends.
6/18/2011
Kristi Draper
limit of lights
Excellent viz. Very low flow on the traverse to Martz Sink and to Half-Hitch. Water temp 70F. The last two steps of the stairway going into the water are VERY slippery. We saw several swimmers slip and take hard falls while we were there. Use extreme caution when you are carrying tanks down to the water.
6/18/2011
Walter Pickel
80
Did a few dives over the weekend (Godzilla, beyond the Half Hitch, Cross Under, etc). Viz was great and flow is hardly noticeable. Different crowd at the spring now that the diving platform is gone.
5/23/2011
Brian LaTuga
60-80 ft
Great conditions. Viz excellent, flow great. Conditions really were great past Rocky Horror.
5/22/2011
Dan Sledge
80 feet
Visibility was great and the flow is very low. Tannic water is far away from the spring.
5/15/2011
Don six
80'
Flow was way down and it was another easy swim. Vis was great as we went up the mainline.
4/23/2011
DanSledge
30-60 feet
30 feet visibility in the Cavern and at least 60 feet visibility in the Cave. Flow seemed normal for Madison and tannic water is out at the river like normal.
4/6/2011
NSFA
0
Due to rising river levels Madison Blue is brown. No diving at this time.
3/5/2011
SPW
great
Vis was really good. Flow pretty low. Basin looks nice. They took away the high jump platform though :-(.
3/5/2011
SPW
great
Vis was really good. Flow pretty low. Basin looks nice. They took away the high jump platform though :-(.
2/27/2011
Louis
60 plus
every thing looks good with only a bit of particulate in the water at lest as far back as potters delight
2/13/2011
Bil Lindstrom
20 ft, then 60-80 Past Martz
The river is up, tannic water in the basin and in the cavern and cave, back to about Martz. It gets clearer as you go and gets nice past Martz. Flow is down. We did the Courtyard for quite a way, about p3100' to turnaround. Lines all look good.
1/23/2011
Garrick
10-60
The 1st 400ft had about 10-20 ft of vis after that it cleared up to 1200ft at our turn point.
1/13/2011
Jeff Petersen
60'
flow is still way down; vis was a bit underwhelming - gray clear (not blue clear) with a fine particulate suspended throughout the front portion of the cave - not like the old days. Crossunder tunnel was springing slighly but water quality was worse in it relative the rest of the system.
1/9/2011
Rick H
70
Did the Godzilla Circuit and then 1,000 ft of the mainline. Decent flow, awesome viz. Great dive!
1/2/2011
Louis
100
Viz was cracking at the start of then day, but went down hill with all the teams in the water. Flow is still realy down made for an easy run to the Mount offshute and the Godzillia room.
12/28/2010
Don Six
100'
Flow was way down and made for an easy swim. The vis was excellent even with all the dive teams that were there. We did 2 dives today, 1 to the godzilla room and another up the mainline to about 1700'
12/24/2010
Rick H
100
Great dive! Flow isn't bad and the viz is great! No hot water in the men's room though. :-(
12/19/2010
Capel English
100
Flow was low, viz was great. It was cold topside, but the hot water was working in the men's room.
12/12/2010
Mathew Bull
30-40'
Clear, but milky with lots of particulate - likely from the rains the night before and that morning. Flows down.
12/12/2010
Louis
100
Flow is still low. Dive it while you can, it's fantastic!
12/7/2010
Keith Gault
100
Amazing conditions. Flow is down. Entered at Martz sink. Once on the bottom visibility exceeded sightlines. Main tunnel was clear and blue. Went through Rocky Horror to Deep section, and visiblity remained 100ft plus. Basin is clear. 38F air temps at noon :> we had the place to ourselves.
11/21/2010
Bil Lindstrom
Cracklin'
We did the GL to Mount to Potter's, to Rocky Horror, and several hundred feet of the Courtyard, maybe the prettiest section in the system. Light flow, and an easy egress made this a great dive in wonderful conditions.
11/13/2010
Nathan
100'
My buddy and I dove Madison entering the main cavern and jumping to the Godzilla Circuit. We completed approx 1/2 of the Godzilla Circuit before my buddy turned us. Once back on the main line we swam to Half Hitch and then road a very light flow out of the cave. It was a short dive especially on the rebreather. However, so pre dive equipment issues put us getting in the water late thus changing our dive plan.
11/11/2010
Sandy Robinson
Nice
We arrived later than we thought we needed but the ranger allowed us to dive (it was short) when we promised to be be out of the park by 5 (which we made) Viz on the main line to about 600 was great but viz in the Godzilla room was so-so. Current was really low.
10/24/2010
Justin
100'
We entered @ Martz sink (the vis was great) and headed upstream. During the exit the visibility degraded slightly (still good ~50') as we approached the front of the cave. Great dive!
9/12/2010
Sandy Robinson
100
My first dive here, and it was incredible. We did the Godzilla circuit and then headed back down the mainline to 900'. I understand the flow was way down, It seemed low but was enough to provide a relaxing, slow drift back.
8/29/2010
Louis
60 ft
Wonderful dive and lots of swimmers.
8/1/2010
Andy Lamborn
80ft
Dove up the mainline to the drop off. Visibility was good and flow was normal. Good dive, but the park was crowded.
6/10/2010
Jeff Petersen
60 ft
Dove the Cross Under and went downstream in Aquaduct to the first "t". Cross Under is springing nice clear water and the Aquaduct was very clear. Some colder, tannic water settled at 't' in Aquaduct.
5/28/2010
Daniel Jimenez
60 ft
Flow was kickin, but viz was just about as good as it gets.
4/23/2010
NWdiver
60'
high flow, excellent vis, basin was crystal clear
4/12/2010
Tony Flaris
50' plus
Flow has increased as per post flood condition. Has blown out most light debris. Sand dunes have moved some. Main Line to Mount Tunnel to Potters Delight to Rocky Horror.
3/29/2010
Bonnie Stelzenmuller
50'
Entered at Martz and swam upstream to the Rotorooter Tunnel. Flow is very high and the cave is dusty, but visibility is 50' . Exited at the main basin - cavern vis is about 20' with lots of cold, tannic water pumping out of the Crossunder Tunnel.
3/4/2010
Gene Page
5 to 30 feet
Did a dive today at Madison Blue Springs after hearing that it had reopened. My dive buddy and I entered from the basin and did the Godzilla circuit. Found the line buried at times and with a lot of debris and silt about. But overall I'd say it was a great dive and happy to see it back open!
2/26/2010
Tom Hundley
40-60
Basin was nasty looking and could not see the bottom. Elected to try it from Martz and it was cloudy. Maybe 10 foot of vis down it until in the main tunnel. Left after the jump might have been 10 to 15 ft but to the right it was still real clear.
1/19/2010
Ken Clizbe
60
Basin is completely blown out with river intruding. Went in at Martz which is still clear. Clear water to the main line jump and upstream from there. Downstream from Martz appears to be very cloudy and poor vis. Flow is slight to none.
1/18/2010
Mike
40'
Basin was pretty cloudy, inside was relatively clear. Seemed to be lots of dust on everything, easily silted even with good technique. Mild flow, noticeable only when not kicking.
10/20/2009
Tim Owens
60'
1st dive around Godzilla circuit, traffic has cleared out allot of the 'dust' that settled from the floods. 2nd dive up mainline to ~1300' crystal clear.....
9/19/2009
Craig Gaffka
80'-100' Blue Water
Dove the main line up to the half hitch. Madison is looking to be about as good as it gets.
9/4/2009
Fred Gray
40
Flow was up. Vis was good inside. ther's a bucket in the basin for glass so while your doing your deco pick some glass up and place it in the bucket. It's right by the big barrel.
8/28/2009
Elisha Gibson
10-75
Viz not so great on the gold line, Banana Room, Monkey Room. Decent in the passage to the Banana room from the gold line.
8/9/2009
Terri
60
We enter the cave through the main entrance. In almost no time, we make it to the Half Hitch restriction. We get to the Banana Room jump and tie in a spool, we get into the tunnel maybe 10 feet and turn again. We recalculate where we tied in and this time I lead in back into the system, back to the Half Hitch restriction. We stop at the Godzilla Room jump and tie in a spool, we follow that through the Banana Room as its gets nice and low and dusty. We turn and the flow pushes us out, and we come back to the cavern area and I get to explore. This system has a very wide and interesting cavern zone. We tied a spool in and explored a bit over around the Rabbit Hole entrance. Another GREAT day of cave diving!! Vis 60 , Mix 33%, Temp 69 degrees, Max Depth 73 feet, Bottom Time 111 minutes.
7/26/2009
Ken Paramore
30'-40'
Basin clear. Moderate flow, strong in restrictions. Slight haze but good vis. did the GodzillaCircuit. Lots of dust on scalloped rocks and ledges. Needs divers in it to help clean it out. Excellent dive!
6/21/2009
Tom Johnson (tj)
40'
High Flow! Still a bit dirty from floods, but a good dive. Side passages still need some traffic to 'clean out'. http://www.divetraining.net/pictures/2009_jun_19/DSC03686.jpg
6/8/2009
Keith Gault
30'
Dive was good. Flow was high in the main tunnel. Rocks are silt/sand coverred. line to banana room is sand covered (tie offs included) and needs to be gapped. Basin is milky, cannot see platform from surface.
4/1/2009
Bob Cree
Under
Wanted to dive first dive of the trip here...it was under. Martz sink was half way up the steps and milky. Headed south. Had mixed for Madison single stage - needed a place to use it.
3/26/2009
Lori
50ish
Dived Madison Thursday morning late. We had the place to ourselves except for a very industrious lap swimmer! The flow is way down from it's normal "spit you out" norm. Vis varied anywhere from 30 to 50 ft and looked "smoky". A silt layer does cover everything, and we turned the dive at around 600 feet out of just a general "blech" factor as I just wasn't having fun. We did get back in after lunch and did a some line drills to make the trip worth it.
3/23/2009
Bob (packman)
30-50 ft
Dove today up the main line to Mount jump and also went into the Godzilla room. Vis up front and in Godzilla room was ~30 ft while it cleared to ~50 ft down main line. Flow is just enough to give a nice slow ride out of the system. All walls and surfaces were covered with a solid layer of silt.
3/13/2009
Flyczek
?
Closed due to high river levels. Call the park ranger before going!
2/27/2009
Offshore
5-15'
Basin was brown with barely a few feet of viz. When getting down to tie in in the cavern zone, I could barely see from one end of my buddy to the other. It did clear up a little bit after the first jump arrow, but only to about 15' or so. Flow was fairly noticeable as well, and we made a max penetration of ~525'. Radically different from when I was here only a month ago, and makes me think of taking macro photos of some of the "swiss cheese" rock edges...
2/21/2009
Cantey/Tornabene
80
Did two intro dives to 1000ft, seriously considered turning the dive because we were almost in touch contact all the way to 700ft. Basin and cavern were 15ft of vis, clearing up to 30ft in cave, past Martz it clears up to about 80ft of vis. Awesome surprise considering we almost called it before suiting up.
2/20/2009
Mathew Bull
15-60'
Basin up to Martz jump has some tannic intrusion, still clearish(15-20'). 60' and better visibility afterwards, water warms up too.
2/17/2009
Morgan
Good
Did two dives in Madison today - out the mail line to the Dropoff, and then the Godzilla circuit. Flow moderate, vis good, a little fine particulate in the water in the area of the Banana Room jump, otherwise clear.
1/23/2009
Serota
Excellent
I just got home from a great dive at Madison. In summary, the viz. is excellent and the flow is quite substantial. We entered at Martz, dropped O2 bottles on the mainline across from the Martz tunnel and turned upstream. Every time I say that flow was high anywhere, someone will say it was higher in the "old days", but none the less I'm saying the flow was higher than any I've experienced there. After passing the Half Hitch restriction, we took the jump toward Potters Delight and the aptly named, Rocky Horror. Flow remained quite substantial and, of course, increased in the ever smaller passages. This was my first passage through Rocky Horror and; although I have dived smaller passages, I don't think I have dived one that small with that much flow in it. We made it a short distance past Rocky to "David's Fork" or some similar name, where I turned on "almost 1/3s & far enough". The viz. was not as good going back through Rocky and Potters for some reason, but cleared back up at the mainline, until Martz, where it was hazy for a while. We picked up our O2 and exited the mainspring with a total dive time of about 85 min. and 7 min. deco on O2. As of 2:30 we were still the only divers in the system today.
1/10/2009
Scuba Geek
30-40ft
Madison is flowing again, and the vis is OK, but not great yet.
12/6/2008
Observer
Unknown
Currently the system is flooded. The water level is currently about the steps and walkway.
11/30/2008
Elisha Gibson
50-80
Flow a little higher than when I was here in October...viz is okay up to Martz and is crystal clear past that. Martz sink was a nice entry for a change...you could see the bottom! We dove here two days in a row and had two excellent dives.
11/15/2008
Bil Lindstrom
50' and better
It was fifty feet or so up to Martz, then cleared considerably to an easy 80, maybe better. Through half hitch and up to just past the Mount Offshoot it was excellent, maybe a hundred. Godzilla room was clear, but the tunnel leading to it was a bit hazy. Great dives, I don't get here near often enough.
11/8/2008
Cantey
40-50
Green tint in the basin, vis was so-so on the mainline. Cleared up quite a bit in the Godzilla Room.
11/7/2008
Andy Lamborn
40-100
We a dive to the Godzilla Room where the viz was 30 to 40 then we swam up the mainline to the drop off. Once we passed the Martz sink jump, the viz improved greatly 80 to 100. Great dive, but flow was up a little and the basin was a little green.
10/12/2008
Elisha Gibson
50-100
Sweet dive...Flow is much higher than it was in August. Cave is continuing to clear from the floods, but visibility started out poorish until the half hitch and got better and better past there. Martz is really tannic and gross.
9/20/2008
Jean Nelson
20'-50'
We did a dive in Madison Saturday afternoon. Went first up the Godzy circuit. A little poofie in there but not too bad. The line was visible the whole way. After we got back to the jump , my friend and I went up the mainline up past Mount's offshoot. It was a little cloudy UNTIL we got past Martz. Then it cleared up VERY NICELY (almost cracklin blue). We went up to the dropoff in the Rotor-rooter tunnel (I hope I have that right). Coming out was a breeze (ya , you betcha dere). The flow was about medium (like it always is) so it's back to where it kind of used to be. Made coming out very nice (very little kicking).

The Main line was buried under some sand only in a couple places and then only for about a foot or so. Vis on the main-line up to Martz was about 20-30 feet...Once past Martz it increased to about 50ft plus.
8/15/2008
Buhlz
80
Amazing dive! Headed up w/ Chris for my B-day and well worth it! The family wasn't too happy as the no-see-ums were carrying everything away but my doubles of course. Any who-a-yea, We head to the traverse to Martz! Vis was around 100 (or as far as my light could shine) and popped out the entrance of Martz! Always wanted to do that! Headed back to where I left my gap reel, Chris caught my attention quickly and let me know there were other divers behind me. !!Where'd they come from!!!! After bumbping into them, we went upstream to half hitch and turned back! Played around in the cavern zone looking for that lead that leads to the sink just to the right of the basin. Just a magical place!
8/8/2008
Flyczek
80'
The cave is starting to clean up after the flood earlier this summer. Vis looked to be at least 80 feet. Flow is moderate and will quickly clear up stirred silt and sand if you happen to fail to properly secure your inflater to your wing and get dumped onto the floor at the worst moment.

Only saw two other teams at the cave and never bumped into them at all in the water. The real crowds are the swimmers and picnickers. We entered Martz sink for both dives, but exited the rabbit hole on the second dive. Today's crowd were more curious and courteous then I have previously encountered. They were even kind enough to move out of the way when I was trying to get up the stairs.
7/3/2008
Big G
80
Dove to Godzilla room via rabbitt hole vis was 80 . The mainline was nice and clear.
6/25/2008
DogDiver
80
Nice dive today. Vis cleared noticably once past the Martz tunnel. Nice flow, about what it was 2 years ago. Martz sink looks good, will try entery there next week. Lots of sediment on the walls and floor.
6/9/2008
Dave
50
Entered through rabbit hole, went to the Godzilla room. Vis was about 50' all the way. Found all three Godzillas, great dive. temps about 70 degrees. This just became my favorite cave.
6/8/2008
Randy Beeson
50ft.
Basin was clear,cavern vis 25ft.Ran mainline to half hitch,vis in cave was 30-50ft.A class dusted it pretty good on our second dive.Hundreds of swimmers topside.I guess Mexican kids dont understand[excuse me] while hogging the stairs.Would like to do Godzilla and Martz next time.
5/18/2008
JCDdiver
50-80'
This was my first dive at Madison. We dove the main line only. The visibilty was good even thought there was a lot of suspended particulate matter. The flow wasn't bad at all. Plenty of swimmers in the basin.
5/10/2008
Shirley Kasser
excellent
The flow was "perfect", enough to keep things cleared up, but not enough to make the dive feel like work. Recent traffic has cleared up a lot of previously reported buried line issues. Swimming season is in full swing and the basin was full of happy swimmers. Entering through the Rabbit Hole, we spent 86 minutes, going to 1100' on the main line, as well as checking out the Godzilla room.
4/11/2008
Jim McMichael
20
Bobbi & I dove there 4/10 As Jim said there is ALOT of sand in there now. Our dive was to just check out all the jumps we could. At stop sign water is not tannic but has allot of particles vis 20' /Godzilla jump vis> 15' and allot of very sandy (fine) covered the pull rocks- Banana room jump > 20' - Martz Jump (we did not go in but vis was up in this area to 25-30') We went up the main line another 200 or so seemed to hold at 30'. We had a nice float out / the man hole in the floor is 1/2 filled in / (flow is way up) and checked out the 1st jump past the stop sign (it runs Parallel to the main) , removed twigs, dug out line 0'ed the vis & repaired line Cavern vis 15 - 20 (greenish) could not even see light from the rabbit hole. It's like a new dive, with all the new sand dunes
4/2/2008
Jim Wyatt
30-40
High flow similiar in volume to Devil's Ear. 20-40 feet vis. Truckloads of san all over the cave floor. Lines buried in the sand as deep as 3 feet for a linear distance of 20 feet. Rabbit Hole entrance is easier than main entrance.
1/19/2008
PacketSniffer
80-100
Entered Martz Sink and swam to upstream side of Rocky Horror. Vis was hazy and about 20~30
1/7/2008
DogDiver
20-30
Tannic and cold water flowing from the Crossunder and Marntz tunnels. Poor vis in the 20 foot range. Reports that the water clears past the Marntz tunnel. Basin blown out...
11/24/2007
Jacki C
spectacular past Martz jump
Flow is so low that a single stage got us through Potter's Delight and Rocky Horror. We're planning a double stage next time so we can push out the back of Potter's. It seems to get more beautiful every time we go.
11/11/2007
Jim McMichael
100
Great Dive & the hot showers are awsome too
11/9/2007
Robert Pawlak
80?
Low flow. Great viz. Wonderful cave, wonderful dive!
10/28/2007
Jim McMichael
100
Great Dive
9/19/2007
Crazy Jumpin Jack
100
THIS IS THE LAST PARAGRAPH OF OUR PREVIOUS POST: The State Park Boys were busy working on the shower-restrooms. If I have one comment about the facilities @ Madison it would be that considering all the "new" cave divers who like to use this place, it would be nice if there was a handrail on one side of the trail going from the parking lot down to the platform entry. I have seen a number of people have a hard time trying to hold on to that plastic chain and step up @ each railroad tie with full gear on; and have watched a few actually fall over because of it. BUT I AIN'T COMPLAININ NONE EITHER! A great place overall. Jack (and Jackie)
9/19/2007
Crazy Jumpin Jack
100
Jackie and I dove the Godzilla Circuit and several other tunnels in the same area, on Wed, AM, returning to Marietta after 2 weeks @ Ginnies. Had the whole damn place to ourselves! As Tom Hundley says, the viz was "as far as your light shines." Simply outstanding! Flow was slightly positive. Lance's hard work on the lines is really appreciated….particularly if some stupid shit stirs up that very fine silt that you have to pass back thru. The stairs going in to the main basin were still very sturdy and the carpet on the runners was still tacked down and not slippery WE FOUND GODZILLA! A "big deal", because on that day the boy was NOT tied to the line between the back-to-back arrows, but rather, was on a high ledge, overlooking the room on the left. In keeping with tradition, Godzilla now has a new lair, in the same room, which might be a little more challenging to find. I suspect that Godzilla will keep moving unless all y'all cable tie that pup off to the line. Most divers who want to move him might go as far to untie him from the line (obviously that had happened here), but probably would not cut the line to get him….although we do have a few total idiots diving caves these days. The State Park Boys were busy working on the shower-restrooms. 2
8/18/2007
Walter Pickel
100'
Did a nice leisurely swim up the main line. Only one other team was there but the line for the "jumpin' spot" was 100 deep. Flow is positive and viz is wonderful!
8/9/2007
Tom Hundley
100
I've done three dives there recently in the past month or so. My hats off to Lance on the new lines. I had done Gozilla before but not into the Court Yard. What a wonderful dive. I had someone show me some tunnels not far off Gozilla and they were fantastic and pristine. I had no idea just how many differnt places there are in the system that I did not know about. Madison has a lot to offer. There are truly some stunning and varied places in the system.
8/8/2007
Scott Byars
80
Just have to agree with everyone else..The courtyard is a fantastic dive. Just a blast and with such cave variety. With the low flow we got in at the main spring and had no trouble getting back to the courtyard doing a single stage dive. Viz is great also. Looking forward to my next trip there.
7/14/2007
Mike Jennings
80'
Dive to Courtyard and a little beyond. What a beautiful place. Third dive to same location and since we went here I just can't talk myself into going anywhere else. Love this dive. Flow is much more significant after the drop down the well to courtyard; it's a very nice trip on the way out.
6/25/2007
Jim McMichael
100'
Great dive!! just a main line run for distance (about 300' past 1/2 hitch) & a awsome ride out taking pictures
6/9/2007
Rich
100
Conditions are great right now here. We entered at Martz, and went up through Potters & Rocky and kept on swimming just past the 3000' marker! Vis was spectacular all the way, what a fantastic cave!
6/2/2007
Mike Edmonston
80 to 100
Vis was down a bit due to the wonderful rain. We pretty much had the system to ourselves all day. Flow had picked up a bit but was still down. Tub is on bottom in cavern.
5/31/2007
CWalters
Excellent
We did 2 dives at Madison yesterday: 1) Godzilla circuit plus CrossUnder tunnel to where it opens up; 2) Martz to Potters Delight, return mainline and exit in main spring. The flow was pretty minimal, visibility spectacular throughout!
5/13/2007
Walter Pickel
100
The flow is still down and the viz is incredible. We did the Godzilla circuit, up to Martz Sink and down the mainline. The water was a beautiful blue in the Godzilla room.

Madison has a new policy for divers. You need to fill out a form (like Manatee) before you dive.
4/21/2007
Daniel Jimenez
100
Incredible viz! Entered at Martz, crystal clear, and pushed back past the well into the courtyard. The viz throughout the courtyard was the best I´ve ever seen...a dive that all experienced cave divers should complete with the help of a stage...
3/26/2007
Jim Wyatt
100
A bit tannic in the cavern - crackling blue past Martz sink. Crackling clear blue in the Godzilla room too. Flow is not bad.
1/9/2007
Tony Flaris
20
The River is backing into Madison Blue and the visiblity in the cavern is less five feet. If you know where to look you can still find the gold line. The visibility even past the Godzilla Circuit is around 20'. I heard from another team that is was still clear at Martz Sink but did not confirm.
11/28/2006
Barbara Dwyer
100
'Just lovely in there---main line to Godzilla and out, then continuing on up to the Half-Hitch. Flow's still down but water's beautiful.
9/30/2006
Jean Nelson
100 feet plus...
Agree with Bob on his report. Flow is down and entry thru EITHER Rabbit hole or main cavern entrance. Did main-line up to Mounts offshoot. Awesome viz , even thru the half-hitch!
9/2/2006
Bob Overstreet
100
Flow is fairly low, and even though a fair amount of water seems to be flowing to the river, it's easy to get into the system either via the main entrance or the Rabbit hole.
8/26/2006
Scott
100
low flow and great viz. Can make long swims up the main flow tunnel.
8/1/2006
Jim Wyatt
100
Flow is down even though the river is also down. Vis is great.
7/28/2006
Nicolas Alvarado
100
1st dive after full cave certification. Got to Godzilla room and it was phenomenal! Definitely going back! Just need to work a bit to pay off some bills!
7/25/2006
Bob Overstreet
100
Viz was remarkable! Flow was much much lower than last time I was here (May 2005). Popular swimming hole, but can peacefully co-exist. We did see some of the blue paint specs that Jim mentions below. Went up past Mount offshoot a couple hundred feet. IMHO... one of the most beautiful white/reddish caves. Pool is a brilliant and inviting blue color!
6/24/2006
Tom Hundley
100
Super clear and very nice today. It really is worth the drive north. If you got them, you might want to bring two sets of tanks to get an extra dive in since the fill station is such a long ways away.
6/23/2006
John Young
100 ffw
Dove Madison for the first time with my buddy Paulie "Bag of Doughnuts" Paulie. The dive was awesome. Vis was 100 ffw. Light flow. We saw Godzilla. Have you?
6/18/2006
Walter Pickel
100'
Did a nice long swim dive up the mainline. Other team did the Godzilla circuit. The flow is down and the viz is incredible.
6/1/2006
Jim Wyatt
120
Outstanding dives today. 120 feet of vis. Crackling blue water. Almost don't need a line--you can follow the paint marks from some ones' blue stage bottle. What a mess.....
4/25/2006
Jim Wyatt
100
Excellent vis today. 100 in the Godzilla room.
4/16/2006
Jim Wyatt
100 feet
Amazingly clear today. Went up the Mount offshoot on dive #1 & the Godzilla room on dive #2. Flow is up -- diving there today was better than....well it was great!! There were probably 75-100 non-divers there picnicking/swimming - half of them were of Mexican descent with Georgia tags.
3/22/2006
Jim Wyatt
100 feet
Crackling blue/clear past Martz offshoot line. Flow is up a lot. Fantastic conditions now.
3/4/2006
Jim Wyatt
100
Flow is down...vis was 100 feet somewhere just past the half-hitch. Great diving there today!!
2/2/2006
Kenneth Clizbe
60-70 ft.
Normal flow and vis. gets better past half hitch. Tannic water not intruding run at this time. Basin water level at 11.15 on gauge near steps. Raining hard when we left with more rain forecast. I would expect river to start rising soon due to the weather.
1/23/2006
Frank Lavallee
Good
The outflow into the basin is moderate and the water is a little green. The Crossunder Tunnel all the way back to the deep drop-off is very silty on the floor and walls, so I would recommend no more than a 2-person team, and do it in sidemounts. The main tunnel and the run to the Godzilla Room has good vis, but isn't crackling blue.

The right side steps on the dock are roped off. The left side steps are getting mushy, so it's only a matter of time before some repairs are needed.
1/19/2006
State Park Manager
OPEN
The river is down and the system is now open for diving.
1/6/2006
PSSP
SITE CLOSED
This site is currently closed due to rising river levels.
1/5/2006
Jim Wyatt
100
Cracking blue--excellent visibility. Flow was down, but still flowing nicely.
1/1/2006
Scott Byars
crazy good
flow is down but viz still great. we were the first in so it was nice. on our way out 3 teams passed us. get there early!
12/29/2005
Curt Schuster
Great
Like Andy we to did the Godzilla The system is great. Next time we are going to explore so are the jumps. You gotta have your skills to do this area as there are several places you can trash real quick. Try it some time we did 70 minutes plus.
12/24/2005
Jim Wyatt
100
Excellent vis. Water heater in shower house is not working.
11/8/2005
Andy Lamborn
100
We swam to the Godzilla room and back the mainline. Back at the mainline we recalculated 1/3's to continue up the mainline. What a great dive; however, I thought the Godzilla room would be bigger.
11/8/2005
Andy Lamborn
100
The flow was up, but the cave was beautiful. We swam up the mainline about 1400ft. Wooden steps need work, so be careful they are slippery and falling apart. Maybe we should start a collection jar to have them repaired.
10/29/2005
Kathleen
100'
Flow reduced measurably since 10/15. Excellent viz. Only one other team present. Wooden platform steps continue to degrade and create a precarious entry/exit.
10/15/2005
Walter Pickel
100'
Medium flow...great viz. Allowable teams is up to 4 now.
9/30/2005
Rich
80'
Madison is definitely "blue" right now, the flow is kicking but the cave is very clear.....expect reduced vis on exit due to ceiling percolation in the farther reaches...
Click here if you would like to contribute any information or resources for this system.
Sslect Search Radius:
| System | Depth | Cave | Cavern | OW | Last Report | Distance (mi) |
| --- | --- | --- | --- | --- | --- | --- |
| Suwanacoochee Cave | 125 | True | False | False | 4/22/2019 | 7.8 |
| Edward's Spring | 145 | True | False | False | 4/22/2019 | 7.9 |
| Anderson Spring | 80 | True | False | False | 7/2/2017 | 9.5 |
| Pot Spring | 70 | True | False | False | 6/18/2017 | 0.9 |
| Lineater Spring | | True | False | False | 12/8/2016 | 7 |
| Cathedral Sink | 200 | True | False | False | 12/29/2014 | 10.9 |
| Falmouth Spring | 200 | True | False | False | 1/1/2014 | 10.5 |
| Morgan Spring | 208 | True | False | False | 9/4/2011 | 4.7 |
| Adams Spring | | True | False | False | 8/4/2010 | 4.3 |
| Owl's Eye Spring | 40 | True | False | False | | 4.6 |
| Lime Spring | | True | False | False | | 7.6 |
| Aquarius Sink | 128 | True | False | False | | 10.6 |
| Coffee Pot Sink | 65 | True | False | False | | 6.8 |
| Big Bamboo Sink | 148 | True | False | False | | 8.5 |
| Jade Hole | 162 | True | False | False | | 9.3 |
| Firecracker Cave | 120 | True | False | False | | 2.6 |
| Coffee Springs | 65 | True | False | False | | 6.8 |
| Goul De Tannerie | | False | False | False | | 1.9 |
| Rossetter Spring | | True | False | False | | 4.5 |
| Tanner Spring | 130 | True | False | False | | 1.9 |
| Alapaha River Rise | | True | False | False | | 9.7 |