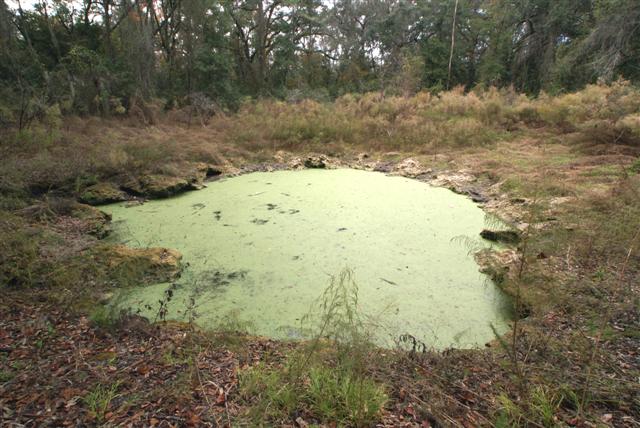 Portions of the following information were taken from the Dyal and Black Sinks Dye Trace Report conducted in 2003.
McCormick Sink is located on wooded property west of Highway 47, approximately 0.5 miles south of Rose Creek Cave System. McCormick Sink connects to a small, silty, cave passage approximately 1000 feet in length depth of 145 feet deep. To date, explorers have been unsuccessful in linking this cave to nearby Rose Creek Cave System. Samplers were located at a depth of 125 feet deep, about 300 feet into the cave.
Date
Submitter
Visbility
Remarks
3/1/2009
Walter Pickel
100'
Jerry and Jill connected McCormick Sink to Rose Creek Sink at 11.36AM. Since Rose is the bigger system, McCormick Sink will now be listed under Rose Creek.

While Jill and Jerry decompressed, we cleaned up the stages in the system and left no gear in the cave.
2/27/2009
Walter Pickel
100'
Spent the weekend setting up Jill and Jerry for their push dive on Sunday (3.1.2009). We staged 6 bottles for them out to the siphon tunnel.
1/31/2009
Walter Pickel
80'
Did a working dive upstream to mark stage bottle drops. Viz was very nice with the bluest water i have ever seen. The system needs a few dives to make for a good cleaning.
11/25/2007
Walter Pickel
80-100
Visibility was superb and the water was BLUE! Discernible flow with an amazing amount of life. Many, many blind albino crayfish and isopods. Dove mostly upstream but a few hundred feet downstream after returning back to the mainline from the upstream jump.
Click here if you would like to contribute any information or resources for this system.
| Description | Type | Date | Author | Remarks |
| --- | --- | --- | --- | --- |
Sslect Search Radius:
| System | Depth | Cave | Cavern | OW | Last Report | Distance (mi) |
| --- | --- | --- | --- | --- | --- | --- |
| Jug Spring | 80 | True | True | False | 1/12/2023 | 6.6 |
| Sunbeam Spring | 80 | True | False | False | 10/15/2022 | 10 |
| Rose Creek - Sink | 165 | True | True | False | 7/4/2011 | 0.7 |
| Rose Creek - Swallet | 40 | True | False | False | 2/5/2011 | 0.7 |
| Old Bellamy - Pfc | 150 | True | False | False | | 13.4 |
| Old Bellamy - Pfv | 150 | True | False | False | | 13.4 |