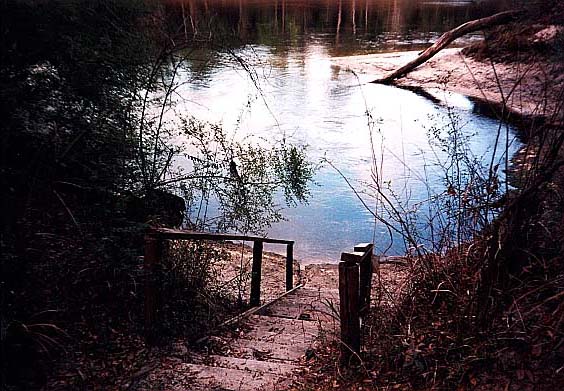 Portions of the following information were taken from Florida Geological Survey Bulletin 66.
Mearson Springs are located approximately 9 miles east of Mayo along the southwest bank of the Suwannee River. From the intersection of US 27 and SR 51 in Mayo, head east on US 27 for approximately 6.6 miles to the intersection with CR 251. Turn east (left) onto CR 251 and drive approximately 2 miles until the road makes a 90 degree bend to the north. Continue north on CR 251 approximately 0.7 miles to a boat landing at the end of the road. The spring are 0.8 miles downstream from the boat ramp on SR 251. Mearson Springs occupy a southwest to northeast-trending cove surrounded by high banks along the southwest bank of the Suwannee River.
Description
- Mearson Springs pool, which has three vents, measures 75 ft southwest to northeast and 51 ft southeast to northwest. The largest spring vent is southernmost, where a cavern opens beneath a limestone shelf. The depth over the largest spring measures 11.8 ft. The bottom is limestone and varying amounts of sand. Spring water is clear and slightly green, contrasting with the dark water of the Suwannee River. There are thick patches of algae but little to no other aquatic vegetation. Three springs producing prominent boils are oriented linearly along a 30 ft long, north-south trending limestone fissure. On the southwest side, a wooden boardwalk and stairs lead down into the spring from the 15 to 25 ft high banks. The short spring run discharges northeast about 30 ft into the river. Land around the spring is privately owned and forested adjacent to the spring. Spring discharge is dictated by Suwannee River stage. Bare limestone and sand banks that are typically underwater were exposed during the April 2002 visit due to extremely low river levels. The adjacent riverbanks are composed of scalloped limestone, shell marl, and sand.
Utilization
- The spring is surrounded by private land and is used locally for swimming.
| Date | Submitter | Visbility | Remarks |
| --- | --- | --- | --- |
| 6/6/2015 | Cavedivecamp.com | 40' | finally got to do a real cave dive here for the first time. strong flow to get into the cavern. line on left in great shape.pretty much side mount after the first turn through the floor then a belly crawl to a jump. at about 200 feet called the dive. Cave is a labyrinth.percolation was sending sand down from the ceiling messing up the VIS behind me. probably come back and not try to drag a camera with me next time.bottom is sandy flow is good this was great except for the percolation darn the bad luck.just have to move quickly past that spot and see if things develop farther in under the river depth 30 feet. |
Click here if you would like to contribute any information or resources for this system.
| Description | Type | Date | Author | Remarks |
| --- | --- | --- | --- | --- |
Sslect Search Radius:
| System | Depth | Cave | Cavern | OW | Last Report | Distance (mi) |
| --- | --- | --- | --- | --- | --- | --- |
| Little River | 110 | True | True | True | 4/30/2023 | 4.7 |
| Ruth Spring | 50 | True | False | False | 4/2/2023 | 4.3 |
| Peacock Springs - Peacock III | 214 | True | False | False | 3/12/2023 | 8.5 |
| Telford Spring | 80 | True | False | False | 12/1/2022 | 9.5 |
| Peacock Springs - Peacock I | 175 | True | True | False | 11/17/2022 | 8.6 |
| Royal Spring | 50 | True | True | True | 11/15/2022 | 4.2 |
| Alligator Rescue Spring | | True | False | False | 5/20/2022 | 9.4 |
| Peacock Springs - Orange Grove | 175 | True | True | True | 3/30/2022 | 8.7 |
| Cow Spring | 110 | True | False | False | 10/10/2021 | 6.9 |
| Troy Spring | 70 | False | True | True | 9/16/2020 | 3 |
| Owens Spring | 45 | True | False | False | 10/7/2019 | 1 |
| Suwannee Blue Spring | 40 | True | False | False | 6/28/2016 | 3.8 |
| Convict Spring | 30 | True | False | False | 11/23/2015 | 5.4 |
| Peacock Springs - Peacock II | | True | False | False | 4/8/2015 | 8.5 |
| Peacock Springs - Waterhole III | 55 | True | False | False | 9/26/2013 | 8.6 |
| Bathtub Spring | 20 | True | False | False | 2/5/2011 | 5.6 |
| Peacock Springs - Baptizing Spring | | True | False | False | 8/15/2010 | 9.3 |
| Branford Spring | 101 | True | False | False | 1/16/2010 | 8.3 |
| Bonnet Spring | 48 | True | False | False | 8/15/2009 | 8.8 |
| Hidden Spring | | True | False | False | 6/1/2006 | 6.8 |
| Double Sink | | True | False | False | | 6 |
| Running Springs | | False | False | False | | 7 |