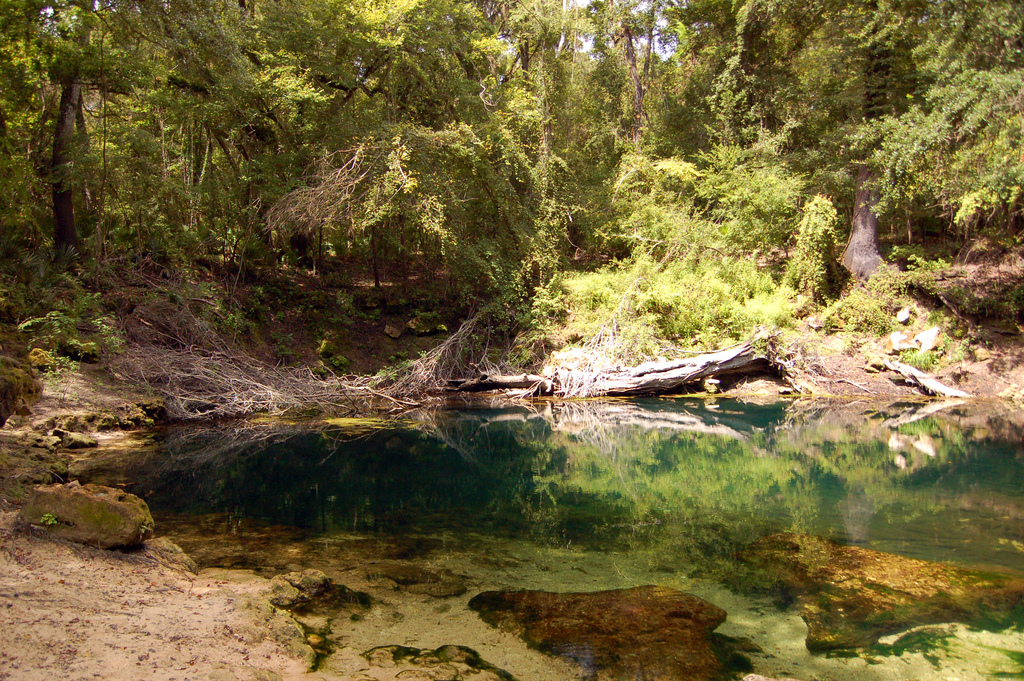 Portions of the following information were taken from Florida Geological Survey Bulletin 66.
Owens Spring is located on SRWMD land about 8 miles east of Mayo. From the intersection of US 27 and SR 51 in Mayo head east on US 27 for approximately 6.8 miles to the intersection with CR 251. Turn east (left) onto CR 251 and drive approximately 2 miles until the road makes a 90 degree bend to the north. Continue on CR 251 north approximately 0.7 miles until the road comes to an end at a boat landing. The spring pool is approximately 0.25 miles east of the CR 251B boat ramp on the Suwannee River.
Description
- Owens Spring pool measures 114 ft north to south and 87 ft east to west. The pool is shallow, less than 8 ft deep except in the deepest area at the vent where it measures 31.3 ft deep. The vent lies beneath a submerged limestone ledge on the southwest side of the pool. The water is clear bluish to slightly tannic. There is very little aquatic vegetation and the bottom is mainly rock and sand. There are thick patches of dark green filamentous algae covering more than half of the pool substrates.
Owens Spring has steep limestone and sand banks. Its west and north banks rise vertically to approximately 20 ft higher than the water surface. In July 2002, the spring had a short run with steep sandy banks. It flowed approximately 125 ft northeast into a siphon. Also at this time, the spring was barely flowing, crystal clear, and averaged less than 1 ft deep.
At higher water levels Owens Spring flows overland through a lowland corridor leading to the Suwannee River. This intermittent channel is dotted with sinkholes and karst windows, and limestone frequently is exposed along its course. A gated sand road accesses the spring on the south side where there is a small gravel parking area. All surrounding lands are forested with mixed hardwoods and pines.
| Date | Submitter | Visbility | Remarks |
| --- | --- | --- | --- |
| 10/7/2019 | Sean McCarthy | excellent | The springs confluence with the Suwannee is almost visible due to low water levels. |
| 6/6/2015 | Cavedivecamp.com | 30' | took my snorkeling gear here today to check out conditions and potential for a cave dive. good flow heading to the downstream side of the sprng pool. big tree over cave opening and 30 foot depth makes snorkeling challenging. will definitely be back with a scuba tank.downstream vents look fun but small. |
Click here if you would like to contribute any information or resources for this system.
| Description | Type | Date | Author | Remarks |
| --- | --- | --- | --- | --- |
Sslect Search Radius:
| System | Depth | Cave | Cavern | OW | Last Report | Distance (mi) |
| --- | --- | --- | --- | --- | --- | --- |
| Telford Spring | 80 | True | False | False | 8/17/2023 | 8.6 |
| Ruth Spring | 50 | True | False | False | 6/11/2023 | 5.2 |
| Little River | 110 | True | True | True | 4/30/2023 | 5.6 |
| Peacock Springs - Peacock III | 214 | True | False | False | 3/12/2023 | 7.6 |
| Peacock Springs - Peacock I | 175 | True | True | False | 11/17/2022 | 7.6 |
| Royal Spring | 50 | True | True | True | 11/15/2022 | 3.3 |
| Alligator Rescue Spring | | True | False | False | 5/20/2022 | 8.4 |
| Peacock Springs - Orange Grove | 175 | True | True | True | 3/30/2022 | 7.8 |
| Cow Spring | 110 | True | False | False | 10/10/2021 | 6 |
| Troy Spring | 70 | False | True | True | 9/16/2020 | 3.8 |
| Suwannee Blue Spring | 40 | True | False | False | 6/28/2016 | 2.9 |
| Convict Spring | 30 | True | False | False | 11/23/2015 | 4.4 |
| Mearson Springs | | True | False | False | 6/6/2015 | 1 |
| Peacock Springs - Peacock II | | True | False | False | 4/8/2015 | 7.6 |
| Peacock Springs - Waterhole III | 55 | True | False | False | 9/26/2013 | 7.7 |
| Bathtub Spring | 20 | True | False | False | 2/5/2011 | 4.7 |
| Peacock Springs - Baptizing Spring | | True | False | False | 8/15/2010 | 8.4 |
| Branford Spring | 101 | True | False | False | 1/16/2010 | 9.2 |
| Bonnet Spring | 48 | True | False | False | 8/15/2009 | 7.9 |
| Hidden Spring | | True | False | False | 6/1/2006 | 5.9 |
| Double Sink | | True | False | False | | 6.9 |
| Running Springs | | False | False | False | | 6 |