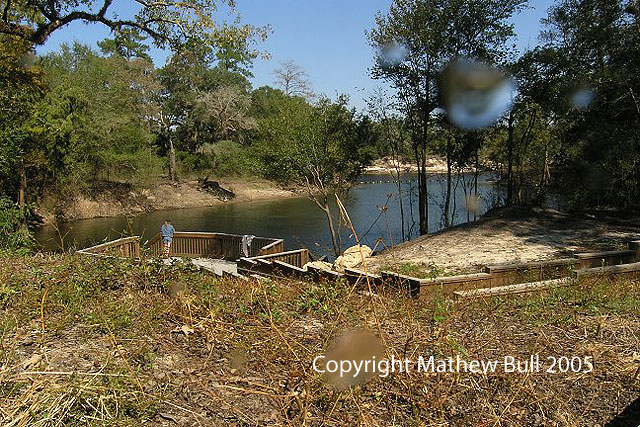 Portions of the following information were taken from Florida Geological Survey Bulletin 66.
Troy Spring is located within Troy Spring State Park, 5.5 miles northwest of Branford. From the bridge over the Suwannee River in Branford, travel northwest on US 27 for 4.8 miles. Turn north (right) on CR 425 and travel 1.2 miles to the state park entrance on the right.
Description
– Troy Spring issues from a depression with vertical limestone walls. The pool diameter measures 138 ft north to south and 118 ft east to west. The pool depth is 61 ft. The spring run is about 325 ft long and flows in a straight path eastward to the Suwannee River. A thick layer of dark green filamentous algae covers nearly all aquatic substrates. There is little to no other aquatic or emergent vegetation. Water color is clear and greenish. Limestone is exposed around the spring pool and has a scalloped appearance. High ground surrounds the spring and rises to approximately 18 ft above water surface. The uplands are generally forested with pines and hardwoods. The Springs Fever website notes that at the lower end of the run lie the keel timbers/ribs of the 19th century steamship, Madison, which was purposely sunk in the run during the Civil War to prevent it from falling into Union hands. The ribs resemble railroad ties. There is a nearby cabin to the south. An underwater cave system has been mapped at Troy Spring.
Utilization
– Troy Spring was recently acquired by the state park system. It has been developed with parking area, restrooms, a cement and wooden ramp leading down to the spring and wooden deck surrounding the spring. Troy Spring is a swimming, snorkeling, and scuba diving hotspot.
| Date | Submitter | Visbility | Remarks |
| --- | --- | --- | --- |
| 9/16/2020 | Aaron | 50-60ft | Visibility was good, even after the recent tropical storm which went through within the week. Lots of turtles. High flow from the small cave system entrance. This is probably best as an open water training site. |
| 12/29/2019 | Jack Hammer | 60 | Vis was good, can see bottom from surface. Spring run depth varies from 2-5 feet. Quite a few turtles swimming about. |
| 9/2/2019 | Kole Kindschuh | 50-60ft | You can almost see the bottom of the basin from the surface. You can see the surface and trees above when on the bottom. Gorgeous green water. Hundreds of turtles in the run. Tannic layer on top of clear near the wreck. Beautiful effect under the sunlight. |
| 9/25/2018 | Tim | 50 | Visibility was good, but not crystal clear. I took my 13-year-old son there to get some bottom time. He just received his open-water certification and the springs are great places to work with new divers. The wreck is covered with about seven feet of water. Plenty of turtles for a new diver to enjoy. With a new diver as a partner, we didn't venture deeper than 45'. We made one dive in the evening, and then returned the next day after lunch. We were the only ones in the water each time. |
| 1/25/2014 | Errol Putigna | Browned out | As of right now, Troy Spring is browned out due to the overflow of the Swannee River. |
| 2/10/2013 | Errol Putigna | 60 | Diving was great. River was a bit low. I think the deepest depth I recorded was 65ft. Temp was 71F. |
| 12/13/2012 | Steve | clear | The park and the spring have been open for quite a while since the flooding receeded. Water is clear (with a normal greenish tint) and a depth of about 76 feet. If you are a dive instructor and conducting a class/giving instructions you are required to have a valid Commercial Dive Permit issued by the State of Florida. The permit is available at the park. There is also a $5.00 per vehicle entrance fee to the park. |
| 7/1/2012 | Kristi Draper | unknown | Troy Springs park is closed until further notice due to recent flooding from Tropical Storm Debby. I was there on 7/1 but did not dive. Three feet of water covers a 50-yard stretch of access road to the parking lot. The parking lot is still dry. Flood waters in the spring area are up to the middle of the serpentine concrete walkway. Flood waters are not expected to crest until after 7/8. It looks like it will be at least several weeks before Troy Springs is diveable. |
| 11/13/2011 | Justin | 50-70 | The water was a little dark and green looking down. There was only a little particulate matter throughout the water column. You can clearly see the trees from the bottom though. Water is still low; I got out via the shore instead of the stairs. |
| 7/4/2011 | Ricki | 100 ft. | Spring and outflow areas were open even though water level was quite low. There was some exposed limestone in the outflow area between Troy Spring and the Suwannee River. Also, the boat barrier/boom across the inlet to the Spring is largely resting on dry ground. Despite that it was an excellent dive. Shot a number of still and video images, the first video just went up at: http://fksa.org/showthread.php?p=48526 |
| 6/6/2011 | Jason | 100ft | Very clear, enough flow to keep it clear. River was very low making the snorkle to the wreck a belly crawl. |
| 8/23/2010 | Larry Vrooman | 70' | Great viz, 72 degrees, no thermocline, good flow out both areas of the spring. |
| 5/16/2010 | Scott Jantz | CLOSED | Closed due to river level |
| 11/17/2008 | Fed | 70plus | Arrived around 10:00 a.m, we saw other divers equipment but they were not in the water. We were the only divers to get wet. Viz was pretty good since no one had silted it up. Water levels were way down. Saw lots of turtles. Started getting a little silted once we reached 65ft and were exploring. It was cold oustide around 50 degrees. The rest of the spring was maybe 5ft deep with parts as low as 3 ft deep. The "shipwreck" is a joke and not worth wasting air on it. You can snorkel it. Flow was strong from the vents at the bottom around 70ft. Greenish tint when looking up at the sky. Kinda cool. Not my favorite place to dive but its free since I have a park pass! |
| 5/24/2008 | PolarbearBen | 40ft | Went to the spring on Saturday morning and were one of the first buddy teams in the water. Water level covered last four steps of the entrance ramp and the spring is open to divers and swimmers. During first dive visibility was 40ft because we were one of the first teams in the water. That soon changed once the weekend crowd came. Several divers were kicking up the bottom and the swimmers were stirring up the top so by 11am the visibility dropped to less than 10ft. Ranger does actively walk around and asks to see you cert card and if you paid the park fee – or have an annual pass. If going to this spring I would suggest planning on getting there early and please remember to bring your frog kick. |
| 5/1/2008 | Tom Johnson (tj) | 30 | Open and divable. |
| 3/9/2008 | James Garrett | 2-5ft | Spring closed to swimming and diving. Water level is high enough that it covers half the entrance ramp. |
| 9/18/2007 | Chris Krier | 70ft | System was lower than it was last year and the steps to the left are now just a path around to the left side up on high and dry land. The steps to the right that last year were under water for at least two steps are now to the point where water touches the bottom step but does not cover it, getting in and out can be tricky with doubles on.. Flow is very limited at the cave entrance though some of the smaller vents around the bottom are flowing quite nicely. Vis was normal with it's green tint. Several of the rocks headed toward the river are now exposed and dry for a foot or so up. The swimthru is now almost a land bridge, it is sad. I did see bunches of baby catfish yesterday but none of the other life I usually see, including the turtles. I fear that without some really good rain up there, they may be more damage to this spring than is already occurring (the locals are diving off the rocks and breaking off large chunks of exposed limestone) |
| 2/11/2007 | Perrone Ford | 5ft | System was unsuitable for use without a line. Buddy and I did some work with his new doubles following the edge of the limestone at 10ft, then did some low vis reel work and touch drills. |
| 2/8/2007 | mkdvr | 5' | At 10:30 it was nearly blown out but the river appeared to be moving back out. By 2:30 it was starting to clear already. The basin edges went from brown to green. I swam down to 40' where it went from brown to green to black. Lots of turtles as usual, thick schools of mullet, and a squadron of really big gar hanging out. |
| 1/21/2007 | OneBrightGator | 60' | Vis was good, spring was very crowded but that did not effect the clarity. Discernable flow from the cave entrance at the bottom. |
| 9/2/2006 | Eric Lieberman | 50'-70' | Approx. 50 feet vis at surface until class came. Madison sitting at about 2-4 feet. River was 2 feet low determined by the rule sticking out of the water and the usual water marks on it. Cave is pushing out a slight flow. The cave is possibly to open on doubles, although sidemount is a lot easier. There is a line run back into it which the cave 1 year ago was not even existent. Green algae has formed on the rocks around the spring, so watch out on dive entrances, it is very easy to slip on it. Walkway is a short distance down but snakes for a while, so bring a cart or dolly to make your life a lot easier. Not really the best of cave sites but didn't explore much of it (about 20 feet) cave might narrow off after that but didn't explore much. 10 Dollars a Dive and 3 dollars a car. |
| 8/26/2006 | Eric Deister | 60 | First time visit to Troy, my wife and I swam down the run to the wreck to check it out. Water was knee deep and very clear, could see all the timbers from the hull. Went back to the steps and grabbed our tanks. Vis was great ( only 4 OW divers there but not in the water ) lots of flow and clear water. |
| 3/23/2006 | PSSP | OPEN | The river is down and the system is now open for diving. |
| 1/11/2006 | State Park Manager | SITE CLOSED | Swimming and diving are closed due to brownout conditions (rising river levels). |
| 10/30/2005 | Mathew Bull | 50' and green | Visibility was easily 50' and there was definitely a green hue to the water. Visibility was reduced whenever a class pushed through, but the flow cleared it fairly quickly. The run was 4-7' deep and there is still remains of the Madison at the mouth of the run. Fun dive. Note: $10 per diver and the park doesn't allow diving after 5PM despite being open until sunset. |
| 10/16/2005 | Keith Mille | 70 ft. | Approximately 70 ft. visibility, with a greenish hue. We did our dive around 2pm or so and the sunshine was angled perfectly down into the spring. So, if you plan to dive it this time of year, plan a dive around 2pm to catch the best sun beams. Multiple other dive teams and training were being conducted, which greatly reduced visibility, but flow is strong enough right now that it cleared up fairly quickly. Ultimately, best time to dive would be during the week to avoid the dive classes. Also, it's a long walk to the spring, brining a dolly or cart would be worthwhile, especially if diving doubles. |
Click here if you would like to contribute any information or resources for this system.
| Description | Type | Date | Author | Remarks |
| --- | --- | --- | --- | --- |
| Home Page | Web Site | | | |
Sslect Search Radius:
| System | Depth | Cave | Cavern | OW | Last Report | Distance (mi) |
| --- | --- | --- | --- | --- | --- | --- |
| Peacock Springs - Peacock III | 214 | True | False | False | 3/12/2023 | 11.4 |
| Little River | 110 | True | True | True | 3/1/2023 | 2 |
| Peacock Springs - Peacock I | 175 | True | True | False | 11/17/2022 | 11.5 |
| Royal Spring | 50 | True | True | True | 11/15/2022 | 7.1 |
| Peacock Springs - Orange Grove | 175 | True | True | True | 3/30/2022 | 11.6 |
| Ruth Spring | 50 | True | False | False | 1/2/2022 | 1.4 |
| Cow Spring | 110 | True | False | False | 10/10/2021 | 9.8 |
| Owens Spring | 45 | True | False | False | 10/7/2019 | 3.8 |
| Suwannee Blue Spring | 40 | True | False | False | 6/28/2016 | 6.7 |
| Convict Spring | 30 | True | False | False | 11/23/2015 | 8.2 |
| Mearson Springs | | True | False | False | 6/6/2015 | 3 |
| Peacock Springs - Peacock II | | True | False | False | 4/8/2015 | 11.4 |
| Peacock Springs - Waterhole III | 55 | True | False | False | 9/26/2013 | 11.5 |
| Bathtub Spring | 20 | True | False | False | 2/5/2011 | 8.5 |
| Peacock Springs - Baptizing Spring | | True | False | False | 8/15/2010 | 12.2 |
| Branford Spring | 101 | True | False | False | 1/16/2010 | 5.4 |
| Bonnet Spring | 48 | True | False | False | 8/15/2009 | 11.7 |
| Hidden Spring | | True | False | False | 6/1/2006 | 9.7 |
| Double Sink | | True | False | False | | 5.4 |
| Running Springs | | False | False | False | | 9.8 |