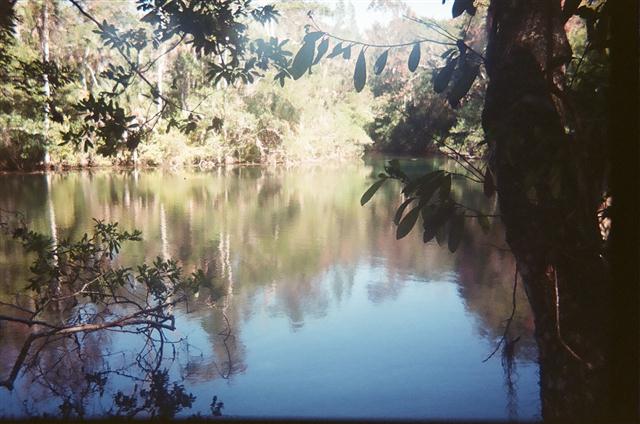 Data for this system is still being collected and analyzed. Click
here
if you would like to contribute any information or resources for this cave system.
| Date | Submitter | Visbility | Remarks |
| --- | --- | --- | --- |
| 11/1/2022 | Konstantinos Mouzakitis | 50 feet | The swamp is still very wet making the hike harder. Perhaps it is easier not to use Buford as a starting point. Flowers at this time of year make it look like a paradise. There is something that looks like a cave entrance. Lots of snakes and spiders but not a lot of biting flies and mosquitoes. |
| 3/26/2018 | Tenzin Smith | 50 feet | Did the hike from Buford, this was my first time here. Honestly wasnít too bad of a hike, the brush was a bit thick and there were quite a few muddy patches though not as bad as it sometimes gets. Good visibility, the basin was completely coated in filamentous algae. Didnít dive it this time, just some freediving. The two canoes are intact and on the (South?) side of the basin. Whatever genius managed to haul these things out here has my complete praise. I especially appreciated the makeshift anchor on the larger canoe. What a beautiful and extremely underrated spring. |
| 1/18/2018 | Timothy Senkevich | 40ft | We dropped and extra tank at Buford for the return dive and proceeded on to Warm Springs. The hike to Warm was thick brush and decently wet and muddy. No apparent easy trails. Some areas were nice and dry for the hike though and also no bugs this time of year! Would not want to go in the wet summer months. The viz in the cavern area was a tannic 20ft at most and once we got into the cave it stretched out a bit further to 40ft. There was a a large 10ft gator resting on the bottom of the pond but he did not move around while we were there. The cave system is small in itself and finished off at 140ft deep. There a no mount restriction at the EOL that could possibly get you a bit further but looking into it I was not able to see how far it went on. |
| 5/22/2011 | James Rule | 100' | The swamp is about as dry as you could ask for and the water is fantastic! Mosquitoes and biting flies are out in force as would be expected for this time of year and there appears to be a small alligator (4' maybe?) that has taken up residence near the southern end of the head pool as this was the third time I've seen him in two weeks. |
| 3/16/2011 | Jack Marut | 100ft | Made the trip to Warm Springs today with Alison. Visibility was unlimited. We dove the upper caverns and the middle cavern. Next time we will take a look at the siphon. This is a really special place for those willing to walk for 45 minutes. Contact me if you would like me to guide you there. |
| 3/16/2011 | Jack Marut | 100ft | Made the trip to Warm Springs today with Alison. Visibility was unlimited. We dove the upper caverns and the middle cavern. Next time we will take a look at the siphon. This is a really special place for those willing to walk for 45 minutes. Contact me if you would like me to guide you there. |
| 1/4/2011 | buhlz | 40' basin 50 cave | Thanx to Jack, Wardy and I headed out to warm today and let me tell you, it's not easy with gear. I used a 100 Cft steel and ward used a 72 Lp and I still used more air. This place is magical like I first put back in the day. It's been that long and we're definatelty coming back to run line in the smaller cave that I believe is on the S,SW end not the run. It's like Jack says; pretty much a horse-shoe shaped canyon with at least two individual "save" systms.. THe southern one seems to be clearer but do not know if it's infulenced by the tides. HHHUUUGEEEE fish in there, no gators that I could see and stopped by the KUR report of a swallet nearby. I just dropped in and didn't find anything worth investigating.... Once leavin Chass, dropped into Buford and encountered mr. Heinerth and hung out for a little..Buford was unbelievably clear.. Just gotta start leaving tanks or just get a damn rebreather already!!!! Anyway: depth in Warm was max 74 feet 72 degrees no exploration of cave at this time. Will DO So in future!!Most definatley!!! Thanks Jack, once agian!!! Dive safe- and remb..this one is NOT easy to get to. |
| 1/1/2011 | Jack Marut | 50 | I just posted a video of the Warm Spring at http://www.youtube.com/watch?v=Vr3UeUHMqpY It is also posted on my facebookaccount name: jack marut I will post more info when I dive it. |
| 12/31/2010 | Jack Marut | 40-50 | I hiked to the syphon end of Warm Spring today and snorkeled the syphon basin. There is a roughly circular "O" shaped fracture area about 50-75 feet in diameter. There are two or three areas that may be large enough for a human to enter. The current did not seem strong but I did not enter into any of the holes. I will try to do a dive there in the next couple of weeks. If anyone has been in this system I would appreciate you contacting me. Dive Safe. Jack |
| 12/26/2010 | John Marut | Looked Great | I hiked out to Warm Spring Siphon today to begin staging gear for a couple of dives. If anyone has been in the syphon end of Warm Spring please contact me. I would like to know what to expect! I will video what I find and post a video link with the conditions report sometime in the next couple of weeks. Dive Safe. |
| 11/27/2010 | John Marut | Looked Great | I hiked into Warm Spring today to take a look at several things. I stopped by the possible karst window that Steve Buhlz reported finding in his 5/18/08 report below. It does look like there is a hole big enough for a human to get into. It was not springing but did look clear. I also stopped by the pond located at N28 38.150' W82 35.720' reported in the KUR report as a possible karst window. The pond looked like it had a deep spot, but was a little darker that the hole Steve found. Several small runoff/drainage streams feed it so it my be siphoning during the rainy season. They are both worth a trip in with gear. Warm Spring looked beautiful as always. There was a large otter playing while I rested. After a short rest I walked to the siphon end of Warm Spring and checked that out. It is amazing that a river as big as Warm Spring disappears so gently into the ground. On the way out I found another hole that clearly has a limestone ledge with a hole leading downward. It was not springing but the water was very clear with a blue tint. I will try to dive these sites in the next month or so and report what I find. The swamp is dry and there were few bugs. Dive Safe. Jack |
| 7/23/2010 | John Marut | 50 | Matt and I made the trip to Karst Window (See KUR report) located at N28 38 32.638 W82 36 08.091, about 1 mile NW of Buford, 0.6 miles NW of Warm Spring and 0.8 miles East of Blind Spring head pool. This was a very difficult trip. Due to the heat, (heat exhaustion really) we had to leave our gear in the swamp for retrieval the next day. The fissure in the bottom of this pond is about 35-40 feet wide and about 150 feet long. Water quality and temperature was similar to Bufrod or Warm Spring. We found two small springs feeding the pond and one small syphon. There were no human passable passages. Max depth was about 80 ft. I have posted a video at http://www.youtube.com/watch?v=5Bn-z5cYXwc |
| 5/22/2010 | rtreefanatic | 100 | hiked first thing in the morn to freedive/snorkel with zach and ron. water was refreshing after the hike but deer flies and mosquitos were horrid. lots of fish awsome dive vis was great and settled down real quick if you stirred it up. did the big pool and swam down stream to the smaller spring tons of bluegill. very enjoyable. swamp was not bad at all. trail in marked pretty well but needs to be remarked on way out paint a little hard to see in some places. dfinitely woth taking a tank next time |
| 10/26/2009 | John Marut | 100 | I made the trip into Warm Spring this weekend. The swamp is very dry and there are few mosquitoes, deer flys, etc. As always this is a very difficult walk with a great dive at the end. Please be aware that there are hunters in the woods with bow and arrow or guns so you must wear a blaze orange vest to avoid being mistaken for Bambi or Porky Pig. Dive Safe. |
| 4/10/2009 | John Marut | 70-100 | We have made about 6 trips into Warm Spring over the last few months so I thought I would share what we have discovered about this system. The head pool has a small cave system at upper end. There is a line dated 6/5/92 in the cave although I have always run my own. This cave system is low flow and silty. Viz is great as long as you don't stir up the silt! Depths exceed 120ft. Due to silting and the distance from help this should be considered an advanced cave dive. The Warm Spring head pool is large and features a horseshoe shaped canyon that runs two-thirds of the way around the downstream end of the pool. Depths in the canyon range from 20 to 45ft or so and viz is 100ft. or better. About a quarter of a mile downstream from the head pool is a bend in the spring run where a springing cavern/cave is located. On the day of that dive I brought my camera instead of a cave real and because it is low flow and silty explored only to a depth of 55 ft or so and within the cavern zone. I don't think this goes anywhere but will post my findings when I explore it further. I have not been in the downstream end of this system. The spring run is like three sisters as far as clarity and visibility go, but is unspoiled and natural. Lets keep it that way! There is no easy way to get to Warm Spring but taking a wagon to the end of Pull Tree, (the road before you cross the three bridges that go to Buford) and then donning your gear and hiking the rest of the way is the easiest route we have found. Be sure to take your GPS. THIS IS NOT AN EASY TRIP. Dive Safe. |
| 5/18/2008 | Buhlz | looks spanking | Made a beautiful dive at Buford and then Zack, Stan and I took a little trip through the woods. After a 20 minute walk, WOW! All I can say is there is tranquility out here in Chass! We must definitely make another trip w/ AL80's. It's just like Eagles nest BEST & clearest day with flow. A little mix of Eagles * Buford in one! Also found possible sink hole solution tubes just east of Warm. I'll be nice and give coords for the hole- but it is named: BBZ for we have the first possible post. and glad to post on Mr. Pickels site. N 28 38'05.9 W 82 35'39. Looks like it may be no-mount- but you never know We need to post the pick of warm, so please email or give me directions to post. Thanks |
Click here if you would like to contribute any information or resources for this system.
| Description | Type | Date | Author | Remarks |
| --- | --- | --- | --- | --- |
Sslect Search Radius:
| System | Depth | Cave | Cavern | OW | Last Report | Distance (mi) |
| --- | --- | --- | --- | --- | --- | --- |
| Buford Spring | 167 | True | True | False | 1/23/2023 | 0.4 |
| Crab Creek Springs | 60 | True | False | False | 1/14/2023 | 5.8 |
| Eagle's Nest | 315 | True | False | False | 1/2/2023 | 5.6 |
| Bulldozer Sink | 60 | False | True | True | 3/22/2020 | 7.3 |
| Hospital Hole | 143 | False | True | True | 4/15/2019 | 7.5 |
| Diepolder III | 300 | True | False | False | 5/27/2017 | 8.9 |
| Little Gator Siphon | 180 | True | False | False | 1/3/2015 | 0.4 |
| Twin Dees | 335 | True | False | False | 8/3/2013 | 8.5 |
| Weeki Wachee Spring | 407 | True | False | True | 4/28/2012 | 8.3 |
| Diepolder II | 360 | True | False | False | 12/23/2010 | 9.1 |
| Gator Spring | 192 | True | False | False | 12/6/2009 | 5.3 |
| Blind Spring | 180 | True | True | False | 11/29/2009 | 2.8 |
| Little Salt Spring | 240 | True | False | False | 9/23/2008 | 6.3 |
| Mud Spring | 210 | True | True | False | 11/20/2005 | 6.4 |
| Lost 40 | 165 | True | False | False | 11/5/2005 | 7.7 |
| Hospital Spring | 40 | False | True | False | | 7.5 |
| Jenkins Creek | 50 | True | False | False | | 8.2 |
| Mary's Sink | 58 | True | False | True | | 7.9 |
| Nursery Sink | 214 | True | False | False | | 8.2 |
| Ryles Spring | | False | False | False | | 3.7 |
| Joe's Sink | 60 | True | False | True | | 7.9 |
| Snake Eyes | | False | False | False | | 5.4 |
| Wolf Sink | | False | False | False | | 9.9 |