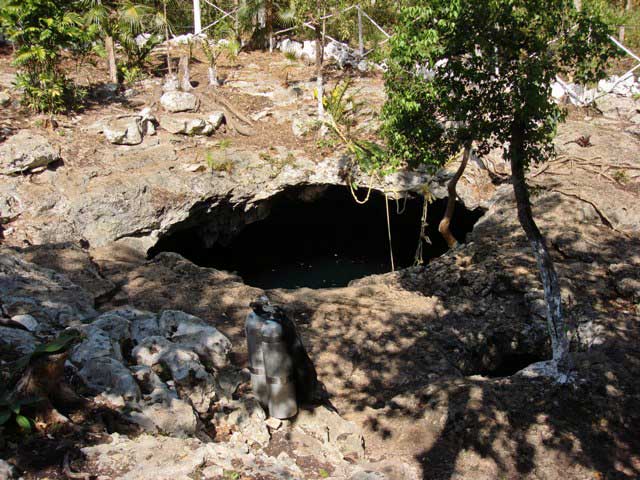 Portions of the following information were taken from www.cavediving.com.
When driving south on Highway 307 toward Tulum, you first past the entrance to the Tulum ruins, then approach an intersection on the north side of town. If you turn right at this intersection, you are on the road to Coba. Several different cave systems are located along the Coba Road, and it took the building of this highway before these caves could be discovered and explored.
The first system you encounter when heading west on the Coba Road begins at Cenote Esqueleto — or, as it is more commonly known, the Temple of Doom. Located just 1.8 kilometers west of the Coba Road intersection, this site is being developed by its owner to bring it up to the standard of other close-by cave diving sites. It will eventually have parking, banos (rest rooms) and a better trail to the cenote.
Once in the water, you will be at the top of a large, circular breakdown pile. A line leads from the top of this pile to a cavern tour line that runs the circumference of its base. From this line, you have the option of jumping off to either of two downstream cave entrances.
One choice is to enter via The Canyons. The more popular choice, however, is to go by way of the Madonna Passage. These two entranceways join up in the Coliseum Room, and proceed onward to the Hall of Giants. From here you can continue on the main line, jump off to the Old Florida Room or take any of a number of offshoot tunnels.
Maximum depths are around 60 feet. Much of the cave is shallower. You will find portions of the cave both above and below the halocline. A map is available for sale from local dive centers that cater to cave divers.
| Date | Submitter | Visbility | Remarks |
| --- | --- | --- | --- |
| 3/13/2009 | Don Currie | 100' | What was not to love about this cave. From the jump in the hole in the ground, you know you are going to have fun. The haloclines and the pure white walls and blue water make this one of my favorite dives of the trip. Walter was a great model and I got some great shots of him going in and out of the haloclines. Photos at Don Currie Photos |
| 3/13/2009 | Walter Pickel | 100' | Did the main circuit starting down the Madonna Tunnel to The Fang. We exited via The Hall of Giants and The Canyons. The existence of so many haloclines and the snow walls was amazing. |
Click here if you would like to contribute any information or resources for this system.
| Description | Type | Date | Author | Remarks |
| --- | --- | --- | --- | --- |
| Video | YouTube | | | |
| Video | Vimeo | 2010 | Slawek Packo | |
Sslect Search Radius:
| System | Depth | Cave | Cavern | OW | Last Report | Distance (mi) |
| --- | --- | --- | --- | --- | --- | --- |
| Nahoch Nah Chich | 235 | True | True | True | 8/3/2023 | 5.9 |
| Vaca Ha | | True | False | False | 7/5/2023 | 3.2 |
| Escondido | 86 | True | True | True | 7/14/2021 | 3.5 |
| Gran Cenote | 50 | True | True | True | 9/13/2014 | 1.3 |
| Car Wash | 70 | True | True | True | 5/6/2014 | 3.6 |
| Kolimba | | True | False | False | 12/4/2011 | 1.6 |
| Muchachos | 70 | True | False | False | 11/21/2011 | 2.8 |
| Tux Kapaxa | 60 | True | False | False | 6/18/2011 | 9.5 |
| Xunaan Ha | 45 | True | False | False | 11/14/2010 | 10.1 |
| Dos Ojos | 391 | True | True | True | 11/13/2010 | 7.9 |
| Tres Estrellas | 60 | True | False | False | 3/16/2009 | 9.6 |
| Caracol | 55 | True | True | True | 3/15/2009 | 5.4 |
| Cristal | | True | True | True | 12/31/2008 | 3.4 |
| Uchben Na Illod | 35 | True | False | False | 3/2/2007 | 4.7 |
| Paanah | | True | False | False | 12/7/2006 | 5.5 |
| Luk Dzonot | | True | False | False | 12/5/2006 | 4.8 |
| Cenote Don Polo | | True | False | False | 12/5/2006 | 4.6 |
| Mol Balam | | True | False | False | 12/4/2006 | 4.9 |
| Chamzizil | | True | False | False | 12/4/2006 | 4.8 |
| The Pich | | True | False | False | | 10.4 |