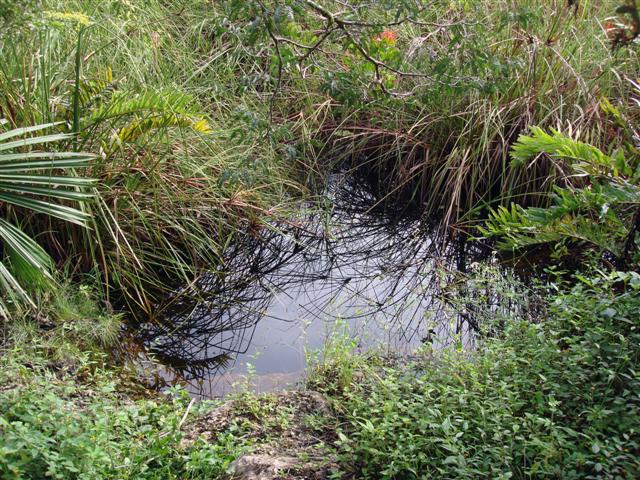 Portions of the following information were taken from www.cavediving.com.
Continuing on the Coba Road a short distance past Gran Cenote, you will come to the entrance of Vaca Ha ("Cow Water" is Spanish and Mayan). The entry is gated; a professional guide can help you with admission fees and other entry requirements.
The cave entrance is a short distance from the road and right next to the parking area. It sits at the edge of a grassy swamp and was once a well where cows came to drink.
Vaca Ha is a largely linear system with few offshoots. Depths will tend to increase the farther you get into the cave, maxing out at around 75 feet. Unlike neighboring Sac Aktun, there is a halocline. Formations tend to be large and somewhat isolated.
| Date | Submitter | Visbility | Remarks |
| --- | --- | --- | --- |
| 7/5/2023 | Chris Dore | 100 | Out and back up the main line. Appears to be open sporadically in the mornings. 300 pesos. First dive here--majestic cave! |
| 11/13/2018 | Dave Cave | > 20m | Site is open as mentioned by Chris M. fee is still MX200 |
| 6/8/2017 | Chris M. | Great inside cave | Site open, $MX 200 dive fee payable at gate. |
| 10/20/2013 | Lynne Flaherty | N/A | Landowner has returned and the gate has been repaired. The site is again closed. |
| 11/20/2011 | Tony Flaris | 100' except Haloclines | Haloclines below 65-70'. Visibility superb. Gate by main road broken. Aqua tech line arrows have the tips cut off of them. Most jumps marked marked a single arrow. Ladder in basin broken/rotted away. Basin overgrown with vegetation. |
| 2/3/2009 | Vlada Dekina | 100 | Visibility excellent as usual. Halocline quite close to the line. |
| 10/11/2007 | Walter Pickel | 100' | Did the mainline...circuit including the halocline was GREAT! |
Click here if you would like to contribute any information or resources for this system.
| Description | Type | Date | Author | Remarks |
| --- | --- | --- | --- | --- |
Sslect Search Radius:
| System | Depth | Cave | Cavern | OW | Last Report | Distance (mi) |
| --- | --- | --- | --- | --- | --- | --- |
| Nahoch Nah Chich | 235 | True | True | True | 8/3/2023 | 5.3 |
| Escondido | 86 | True | True | True | 7/14/2021 | 5.4 |
| Gran Cenote | 50 | True | True | True | 9/13/2014 | 2 |
| Car Wash | 70 | True | True | True | 5/6/2014 | 0.4 |
| Kolimba | | True | False | False | 12/4/2011 | 1.6 |
| Muchachos | 70 | True | False | False | 11/21/2011 | 0.5 |
| Tux Kapaxa | 60 | True | False | False | 6/18/2011 | 7.4 |
| Xunaan Ha | 45 | True | False | False | 11/14/2010 | 9.2 |
| Dos Ojos | 391 | True | True | True | 11/13/2010 | 6.9 |
| Tres Estrellas | 60 | True | False | False | 3/16/2009 | 7.5 |
| Caracol | 55 | True | True | True | 3/15/2009 | 4.6 |
| Temple Of Doom | | True | True | True | 3/13/2009 | 3.2 |
| Cristal | | True | True | True | 12/31/2008 | 5 |
| Uchben Na Illod | 35 | True | False | False | 3/2/2007 | 3.9 |
| Paanah | | True | False | False | 12/7/2006 | 4.6 |
| Luk Dzonot | | True | False | False | 12/5/2006 | 4.4 |
| Cenote Don Polo | | True | False | False | 12/5/2006 | 4.1 |
| Mol Balam | | True | False | False | 12/4/2006 | 4.4 |
| Chamzizil | | True | False | False | 12/4/2006 | 4.5 |
| The Pich | | True | False | False | | 9.1 |