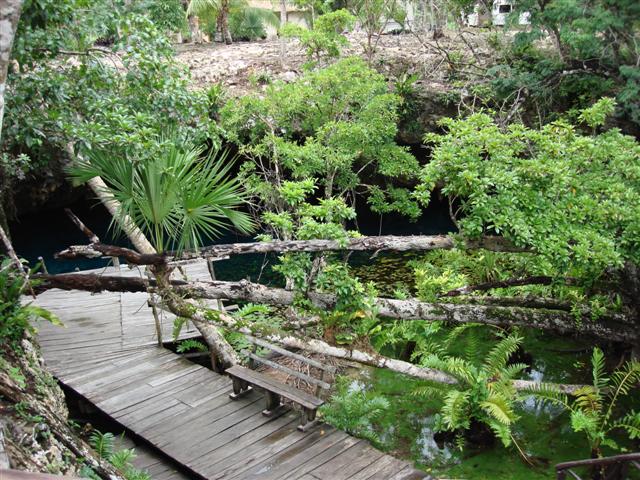 Portions of the following information were taken from www.cavediving.com.
Sac Aktun is located four kilometers west of Tulum on the Coba Road. There is an attended parking area right at the road's edge, and a large sign that says Gran Cenote (the main entrance to the system).
The main cavern at Gran Cenote is a popular cavern tour site. A gold line runs around the perimeter of the main cavern. To get to the upstream side of the cave, swim in along the right-hand side of the cavern and, when you get to the point where the line makes a sharp left, tie off and continue onward. A short distance ahead you will see the start of the permanent cave line.
Starting at the main line, there are a number of directions you can go. The line itself connects to and ends at Cenote Ho-Tul. By running a reel roughly 120 feet across the Cenote Ho-Tul cavern, you can connect to the Cuzan Nah loop line — a circuit through one of the prettiest parts of the cave.
Jumping off the main line when it makes a sharp left to Cenote Ho-Tul will take you to the Paso Lagarto line. This leads to numerous offshoots and the most extensive upstream portion of the cave. A professional guide can even set up a dive for you where you enter the water at Cenote Calimba and swim a lengthy traverse to Gran Cenote.
Depths in Sac Aktun seldom exceed 40 feet, and depths are fairly constant. There is no halocline anywhere in the cave.
| Date | Submitter | Visbility | Remarks |
| --- | --- | --- | --- |
| 9/13/2014 | Kristi Draper | limit of lights | Sorry, "There is a shallow (waist deep) area to the right of the platform that is perfect for dropping SM tanks." That should read "to the left of the platform (as you are standing on the platform looking onto the cenote)". Sorry 'bout that. |
| 9/12/2014 | Kristi Draper | limit of lights | Did the Cuznan Nah circuit. We were the only team in the cave. Entrance fee $200MX. There is a shallow (waist deep) area to the right of the platform that is perfect for dropping SM tanks. All you have to do is hop in and clip on the tanks. To conserve gas I recommend swimming on the surface along the orange snorkel line as far back into the opening as it goes and then drop down to tie off your primary line. |
| 5/3/2014 | Lynne Flaherty | excellent | Did Grand toward the Cruzan Nah loop. Viz was clear and flow was much reduced from our last trip. Traffic, on the other hand, was the highest we've ever seen at the site. |
| 10/10/2013 | Lynne Flaherty | clear | Clear water with a hint of green tinge. Flow was noticeable; on the 12th, we dove up past Much's Maze, and it was Florida-strong :) Ladders continue to be in good repair with a rise that makes things challenging for short people. |
| 11/14/2012 | Lynne Flaherty | clear | Good dive into Lithium Sunset. Flow was mild. Of note, they are now checking C-cards at the entrance. They have also rebuilt the ladders and made them much more difficult for short people to climb, but they are in good repair. |
| 11/17/2011 | Lynne Flaherty | unlimited | We've done two dives in this system this trip. First was the Cuzan Nah loop to the Caverna de los Colmillos jump. Very beautiful, as always. On the way out, we did a short penetration up the Paso de Legarto line; flow was MUCH stronger than I have felt there in the past. The second was entering at Calimba and going left at the T, and then jumping onto the left-hand Box Chen line. This is tight and twisty cave for us backmounters, but really fun -- don't essay it unless you are comfortable with a lot of geometry problems :) |
| 10/21/2011 | Sandy Robinson | very nice | Three of us dove but entered thru Cenote Calimba. As expected the dive was spectacular. There were many formations to admire and just stare at. We had a very slow pace and turned after 36 minutes - about 50 feet after a T when we saw an arrow pointing towards Gran Genote(I think). I would definitely go back. Without looking at my log, max depth was 47, average depth 30, bottom time about 75 minutes, and water temp 78. The location seemed secure and had a nice area to kit up. |
| 11/20/2010 | ScubaGypsy | 100' | Did a 77 minute cave dive here with my wife and guide Etienne Rousseau (http://www.closedsystemdiving.com/) to Much's Maze. 41' max depth, 82 F air temp, 79 F fresh water temp. |
| 11/18/2010 | Don Six | 100' and 0' | We did a couple of dive here today. The water temp was 79 degrees and the vis was further than our lights would shine. We had planned on a circuit, but I wasn't feeling too comfortable and put my arrows on 3 different T's during the dive. When we popped up in a air chamber to see the bats on the ceiling I told Mel and needless to say we had to do a quick 3rd dive to retreive my arrows. We did manage to silt ourselves out in a tight tunnel and turned that dive. |
| 10/7/2007 | Walter Pickel | 100' | Did a couple of dives including the Pasa de la Garta line. the jump to Kolimba is still around 70' and not visible from the mainline. |
Click here if you would like to contribute any information or resources for this system.
| Description | Type | Date | Author | Remarks |
| --- | --- | --- | --- | --- |
| Video | YouTube | | | |
| Video | Vimeo | 2010 | Slawek Packo | |
| Video | Vimeo | 2010 | Slawek Packo | Pet Cemetery |
Sslect Search Radius:
| System | Depth | Cave | Cavern | OW | Last Report | Distance (mi) |
| --- | --- | --- | --- | --- | --- | --- |
| Nahoch Nah Chich | 235 | True | True | True | 8/3/2023 | 5.3 |
| Vaca Ha | | True | False | False | 7/5/2023 | 2 |
| Escondido | 86 | True | True | True | 7/14/2021 | 4.2 |
| Car Wash | 70 | True | True | True | 5/6/2014 | 2.4 |
| Kolimba | | True | False | False | 12/4/2011 | 0.4 |
| Muchachos | 70 | True | False | False | 11/21/2011 | 1.6 |
| Tux Kapaxa | 60 | True | False | False | 6/18/2011 | 8.5 |
| Xunaan Ha | 45 | True | False | False | 11/14/2010 | 9.5 |
| Dos Ojos | 391 | True | True | True | 11/13/2010 | 7.2 |
| Tres Estrellas | 60 | True | False | False | 3/16/2009 | 8.5 |
| Caracol | 55 | True | True | True | 3/15/2009 | 4.7 |
| Temple Of Doom | | True | True | True | 3/13/2009 | 1.3 |
| Cristal | | True | True | True | 12/31/2008 | 3.9 |
| Uchben Na Illod | 35 | True | False | False | 3/2/2007 | 4 |
| Paanah | | True | False | False | 12/7/2006 | 4.8 |
| Luk Dzonot | | True | False | False | 12/5/2006 | 4.2 |
| Cenote Don Polo | | True | False | False | 12/5/2006 | 4 |
| Mol Balam | | True | False | False | 12/4/2006 | 4.3 |
| Chamzizil | | True | False | False | 12/4/2006 | 4.2 |
| The Pich | | True | False | False | | 9.6 |