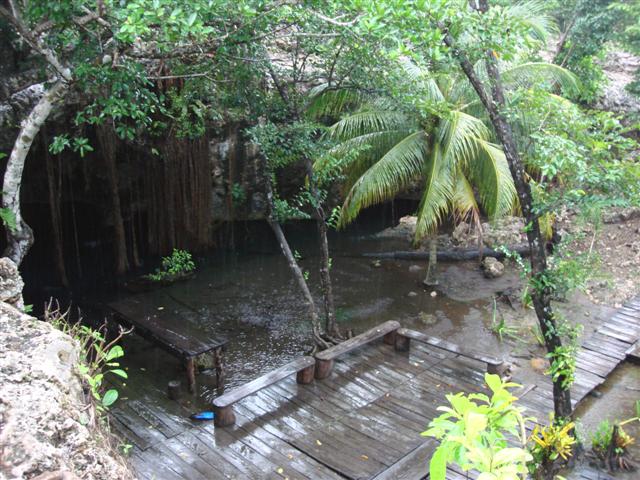 Portions of the following information were taken from www.cavediving.com.
Nohoch nah Chich is Mayan for "Giant Bird Cage." Many people feel it is the most beautifully decorated underwater cave anywhere. It was also officially the world's largest underwater cave system, until the discovery of Sistema Ox Bel Ha.
You will be suiting up on a wide deck, close to the water. Your guide will then take you on a long, shallow dive. There is no need to rush, either. No matter how far you go, or which line you take, you will not see more than a tiny fraction of the cave. Not that it really matters; everything you see will be utterly mind blowing.
Because of the nature of the site, a common practice is to make two dives on a single set of double 80s. Because of the extremely shallow depths (20 to 30 feet, or less), this still allows plenty of bottom time.
| Date | Submitter | Visbility | Remarks |
| --- | --- | --- | --- |
| 8/3/2023 | Brett Smith | 100 | Did 2 dives here on 7/25/2023 with Ricardo Castillo at Dive Rite MX. The visibility was amazing. We took the first jump to the left and followed that line until it met back at the main line. Total dive time 126 min. Visibility was amazing and I believe this was the most decorated cave ive seen in my life. Wet or dry. |
| 7/15/2021 | Matthew Perkins | 100 | Did 2 dives with guide Elliot Smith in this shallow amazingly decorated shallow system. 1st dive was on the Parker line and it's endless formations. Dive time 128 mins, average depth 18ft. 2nd dive was on the mainline through "Heaven's gate" and then did a couple of jumps. Dive time 118 mins, average depth 24ft. Best dives of my time in MX. |
| 5/3/2014 | Lynne Flaherty | clear | Site has been improved. There are now flush toilets with toilet paper. There is a zip line installed at the top of the stairs into the cenote. They were marching snorkeling tours through like an assembly line, but they were very polite about moving them out of our way (except you can't use the tables nearest the stairs closest to the cave, because those are reserved for the snorkel tours). The Parker and Charlie lines no longer T -- there is a continuous line from the takeoff of Parker to the jump back onto the mainline. Be aware that as of the date of this report, there are red arrows on the mainline indicating the nearest exit is to your left. If you want to proceed up the mainline, turn left. Right goes back toward the entrance. Unclear why the red arrows are pointing the way that they are. |
| 2/18/2011 | Sandy Robinson | 100 | Two more great dives on the mainland, 97 and 77 minutes with average depth of 18 to 20 feet. The formations were spectacular, nothing like anything else I have seen (in my limited cave career) I look forward to a return trip! |
| 11/15/2010 | ScubaGypsy | 100' | Did two cave dives here with my wife and guide Etienne Rousseau (http://www.closedsystemdiving.com/). First dive was to Heaven's Gate and it just may be my favorite dive of all! Just spectacular decorations. Max depth was 25', 63 min dive time, 84 F air temp, 79 F fresh water temp, 80 F salt water temp. Second dive was along Parkers Line and it too is beautiful. Max depth 20' 82 min dive time, 82 F air temp, 79 F fresh water temp, 80 F salt water temp. |
| 7/5/2010 | Rob Boozer | 100' | Awsome dive. Non-stop beauty. We just stuck to the main line. Heaven's gates were spectacular. |
| 3/17/2009 | Don Currie | 80' | Did the same circuit as Walter. This place is just huge and beautiful. We saw Drippy Dick and Heaven's Gate. The Nat Geo platform was cool, although I'm glad we just floated and didn't climb out. The viz was a bit milky, but still, everywhere you turned, the place was just stunning. Photos at Don Currie Photos |
| 3/17/2009 | Walter Pickel | 80' | Did a great circuit...Charlie's line up to Cenote Tucat and back down the mainline via Cenote National Geographic. Viz was hazy and not as good as last time. |
| 10/10/2007 | Walter Pickel | 100' | Dove the Parker line and jumped to Charlie's line. Went out passed Drippy Dick, turned and surfaced at the National Geographic Cenote. Second part of the dive we swam downstream from the National Geographic Cenote and then exited Na Hoch. |
Click here if you would like to contribute any information or resources for this system.
| Description | Type | Date | Author | Remarks |
| --- | --- | --- | --- | --- |
| Video | YouTube | | | |
| Video | MOV | 2007 | Slawek Packo | |
| Video | YouTube | | | |
| Video | Vimeo | 2010 | Slawek Packo | |
Sslect Search Radius:
| System | Depth | Cave | Cavern | OW | Last Report | Distance (mi) |
| --- | --- | --- | --- | --- | --- | --- |
| Vaca Ha | | True | False | False | 7/5/2023 | 5.3 |
| Escondido | 86 | True | True | True | 7/14/2021 | 9.4 |
| Gran Cenote | 50 | True | True | True | 9/13/2014 | 5.3 |
| Car Wash | 70 | True | True | True | 5/6/2014 | 5.6 |
| Kolimba | | True | False | False | 12/4/2011 | 5.3 |
| Muchachos | 70 | True | False | False | 11/21/2011 | 5.5 |
| Tux Kapaxa | 60 | True | False | False | 6/18/2011 | 4.5 |
| Xunaan Ha | 45 | True | False | False | 11/14/2010 | 4.2 |
| Dos Ojos | 391 | True | True | True | 11/13/2010 | 2 |
| Tres Estrellas | 60 | True | False | False | 3/16/2009 | 4.6 |
| Caracol | 55 | True | True | True | 3/15/2009 | 0.8 |
| Temple Of Doom | | True | True | True | 3/13/2009 | 5.9 |
| Cristal | | True | True | True | 12/31/2008 | 9.2 |
| Uchben Na Illod | 35 | True | False | False | 3/2/2007 | 1.4 |
| Paanah | | True | False | False | 12/7/2006 | 0.8 |
| Luk Dzonot | | True | False | False | 12/5/2006 | 1.1 |
| Cenote Don Polo | | True | False | False | 12/5/2006 | 1.3 |
| Mol Balam | | True | False | False | 12/4/2006 | 1.1 |
| Chamzizil | | True | False | False | 12/4/2006 | 1.1 |
| The Pich | | True | False | False | | 4.5 |