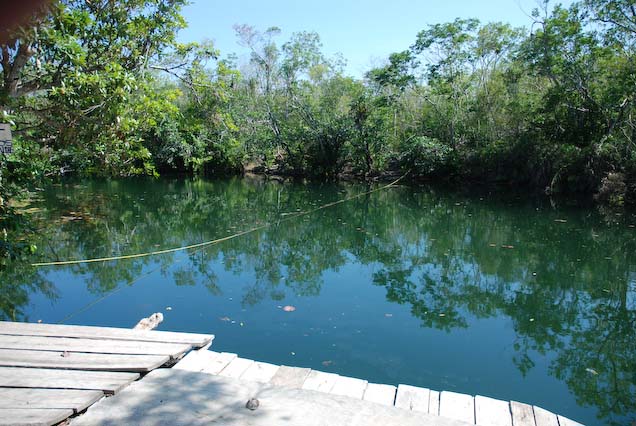 Portions of the following information were taken from www.cavediving.com.
A little over eight kilometers from the Highway 307 intersection, Car Wash (Aktun Ha) is the popular cave system furthest out the Coba Road. You will find it on the left hand side; the sign will say "Cenote Cristal." (Be sure to go to the facility at the far end of the cenote, not the one closest to Tulum.)
Car Wash is famous for its delicate, soda-straw-like formations — especially in the Room of Tears. Before the discovery of Sac Aktun and Nohoch, it was considered the area's most beautifully decorated cave.
Car Wash is an excellent example of the importance of using a professional guide to get the most from the area's caves. At Car Wash, the permanent line upstream starts a considerable distance from the entrance. To find it, you have to negotiate your way through a veritable forest of huge, dark columns. It is easy to get lost. Without the help of a competent guide, you can waste an entire dive just looking for the main line.
Once you find the line, there are several directions you can go. A popular dive is to go first to Adrianna's room, then backtrack to the Room of Tears jump and check it out. (Instructors frequently use this as a way to teach the recalculation of thirds in the middle of a dive.) Wherever you, stay on the line. Soda straw formations are more frequently damaged from exhaust bubbles than they are from divers bumping into them. (This is actually good advice in any Yucatan cave.)
It is possible to go beyond the Room of Tears, to places such as the Room of Tears Basement or the Lotus Room. You can also go downstream to see Satan's Silthole and the Chamber of the Ancients.
Depths vary widely throughout the cave. The deepest points are at 70 feet, where you will also find a saltwater layer.
| Date | Submitter | Visbility | Remarks |
| --- | --- | --- | --- |
| 5/6/2014 | Lynne Flaherty | variable | Two dives here, a week apart. First dive was 4/27; conditions in the open water were as good as I have seen them. Viz downstream toward the Chamber of the Ancients was a little worse. A week later, the basin was murky in the top 15 feet, but the upstream cave was clear. TONS of traffic. |
| 11/20/2011 | Lynne Flaherty | Basin 30; cave unlimited | Heavy rain today washing dirt into the basin, but we were pleasantly surprised to find that it was all on the surface. Even the downstream line had good viz. |
| 11/20/2010 | ScubaGypsy | 100' | Beautiful dive back to the Room of Tears. Dove with guide Etienne Rousseau (http://www.closedsystemdiving.com/about_me.html). |
Click here if you would like to contribute any information or resources for this system.
| Description | Type | Date | Author | Remarks |
| --- | --- | --- | --- | --- |
| Video | MOV | 2007 | Slawek Packo | |
| Video | YouTube | | | |
| Video | Vimeo | 2010 | Slawek Packo | |
Sslect Search Radius:
| System | Depth | Cave | Cavern | OW | Last Report | Distance (mi) |
| --- | --- | --- | --- | --- | --- | --- |
| Nahoch Nah Chich | 235 | True | True | True | 8/3/2023 | 5.6 |
| Vaca Ha | | True | False | False | 7/5/2023 | 0.4 |
| Escondido | 86 | True | True | True | 7/14/2021 | 5.6 |
| Gran Cenote | 50 | True | True | True | 9/13/2014 | 2.4 |
| Kolimba | | True | False | False | 12/4/2011 | 2 |
| Muchachos | 70 | True | False | False | 11/21/2011 | 0.8 |
| Tux Kapaxa | 60 | True | False | False | 6/18/2011 | 7.4 |
| Xunaan Ha | 45 | True | False | False | 11/14/2010 | 9.4 |
| Dos Ojos | 391 | True | True | True | 11/13/2010 | 7.1 |
| Tres Estrellas | 60 | True | False | False | 3/16/2009 | 7.5 |
| Caracol | 55 | True | True | True | 3/15/2009 | 4.8 |
| Temple Of Doom | | True | True | True | 3/13/2009 | 3.6 |
| Cristal | | True | True | True | 12/31/2008 | 5.2 |
| Uchben Na Illod | 35 | True | False | False | 3/2/2007 | 4.2 |
| Paanah | | True | False | False | 12/7/2006 | 4.9 |
| Luk Dzonot | | True | False | False | 12/5/2006 | 4.7 |
| Cenote Don Polo | | True | False | False | 12/5/2006 | 4.4 |
| Mol Balam | | True | False | False | 12/4/2006 | 4.7 |
| Chamzizil | | True | False | False | 12/4/2006 | 4.8 |
| The Pich | | True | False | False | | 9.3 |