Rated 2.6/5 stars (117 ratings) Thanks for rating this cave system!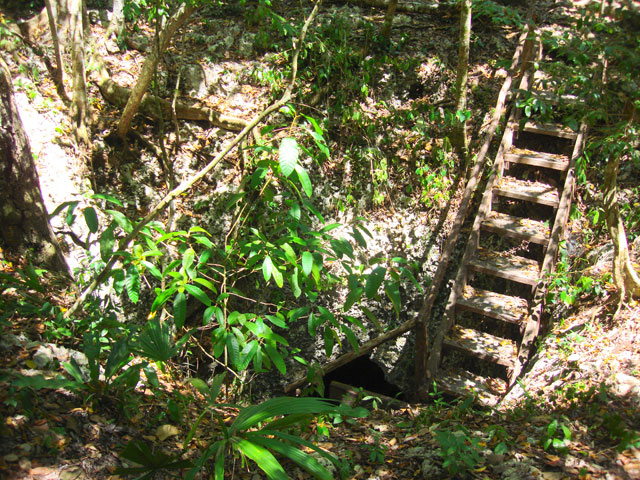 Tres Estrellas is part of Sistema Tuhs Kapaxa.
| Date | Submitter | Visbility | Remarks |
| --- | --- | --- | --- |
| 3/16/2009 | Walter Pickel | 100' | This was a new cenote for everyone. We decided on a line that somewhat seemed like it was heading for Tuhs Kapaxa (left out of the cenote). However, after 4 T's we hit an EOL. A few of us did another dive and made some sense of the all of the T's. Unfortunately, the T's were installed in the original line's placements vs. tying into the line itself. It made for a frustrating dive. We eventually found our way to a jump to the other line heading to the cenote. If you dive this cenote and want to go to Tuhs Kapaxa you will need sidemount to navigate 2 of the restrictions. Wonderful, wonderful cave! |
Click here if you would like to contribute any information or resources for this system.
| Description | Type | Date | Author | Remarks |
| --- | --- | --- | --- | --- |
Sslect Search Radius:
| System | Depth | Cave | Cavern | OW | Last Report | Distance (mi) |
| --- | --- | --- | --- | --- | --- | --- |
| Nahoch Nah Chich | 235 | True | True | True | 7/15/2021 | 4.6 |
| Vaca Ha | | True | False | False | 11/13/2018 | 7.5 |
| Gran Cenote | 50 | True | True | True | 9/13/2014 | 8.5 |
| Car Wash | 70 | True | True | True | 5/6/2014 | 7.5 |
| Taj Mahal | 60 | True | True | True | 10/11/2013 | 12.4 |
| Minotauro | | True | False | False | 10/4/2013 | 12.6 |
| Kolimba | | True | False | False | 12/4/2011 | 8.3 |
| Muchachos | 70 | True | False | False | 11/21/2011 | 7.9 |
| Tux Kapaxa | 60 | True | False | False | 6/18/2011 | 0.1 |
| Xunaan Ha | 45 | True | False | False | 11/14/2010 | 4 |
| Dos Ojos | 391 | True | True | True | 11/13/2010 | 3.2 |
| Caracol | 55 | True | True | True | 3/15/2009 | 4.5 |
| Temple Of Doom | | True | True | True | 3/13/2009 | 9.6 |
| Uchben Na Illod | 35 | True | False | False | 3/2/2007 | 5.1 |
| Paanah | | True | False | False | 12/7/2006 | 4.5 |
| Luk Dzonot | | True | False | False | 12/5/2006 | 5.3 |
| Cenote Don Polo | | True | False | False | 12/5/2006 | 5.3 |
| Mol Balam | | True | False | False | 12/4/2006 | 5.3 |
| Chamzizil | | True | False | False | 12/4/2006 | 5.5 |
| The Pich | | True | False | False | | 3 |