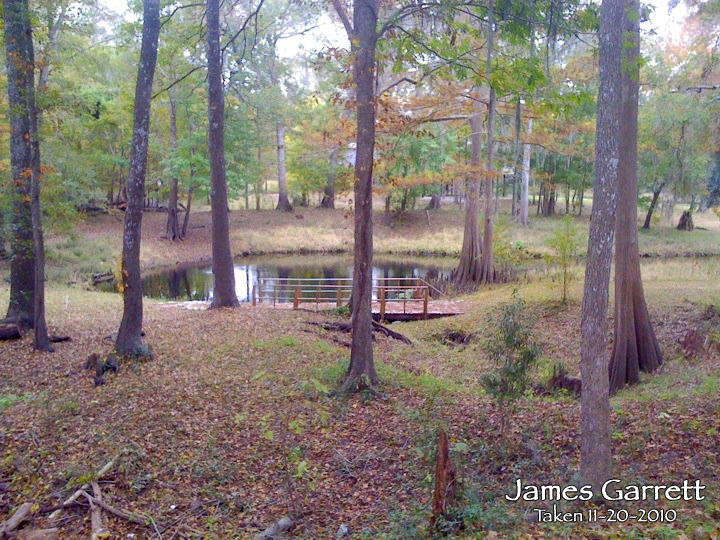 Portions of the following information were taken from Florida Geological Survey Bulletin 66.
The spring is located 3 miles southwest of Fort White and flows into the Santa Fe River from the east bank. From the junction of U.S. 27 and Wilson Springs Road in Fort White, take Wilson Springs Road west approximately 3.8 miles to the boat ramp on the Santa Fe River. The spring run is adjacent to the Wilson Spring Road boat ramp on the east side.
Description
– Wilson Spring has an oval spring pool that measures 108 ft long and 81 ft wide with a depth of 21.7 ft. The spring vent is likely located on the east side of the spring pool where a prominent spring boil is observed; however, the vent could not be observed due to dark water conditions. Some limestone is exposed in the spring. A strong hydrogen sulfide odor is associated with this spring. Wilson Spring Run flows approximately 275 ft into the Santa Fe River from the north. The run has a dark sand and mud bottom with a thin algal coating. Wilson Spring and its run are surrounded by privately-owned, heavily forested lowlands. Discharge on September 28, 1997 measured 39.0 cfs.
| Date | Submitter | Visbility | Remarks |
| --- | --- | --- | --- |
| 7/18/2015 | Kyle Moschell | 10-15 ft | Went to check out this site today since there wasn't much info available online. There is an existing line running from outside the entrance, the line and arrows seem to be in good condition. Visibility was not great and the water is very tannic. Flow was mild. I'm interested to see where this system goes since I can't find any maps online. |
| 1/30/2011 | James Garrett | 10t | Best viz I've ever seen, at some point I could even see both walls! |
| 11/20/2010 | James Garrett | 5ft tops | This spring just isn't getting any clearer. I dove here about 4 months ago and the lack of rain isn't making hardly any difference at all! |
Click here if you would like to contribute any information or resources for this system.
| Description | Type | Date | Author | Remarks |
| --- | --- | --- | --- | --- |
Sslect Search Radius:
| System | Depth | Cave | Cavern | OW | Last Report | Distance (mi) |
| --- | --- | --- | --- | --- | --- | --- |
| Jug Spring | 80 | True | True | False | 1/12/2023 | 5.5 |
| Sunbeam Spring | 80 | True | False | False | 10/15/2022 | 2.1 |
| Ginnie Springs - Devil's Ear / Eye | 173 | True | True | True | 9/28/2021 | 5.8 |
| Syphon Creek - Myrtle's Fissure | 95 | True | False | False | 2/29/2020 | 3.2 |
| Treehouse Spring | 65 | True | False | False | 9/1/2019 | 9.8 |
| Gator Hole Spring | 115 | True | False | False | 6/7/2019 | 8.5 |
| Gator Hole Sink | 115 | True | False | False | 5/18/2019 | 8.6 |
| Ginnie Springs - Ginnie Spring | 60 | False | True | True | 9/25/2018 | 5.6 |
| Jess's Hole | | True | False | False | 7/4/2017 | 7 |
| Rock Bluff Spring | 65 | True | False | False | 5/10/2015 | 11.9 |
| Ginnie Springs - Dogwood Spring | 43 | True | False | False | 9/7/2014 | 5.3 |
| Ginnie Springs - Little Devil's | | True | False | False | 7/1/2011 | 5.8 |
| Syphon Creek - Resurgence | | True | False | False | 6/23/2011 | 3.4 |
| Vampire Sink | | True | False | False | 11/21/2010 | 10.9 |
| Darby Spring | | True | False | False | 4/7/2009 | 9.7 |
| Turtle Spring | | True | False | False | 12/26/2007 | 8.7 |
| Sante Fe River Rise | 150 | True | True | False | | 10.2 |
| Sawdust Spring | | True | False | False | | 5.3 |
| Syphon Creek - Lil' Awesome | 80 | True | False | False | | 3.8 |
| Syphon Creek - Big Awesome | 110 | True | False | False | | 3.9 |
| Syphon Creek - Swallow Hole | 188 | True | False | False | | 3.7 |
| Hornsby Spring | 190 | True | True | False | | 10.5 |
| Syphon Creek - Track One | | True | False | False | | 3.4 |