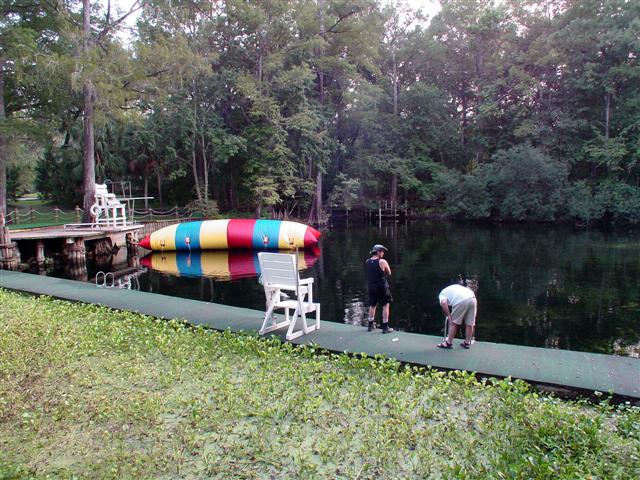 Portions of the following information were taken from Florida Geological Survey Bulletin 66.
Hornsby Spring is located in Camp Kulaqua 1.5 miles north of High Springs. From the US 441/41 and CR 236 (Main Street) intersection in High Springs, drive north on US 441/41 approximately 1.5 miles to Camp Kulaqua which will be on the east (right) side of the road. Turn east (right) at Camp Kulaqua sign and follow road approximately 1 mile to campground entrance. The spring is located inside the campground about 300 ft northwest of the camp entrance.
Description
- Hornsby Spring has a circular spring pool measuring 155 ft north to south and 147 ft east to west. Its depth at the vent is 34.5 ft. The water is clear and slightly greenish blue. The spring has an underwater limestone ledge on the north side under a floating walkway. Algae patches are growing on limestone substrate. The spring run is approximately 0.9 miles long, 15 ft wide and up to 5 ft deep. It flows generally westward into the Santa Fe River. During the first FGS visit, the spring was not flowing. The FGS sampled the spring during a subsequent visit when a small spring boil was visible near the wooden walkway. This spring is situated on the edge of the lowland floodplain of the Santa Fe River. The floodplain is forested with cypress, gum, and maple. High ground on the east side of the spring rises steeply to 6 ft above water level, then gently rises to approximately 15 ft and is a rolling sand hills terrain. The uplands are open and grassy. An underwater cave system has been mapped at Hornsby Spring.
Utilization
- Hornsby Spring is the central feature of the privately-owned Camp Kulaqua. The spring is developed into a swimming and recreation area. There are numerous boardwalks over and around the spring. A slide leads into the spring pool on the north side. Full facilities are located nearby.
| Date | Submitter | Visbility | Remarks |
| --- | --- | --- | --- |
Click here if you would like to contribute any information or resources for this system.
| Description | Type | Date | Author | Remarks |
| --- | --- | --- | --- | --- |
| System Map | Map | | | |
Sslect Search Radius:
| System | Depth | Cave | Cavern | OW | Last Report | Distance (mi) |
| --- | --- | --- | --- | --- | --- | --- |
| Jug Spring | 80 | True | True | False | 1/12/2023 | 13.3 |
| Ginnie Springs - Devil's Ear / Eye | 173 | True | True | True | 9/28/2021 | 6.3 |
| Syphon Creek - Myrtle's Fissure | 95 | True | False | False | 2/29/2020 | 8.4 |
| Treehouse Spring | 65 | True | False | False | 9/1/2019 | 0.6 |
| Gator Hole Spring | 115 | True | False | False | 6/7/2019 | 2.3 |
| Gator Hole Sink | 115 | True | False | False | 5/18/2019 | 2.1 |
| Ginnie Springs - Ginnie Spring | 60 | False | True | True | 9/25/2018 | 6.5 |
| Jess's Hole | | True | False | False | 7/4/2017 | 3.5 |
| Wilson Spring | | True | False | False | 7/18/2015 | 10.5 |
| Ginnie Springs - Dogwood Spring | 43 | True | False | False | 9/7/2014 | 6.7 |
| Alachua Sink | 227 | True | False | False | 1/11/2014 | 6.1 |
| Ginnie Springs - Little Devil's | | True | False | False | 7/1/2011 | 6.3 |
| Syphon Creek - Resurgence | | True | False | False | 6/23/2011 | 8.4 |
| Vampire Sink | | True | False | False | 11/21/2010 | 2.7 |
| Whippoorwill Sink | | False | False | False | 1/31/2010 | 0.9 |
| Darby Spring | | True | False | False | 4/7/2009 | 0.8 |
| Old Bellamy - Sweetwater Lake | 150 | True | True | False | 9/15/2007 | 2.7 |
| Old Bellamy - Two Hole Sink | 160 | True | False | False | | 3.3 |
| Sante Fe River Rise | 150 | True | True | False | | 1.6 |
| Old Bellamy - Alligator Sink | 160 | True | False | False | | 3.3 |
| Old Bellamy - Mae Callie Pond | 160 | True | False | False | | 3.5 |
| Old Bellamy - Big Blue Sink | 160 | True | False | False | | 3.2 |
| Sawdust Spring | | True | False | False | | 6.6 |
| Syphon Creek - Track One | | True | False | False | | 8.2 |
| Syphon Creek - Lil' Awesome | 80 | True | False | False | | 7.8 |
| Syphon Creek - Big Awesome | 110 | True | False | False | | 7.6 |
| Syphon Creek - Swallow Hole | 188 | True | False | False | | 8 |
| Old Bellamy - Pfv | 150 | True | False | False | | 5.3 |
| Old Bellamy - Pfc | 150 | True | False | False | | 5.5 |
| Old Bellamy - Bee Tree Sink | 160 | True | False | False | | 3.2 |