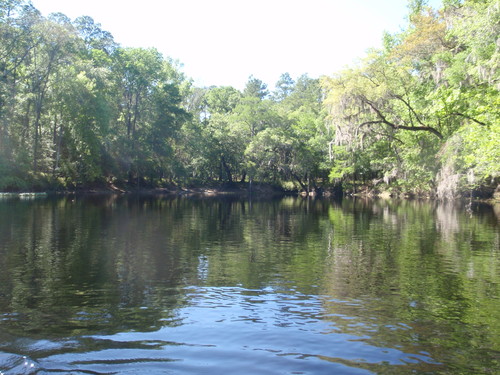 Portions of the following information were taken from Florida Geological Survey Bulletin 66.
Santa Fe River Rise is located within O'Leno State Park/River Rise Preserve State Park. From the junction of US 441/41 and US 27 in High Springs, head north on US 441/41 approximately 6 miles to O'Leno State Park entrance on the east (right) side of the road. Directions to the river rise via park roads can be obtained at the park entrance.
Description
- Santa Fe River Rise is the re-emergence of the underground Santa Fe River. The spring pool measures 175 ft east to west and 165 ft north to south. There is a vertical limestone ledge on the northeast side of the pool. The depth just south of the ledge measures 49 ft. The water color is typically that of the Santa Fe River, which may be tannic or clear depending mainly on rainfall. No boil was observed during the October 2001 visit. The river flows southward from the vent and is approximately as wide (east to west) as the spring pool. There is a narrow band of cypress growing around the pool perimeter. There are patches of duckweed around the periphery of the pool, and no aquatic vegetation could be seen through the tannic water. Several hundred yards of the Santa Fe River below Santa Fe Rise is choked with water hyacinth, and boat access to the rise is nearly impossible. Land around the river rise quickly rises to approximately 8 ft above water level and levels off into a flat mesic hardwood hammock.
Utilization
- The Santa Fe River Rise is a pristine, state-owned natural area.
| Date | Submitter | Visbility | Remarks |
| --- | --- | --- | --- |
Click here if you would like to contribute any information or resources for this system.
| Description | Type | Date | Author | Remarks |
| --- | --- | --- | --- | --- |
Sslect Search Radius:
| System | Depth | Cave | Cavern | OW | Last Report | Distance (mi) |
| --- | --- | --- | --- | --- | --- | --- |
| Ginnie Springs - Devil's Ear / Eye | 173 | True | True | True | 9/28/2021 | 6.8 |
| Syphon Creek - Myrtle's Fissure | 95 | True | False | False | 2/29/2020 | 8.6 |
| Treehouse Spring | 65 | True | False | False | 9/1/2019 | 1.5 |
| Gator Hole Spring | 115 | True | False | False | 6/7/2019 | 3.1 |
| Gator Hole Sink | 115 | True | False | False | 5/18/2019 | 3 |
| Ginnie Springs - Ginnie Spring | 60 | False | True | True | 9/25/2018 | 7 |
| Jess's Hole | | True | False | False | 7/4/2017 | 3.3 |
| Wilson Spring | | True | False | False | 7/18/2015 | 10.2 |
| Ginnie Springs - Dogwood Spring | 43 | True | False | False | 9/7/2014 | 7.2 |
| Alachua Sink | 227 | True | False | False | 1/11/2014 | 7.1 |
| Ginnie Springs - Little Devil's | | True | False | False | 7/1/2011 | 6.9 |
| Syphon Creek - Resurgence | | True | False | False | 6/23/2011 | 8.6 |
| Vampire Sink | | True | False | False | 11/21/2010 | 4.3 |
| Whippoorwill Sink | | False | False | False | 1/31/2010 | 1.6 |
| Darby Spring | | True | False | False | 4/7/2009 | 1.7 |
| Old Bellamy - Sweetwater Lake | 150 | True | True | False | 9/15/2007 | 1.1 |
| Old Bellamy - Bee Tree Sink | 160 | True | False | False | | 1.9 |
| Old Bellamy - Mae Callie Pond | 160 | True | False | False | | 2.1 |
| Old Bellamy - Alligator Sink | 160 | True | False | False | | 1.8 |
| Syphon Creek - Track One | | True | False | False | | 8.4 |
| Syphon Creek - Big Awesome | 110 | True | False | False | | 7.8 |
| Old Bellamy - Big Blue Sink | 160 | True | False | False | | 1.8 |
| Syphon Creek - Swallow Hole | 188 | True | False | False | | 8.2 |
| Syphon Creek - Lil' Awesome | 80 | True | False | False | | 8.1 |
| Old Bellamy - Pfv | 150 | True | False | False | | 3.9 |
| Hornsby Spring | 190 | True | True | False | | 1.6 |
| Old Bellamy - Pfc | 150 | True | False | False | | 4.1 |
| Sawdust Spring | | True | False | False | | 7.1 |
| Old Bellamy - Two Hole Sink | 160 | True | False | False | | 1.8 |