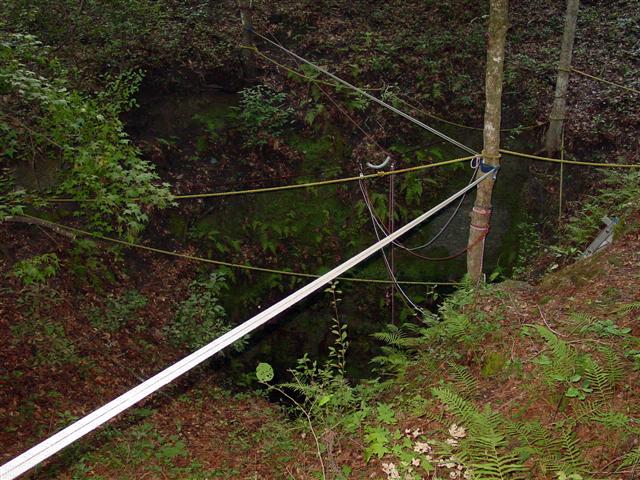 Jess's Hole is a deep, vadose tube that drops dramatically from the forest floor, in the woods, West of High Springs. This dry solution tube falls vertically 40 feet, before reaching the water level.
| Date | Submitter | Visbility | Remarks |
| --- | --- | --- | --- |
| 7/4/2017 | Sandra Koster | 35 ft. | It was a beautiful dive. Not much particulate in the water, and bluish. Trying to upload a system map, but the links aren't working yet. Mosquitoes like bears out right now, so take spray, candles, and keep your hood on! Don't forget to tip your host! Take dog biscuits & kitty treats too. |
| 11/16/2006 | Scott Butsch | Good | My e-mail is sdscdive@aol.com Scott Butsch |
| 11/16/2006 | Scott Butsch | 60 ft | Jess's Hole is a window into an ancient section of under ground river that used to be upstream of a river rise or spring that is located about 400 ft. from the hole. The old spring head has been called Relic spring by Woody Jasper . It is filled in and dry unless rain fills a pool near it. When you enter the shaft the first room is roughly 500 ft long with widths from 200 to 50 ft. clg to floor is about 40-50 ft. vis can vary with season but was very good 2 months ago. there is also a nice siphon tunnel that goes 600 ft to many no mount restrictions with a neat breakdown room in the middle. Since it is a dangerous entry, and sidemounts are required only to ease lowering one tank at a time, only qualified athletic people are allowed to go. If anyone is interested in diving or simply checking out the site you may e-mail me. I am the owner |
Click here if you would like to contribute any information or resources for this system.
| Description | Type | Date | Author | Remarks |
| --- | --- | --- | --- | --- |
Sslect Search Radius:
| System | Depth | Cave | Cavern | OW | Last Report | Distance (mi) |
| --- | --- | --- | --- | --- | --- | --- |
| Jug Spring | 80 | True | True | False | 1/12/2023 | 10.1 |
| Sunbeam Spring | 80 | True | False | False | 10/15/2022 | 8.4 |
| Ginnie Springs - Devil's Ear / Eye | 173 | True | True | True | 9/28/2021 | 3.8 |
| Syphon Creek - Myrtle's Fissure | 95 | True | False | False | 2/29/2020 | 5.2 |
| Treehouse Spring | 65 | True | False | False | 9/1/2019 | 2.8 |
| Gator Hole Spring | 115 | True | False | False | 6/7/2019 | 2 |
| Gator Hole Sink | 115 | True | False | False | 5/18/2019 | 2 |
| Ginnie Springs - Ginnie Spring | 60 | False | True | True | 9/25/2018 | 3.9 |
| Wilson Spring | | True | False | False | 7/18/2015 | 7 |
| Ginnie Springs - Dogwood Spring | 43 | True | False | False | 9/7/2014 | 4.1 |
| Alachua Sink | 227 | True | False | False | 1/11/2014 | 9.5 |
| Ginnie Springs - Little Devil's | | True | False | False | 7/1/2011 | 3.8 |
| Syphon Creek - Resurgence | | True | False | False | 6/23/2011 | 5.2 |
| Vampire Sink | | True | False | False | 11/21/2010 | 4.6 |
| Whippoorwill Sink | | False | False | False | 1/31/2010 | 4.2 |
| Darby Spring | | True | False | False | 4/7/2009 | 2.7 |
| Old Bellamy - Sweetwater Lake | 150 | True | True | False | 9/15/2007 | 4.2 |
| Old Bellamy - Bee Tree Sink | 160 | True | False | False | | 5 |
| Old Bellamy - Mae Callie Pond | 160 | True | False | False | | 5.1 |
| Old Bellamy - Alligator Sink | 160 | True | False | False | | 4.7 |
| Old Bellamy - Two Hole Sink | 160 | True | False | False | | 4.8 |
| Syphon Creek - Track One | | True | False | False | | 5.1 |
| Syphon Creek - Big Awesome | 110 | True | False | False | | 4.5 |
| Old Bellamy - Big Blue Sink | 160 | True | False | False | | 5 |
| Syphon Creek - Swallow Hole | 188 | True | False | False | | 4.9 |
| Syphon Creek - Lil' Awesome | 80 | True | False | False | | 4.8 |
| Old Bellamy - Pfv | 150 | True | False | False | | 6.8 |
| Hornsby Spring | 190 | True | True | False | | 3.5 |
| Old Bellamy - Pfc | 150 | True | False | False | | 6.9 |
| Sawdust Spring | | True | False | False | | 3.9 |
| Sante Fe River Rise | 150 | True | True | False | | 3.3 |