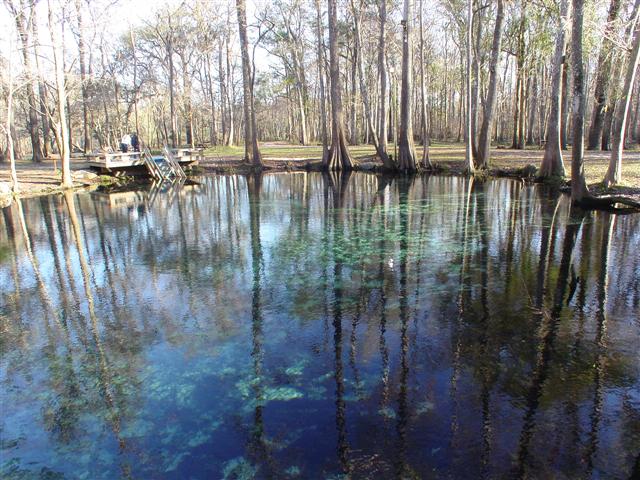 Portions of the following information were taken from Florida Geological Survey Bulletin 66.
From High Springs, drive south on U.S. 27/41 about 1.0 miles. Turn west (right) onto State Road 340 (Poe Springs Road) and drive approximately 6.6 miles and then turn right onto a graded road at the sign for Ginnie Springs. Follow the road another mile to the entrance. Dogwood Spring is the third most downstream spring in the Ginnie Springs complex.
Description
- Dogwood Spring has a circular pool 47 ft in diameter. Water flows from a cavity on the east side of the pool. Depth over the vent measures 17.8 ft. The sand pool bottom has exposed limestone around the vent and is half covered with Hydrilla. The water is blue with excellent clarity. The spring run averages 20 ft wide, 5 ft deep, and flows 250 ft northwest to the Santa Fe River. Hydrilla is abundant in the run. Stairs on the east side of the spring pool lead up to a campground surrounded by large hardwoods. The spring is located within Ginnie Springs Outdoors, a private campground and outdoor recreation concession.
| Date | Submitter | Visbility | Remarks |
| --- | --- | --- | --- |
| 9/7/2014 | TS | 90 | Very pretty spring, great blue water. Could feel the flow. Didn't dive it, but it looked great. |
| 7/21/2013 | Derek | 100' | Strong Flow and Blue Water, only went past first 3 restrictions line seemed to be in good shape. |
| 10/28/2010 | Erik | Limited by walls | Strong flow, like it has been the past few months. Was surprised to see the line ending in going passage (at the question mark on the map), but fairly I quickly found out why. Not far ahead, a few rocks looked unstable in the ceiling, and after I gave them a light push they collapsed in front of me, creating less-than-ideal visibility for a few minutes. Continued on over the new rock pile a few feet and saw that the tunnel got too small for me to fit through. Tied off the line and headed out. |
| 12/12/2009 | Michael | 100' | First restriction can be done in SM. Once in the Shell room, the next restriction is definitely no mount, and you might have to move a few rocks. Don't do this dive unless you are a skinny person, this and other restrictions were tight. There is enough room between this and the next restriction to put tanks back on, but you should leave them off for the next restriction and put them back on as you enter the Flake Room. Map ends in a question mark, and you can't really go any further than the ?. Pretty dive, but definitely no mount. |
| 8/23/2005 | Anonymous | 100' | Sidemount or no-mount to pass even the first restriction. The second restriction is definitely no-mount and buried in loose, sharp rubble besides (the shell room). Recent death here of a free diver who managed to get past the first restriction holding his breath. |
Click here if you would like to contribute any information or resources for this system.
Sslect Search Radius:
| System | Depth | Cave | Cavern | OW | Last Report | Distance (mi) |
| --- | --- | --- | --- | --- | --- | --- |
| Jug Spring | 80 | True | True | False | 1/12/2023 | 10.3 |
| Sunbeam Spring | 80 | True | False | False | 10/15/2022 | 7.3 |
| Ginnie Springs - Devil's Ear / Eye | 173 | True | True | True | 9/28/2021 | 0.5 |
| Syphon Creek - Myrtle's Fissure | 95 | True | False | False | 2/29/2020 | 2.2 |
| Treehouse Spring | 65 | True | False | False | 9/1/2019 | 6.2 |
| Gator Hole Spring | 115 | True | False | False | 6/7/2019 | 4.4 |
| Gator Hole Sink | 115 | True | False | False | 5/18/2019 | 4.6 |
| Ginnie Springs - Ginnie Spring | 60 | False | True | True | 9/25/2018 | 0.3 |
| Jess's Hole | | True | False | False | 7/4/2017 | 4.1 |
| Wilson Spring | | True | False | False | 7/18/2015 | 5.3 |
| Ginnie Springs - Little Devil's | | True | False | False | 7/1/2011 | 0.5 |
| Syphon Creek - Resurgence | | True | False | False | 6/23/2011 | 2.1 |
| Vampire Sink | | True | False | False | 11/21/2010 | 6.2 |
| Whippoorwill Sink | | False | False | False | 1/31/2010 | 7.6 |
| Darby Spring | | True | False | False | 4/7/2009 | 6 |
| Old Bellamy - Sweetwater Lake | 150 | True | True | False | 9/15/2007 | 8.2 |
| Hornsby Spring | 190 | True | True | False | | 6.7 |
| Old Bellamy - Pfc | 150 | True | False | False | | 11 |
| Old Bellamy - Pfv | 150 | True | False | False | | 10.9 |
| Syphon Creek - Swallow Hole | 188 | True | False | False | | 1.7 |
| Old Bellamy - Big Blue Sink | 160 | True | False | False | | 9 |
| Old Bellamy - Two Hole Sink | 160 | True | False | False | | 8.8 |
| Syphon Creek - Lil' Awesome | 80 | True | False | False | | 1.6 |
| Old Bellamy - Alligator Sink | 160 | True | False | False | | 8.7 |
| Old Bellamy - Mae Callie Pond | 160 | True | False | False | | 9.1 |
| Old Bellamy - Bee Tree Sink | 160 | True | False | False | | 9 |
| Syphon Creek - Big Awesome | 110 | True | False | False | | 1.4 |
| Sawdust Spring | | True | False | False | | 0.1 |
| Syphon Creek - Track One | | True | False | False | | 2 |
| Sante Fe River Rise | 150 | True | True | False | | 7.2 |