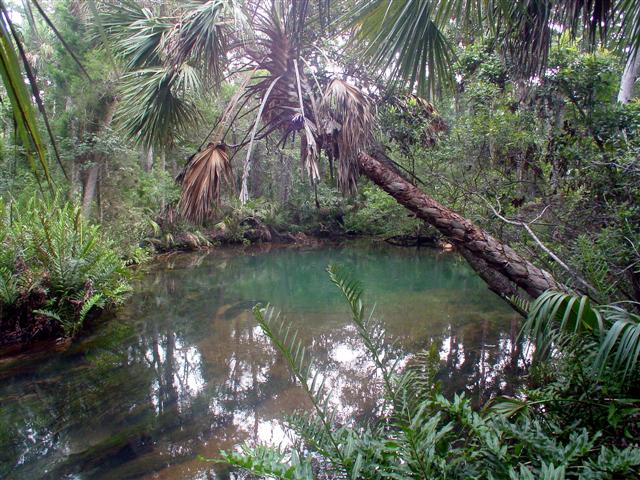 Portions of the following information were taken from Florida Geological Survey Bulletin 66.
Little Salt Spring is located 3 miles (4.8 km) northwest of Weeki Wachee. From the intersection of US 19 with SR 50 and SR 550 in Weeki Wachee head west on SR 50/550 (Cortez Boulevard) approximately 3.4 miles (5.5 km) to the intersection with SR 595. Continue west (straight) 0.2 miles (0.3 km) west of the T-shaped intersection with SR 595. The spring is 200 ft (61 m) south (left side) of SR 50/550.
Description
– Hernando Salt Spring (Little Salt Spring), at the head of Salt Creek, has a circular spring pool with a diameter of 60 ft (18.2 m). The pool is 46.5 ft (14.2 m) deep. The spring emerges from a cavern in limestone. Exposed limestone in the spring has a soft, chalky texture. Most limestone and sand substrates are covered in thick iron-reducing bacterial mats and algae. Another smaller vent is located at the north end of the pool. The saline water is blue-greenish with slight murkiness. Several logs are submerged within the spring pool, and one of the logs has the remains of an old platform. The spring is tidally influenced, and the size of the boil in the center may fluctuate depending on tides. The spring run flows southwest for about 1 mile (1.6 km) into Mud River and averages approximately 30 ft (9.1 m) wide and 4 ft (1.2 m) deep. Land surrounding Hernando Salt Spring is low-lying, and the spring is situated within a subtropical hardwood and palm hammock. An underwater cave system occurs at Hernando Salt Spring. Depths within the cave system reach 170 ft (51.8 m) (Rosenau et al., 1977).
Utilization
– The spring is undeveloped and surrounded by privately owned lands.
Date
Submitter
Visbility
Remarks
9/23/2008
Buhlz
20- 0
Just like what Stacey said. Nice little spring, DEFINATELY advanced!!!! This is not for the novice and I'm not saying that for people to stay clear. It's like working on electrical- must respect it. Made it to the ski rope and turned due to enormous flow. Best case senerio; go at high tide- but try not to schmegg to much and let the cave clear before exiting is about all I can say for my first few dives there. Excellant little spring to say the least!
9/27/2007
AARON
0
WE DOVE THIS SO CALLED SPRING THIS WEAK AND LET ME TELL YOU IT LOOKS VERY NISE ON TOP BUT AFTER WE WENT DOWN LIKE 30 FT THE VIS WENT TO 0 YOU CANT EVEN SEE YOUR HAND IN FRONT OF YOUR FACE WITH A 24 WATT HID LIGHT AND IT WAS THIS NASTY RUST COLERED CRAP ALL OVER THE PLACE BIG LIKE THE SIZE OF YOU FIST IT WAS IN MY HARE AND ALL OVER OUR GEAR WE WENT IN TO THE CAVE AND DOWN TO LIKE 60 ON THE ROPE HOPING IT WOOD GET BETER BUT IT DID NOT AND WE HAD TO CALL IT OFF NOT A NISE DIVE EMAIL ME IF YOU HAVE ?? OR ARE LOOKING FOR SOME 1 TO DIVE WITH
6/17/2006
Stacey Sandrey
20'
First time in system. Eric did a quick repair on the line that had broken. Made it to the second ski rope where I turned the dive because of flow. Exiting was very interesting.
12/5/2005
Walter Pickel
15
Eric and I went back to finish the line up and take some video. The flow seemed very high for the tide. However, Eric didn't seem to think it was up. To equate it to another system would be this flow is greater than that of say Little River when Little River is pumping hard.

The viz absolutely sucked (worse I have seen). You can defiantly tell we haven't been diving it from all the particulate. I turned the dive at the bottle room.
9/17/2005
Walter Pickel
2'-3'
It looks like 2 hours after the Bayport high tide is when you will get a high at Little Salt Springs. Eric and I dove it to install survey markers and ski rope. There are now 2 ski ropes installed. 1) Gauntlet entrance to the Shroom Room and 2) from the Nebula (125'-250' drop) to the Shroom Room. Very silty today but it was great not dealing with much flow -- we robbed Peter to pay Paul.
8/24/2005
Walter Pickel
10'
We decided to get in the water around high tide to minimize flow. It looks like the tides are Bayport tide reference - 1 hour (if Bayport high is 6PM Little Salt high will be 5PM); just keep that in mind. New line has been run from the bottle room into the main room. We will be going back this weekend to hopefully install a ski rope, finish placing the new mainline and replace the mainline from the entrance to the bottle room. Overall, viz was worse than before with initial viz being about 10'. As always, it was zero (at best) on the way out.
8/10/2005
Eric Deister
40' then -1'
Went at high tide so the flow would be down. Walter P stopped at "Walter's Wait" while I went on to the second room. The second room had all the line it, lt looks like the broken thin line and the now broken ski line are done with. We plan on putting new line in next week. Going out, Walter and I "cleaned" the cave. Eric
Click here if you would like to contribute any information or resources for this system.
Sslect Search Radius:
| System | Depth | Cave | Cavern | OW | Last Report | Distance (mi) |
| --- | --- | --- | --- | --- | --- | --- |
| Buford Spring | 167 | True | True | False | 9/13/2023 | 6.3 |
| Eagle's Nest | 315 | True | False | False | 7/22/2023 | 0.9 |
| Lost 40 | 165 | True | False | False | 7/15/2023 | 4.8 |
| Hospital Hole | 143 | False | True | True | 4/30/2023 | 1.1 |
| Warm Springs | 140 | False | True | False | 11/1/2022 | 6.3 |
| Arch Sink | 197 | True | True | False | 7/18/2021 | 8.7 |
| Bulldozer Sink | 60 | False | True | True | 3/22/2020 | 1 |
| Diepolder III | 300 | True | False | False | 5/27/2017 | 5.7 |
| Little Gator Siphon | 180 | True | False | False | 1/3/2015 | 6.3 |
| Twin Dees | 335 | True | False | False | 8/3/2013 | 3.3 |
| Weeki Wachee Spring | 407 | True | False | True | 4/28/2012 | 3.4 |
| Diepolder II | 360 | True | False | False | 12/23/2010 | 5.8 |
| Gator Spring | 192 | True | False | False | 12/6/2009 | 1.2 |
| Blind Spring | 180 | True | True | False | 11/29/2009 | 7.8 |
| Free Ride Cave | 120 | True | False | False | 10/10/2009 | 10.7 |
| Double Keyhole | 230 | True | False | False | 1/11/2009 | 9.7 |
| Bobhill Springs | | False | False | False | 12/29/2007 | 7.8 |
| Jewfish Sink | 200 | True | False | False | 9/2/2007 | 9.7 |
| The Jewel | 315 | True | True | False | 6/2/2006 | 10.1 |
| Mud Spring | 210 | True | True | False | 11/20/2005 | 0.4 |
| Garden World Sink | 250 | True | False | False | | 9.8 |
| Joe's Sink | 60 | True | False | True | | 4.7 |
| Nursery Sink | 214 | True | False | False | | 4.6 |
| Mary's Sink | 58 | True | False | True | | 4.7 |
| Willow Sink | | True | False | False | | 6.1 |
| Ryles Spring | | False | False | False | | 9.7 |
| Snook Spring | 120 | True | False | False | | 10.7 |
| Star Sun Spring | 120 | True | False | False | | 10.7 |
| Snake Eyes | | False | False | False | | 1.1 |
| Wolf Sink | | False | False | False | | 5.3 |
| Hospital Spring | 40 | False | True | False | | 1.1 |
| Jenkins Creek | 50 | True | False | False | | 1.9 |