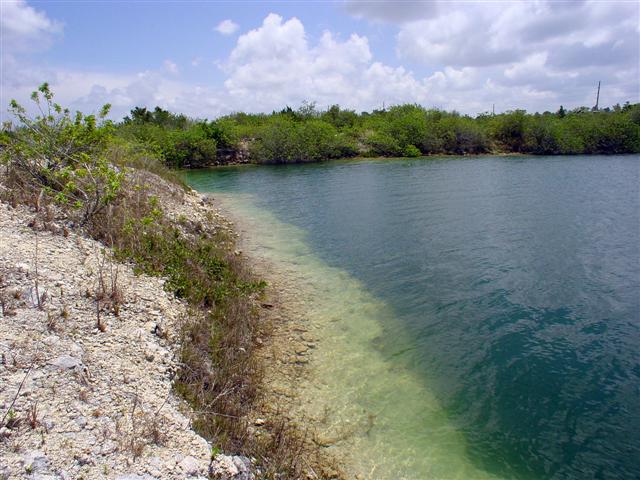 Data for this system is still being collected and analyzed. Click
here
if you would like to contribute any information or resources for this cave system.
Date
Submitter
Visbility
Remarks
6/2/2006
Eric Deister
50'
***********Closed site- Permit diving only***********
Great dive. Maestro and I head out to dive the Jewel Friday evening, after getting the lock on the gate straight we drove over to the water. gearing up, Maestro almost steps on a pygmy rattlesnake (still had its rattles). We put a line in from the surface with a 8# of weight (which now hangs at 70'). As Maestro prepped his RB, I took the O2 down to 20 feet to tie off. There is a thermal at 21' going from 84 to 71 was a shock, the best part was when Maestro hit it and screamed. Dropping down our down line to 70 feet vis opened up to about 25 feet. I didn't see crap, it was just dark. Maestro tied off a primary line to the weight and headed inward and downward. Around 150' the vis cleared up to a nice 50 feet. He tied off the primary and pulled out a gap reel, telling me to hold, he headed down a crack following a old line that would be easily overlooked if you didn't know where to look. Giving him a couple of minutes I headed in after him. After about 50 feet of tight silty restriction I came into the big room and boy is it big! The break down in that room is the largest I've ever seen in a cave. The rocks were as big as my house. Following the main line down to around 300 feet I saw the ship - thank God for helium. Looking around the edges of the room I can just imagine the leads that could be in there (Double Keyhole?). But this was just a check out dive to see if it's worth working in anytime soon. Turning around and coming out I realized how many people have been in there as you could see jumps off the main line all over the place. The bad thing was that some must have been on air, who would put 10' of line in a circle? Exiting was fun, Maestro showed me some of the old things that were left in there – steel spikes to hold the line in salt water, steel chains in the wall to hold deco bottles in the salt water, etc. Deco was very fun, reminded me of the old days of diving the quarries back up in PA. I was a nice relief to hit 20' and have the water temp go up 12 degrees..

Nice dive looking forward to diving it again and putting some real time in below 300 feet..

Side note - the next day we went back to take some surface pics, there was a 7ft gator at the entrance. Now that would have been fun doing deco at 11pm and seeing him.
Click here if you would like to contribute any information or resources for this system.
| Description | Type | Date | Author | Remarks |
| --- | --- | --- | --- | --- |
Sslect Search Radius:
| System | Depth | Cave | Cavern | OW | Last Report | Distance (mi) |
| --- | --- | --- | --- | --- | --- | --- |
| Ward's Sink | 198 | True | True | True | 9/30/2022 | 6.7 |
| Hudson Grotto | 110 | False | True | True | 10/30/2021 | 4.7 |
| Arch Sink | 197 | True | True | False | 7/18/2021 | 5.8 |
| Bulldozer Sink | 60 | False | True | True | 3/22/2020 | 9.1 |
| Palm Sink | 197 | True | True | True | 10/15/2019 | 4 |
| Hospital Hole | 143 | False | True | True | 4/15/2019 | 9 |
| Rock Sink | | False | False | True | 3/24/2019 | 8.9 |
| Diepolder III | 300 | True | False | False | 5/27/2017 | 11.7 |
| Salt Spring | 330 | True | False | False | 12/13/2014 | 8.4 |
| Wayne's World | 280 | True | False | False | 8/16/2013 | 3.1 |
| Twin Dees | 335 | True | False | False | 8/3/2013 | 9.1 |
| Isabella Spring | 110 | True | False | False | 5/22/2013 | 0.7 |
| Weeki Wachee Spring | 407 | True | False | True | 4/28/2012 | 9.6 |
| Diepolder II | 360 | True | False | False | 12/23/2010 | 11.5 |
| Free Ride Cave | 120 | True | False | False | 10/10/2009 | 1.2 |
| Cedar Island Springs | | False | False | False | 9/19/2009 | 2.9 |
| Double Keyhole | 230 | True | False | False | 1/11/2009 | 0.5 |
| Horseshoe Spring | | True | True | False | 1/10/2009 | 1.2 |
| Little Salt Spring | 240 | True | False | False | 9/23/2008 | 10.1 |
| Heart Spring | 270 | True | True | False | 8/3/2008 | 5.9 |
| Bobhill Springs | | False | False | False | 12/29/2007 | 2.6 |
| Jewfish Sink | 200 | True | False | False | 9/2/2007 | 2.7 |
| Mud Spring | 210 | True | True | False | 11/20/2005 | 10 |
| Lost 40 | 165 | True | False | False | 11/5/2005 | 11.8 |
| Beacon Woods - Round Sink | 150 | True | True | False | 9/25/2005 | 5.3 |
| Star Sun Spring | 120 | True | False | False | | 1.2 |
| Snook Spring | 120 | True | False | False | | 1.2 |
| Joe's Sink | 60 | True | False | True | | 11.5 |
| Wolf Sink | | False | False | False | | 9.6 |
| Hospital Spring | 40 | False | True | False | | 8.9 |
| Nemesis Sink | 250 | True | True | True | | 6.3 |
| Beacon Woods - Nexxus | 150 | True | False | False | | 4.9 |
| Coffee Sink | | False | False | False | | 5.9 |
| Beacon Woods - Smokehouse Pond | 150 | True | False | False | | 4.3 |
| Gar Spring | | True | False | False | | 8.1 |
| Mary's Sink | 58 | True | False | True | | 11.6 |
| Cauldron Spring | 85 | True | False | False | | 8.7 |
| Brett's Toilet Bowl | 40 | True | False | False | | 8.7 |
| Nursery Sink | 214 | True | False | False | | 11 |
| Willow Sink | | True | False | False | | 9.4 |
| Jenkins Creek | 50 | True | False | False | | 8.2 |
| Garden World Sink | 250 | True | False | False | | 1.2 |
| Beacon Woods - Stratamax | 150 | True | False | False | | 4.5 |
| Beacon Woods - Golfball | 150 | True | False | False | | 4.3 |
| Beacon Woods - Briar Sink | 150 | True | False | False | | 4.4 |
| Whiskey Spring | | True | False | False | | 8.2 |