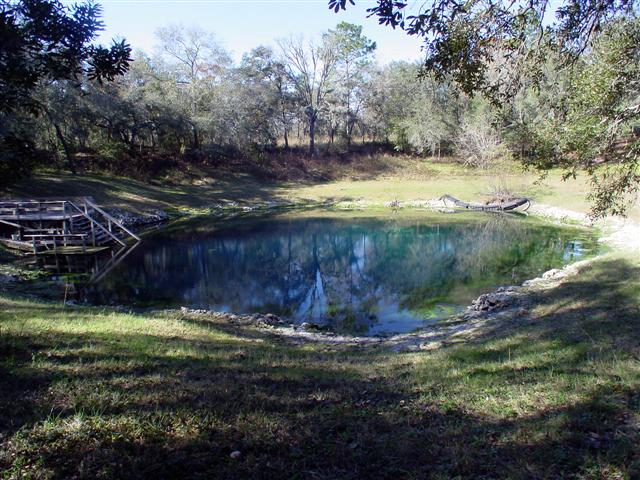 Ward's sink is private property has been a popular diving site in the Central Florida for many years. Previously it was used for technical training but now diving is prohibited unless diving with a family member of the owner's.
The sink is a classic oval-shaped sink with and hourglass profile. The debris mound is around 100' and the edges of the sink hole can reach 200'. The system has some unique features such as sunken boats, a car and some intimidatingly large fish!
| Date | Submitter | Visbility | Remarks |
| --- | --- | --- | --- |
| 9/30/2022 | buhlz | 100 | Nice test dive with my shimmty sham(DPV)- hung around with ward and john about 143' and spiralled all the way to deco. Nice little dive for a DPV test. Hung at 20' for a wile basic deco- BT-29 min total 56 min |
| 9/12/2022 | buhlz | 100 | basic dive with new setup- semi dry. Dived to 185' 23 min BT 75min total- Basic dive just to do it. Nothing special just gettin wet. |
| 9/12/2022 | buhlz | 100 | basic dive tried out new semi dry- great to get wet.. Nothing special just basic dive- 146' nice and clear. 23 min deco- total dive-113 min |
| 10/7/2017 | buhlz | 30 top/100 below | dove with wardy and jason! Great dive of course. Used trimix in here this time 15%/35 mix 32% deco and 100 %o2 total dive 77 minutes..30 min BT. Just as usual, awesome but got to dive without the narcosis for once! |
| 1/2/2017 | buhlz | 100 | recon dive. Wardy just wanted me to check and make sure was clear.. I used up air from tanks "1500psi" from blue grotto week prior.. Nice dive.. 133 feet 6 miin bottom..28 min dive |
| 11/18/2016 | buhlz | 100 | Solo dive once again.. Great viz. Rock piling to the north shows signs of collapse. 186 ffw. 158 max..66 min dive |
| 2/28/2016 | buhlz | 60 foot | Dove mikes by myself to just check out gear and light.. Basic check out of place for mike..177ft 71 min bottom time.deco 25 min |
| 1/31/2016 | buhlz | nice 50- | Dove with Roy,and Kyle. Lost kyle at debri field, (thought ROY WAS kyle), miscomm.. but all was good, roy's first dive at wardys.. just showed him around. Loved it.max 149..81 min 21 min deco..used 100 o2 |
| 1/2/2015 | buhlz | 80 | Dove with Mike to 185' did the circle. Been a few months since in water. Nice to do a dive at the Warden's!!! 99 min 34 min deco- |
| 1/1/2012 | Walter Pickel | 100 | What a great way to start the new year. Spent about 100 minutes during a very peaceful solo dive. Blue doesn't begin to describe the water. Great viz, a little dusty in some spots around the bottom. |
| 12/14/2011 | buhlz | supreme | Little bitty dive: but checked out a spring called gator spring behind Briarwoods!!! Has potential- nice and clear. Mike did a jump in and it seems possible.. This one is somewhat close to the condition of warm spring in chass bit smaller. Could be, we'l check it out |
| 11/20/2011 | buhlz | awesome! | Nice little stroll in the ol' sinkhole.. 154 ' 15 min deco.. Getting pretty good with this sidemount stuff |
| 10/22/2011 | Scott Pulliam | 100 | Cold weather made top end crystal clear. not bad deep. little smokey from 180' to bottom 196'Could see all the way up at 130' |
| 7/29/2011 | buhlz | great | Dove w/ Mike, Jack and Rick at nite. good vis until 170 or so.. seems like intrusion.. But otherwize nice and yes i'm gettin better w/ side mount now, hounddoggy... anyway: 60 min- 174 15 min deco... |
| 6/12/2011 | buhlz | same | Yoyoyo Mr Walter!!!!!!!! Had a blast- look forward to hangin with you again!!!! Dive safe- Maybe I'll see ya at Madison!!!!!!! CYA |
| 6/12/2011 | Walter Pickel | 80' | Great dive today. Was good meeting some new people and seeing old friends. What a wonderful place to simply go have a relaxing 200' dive...Viz was cloudy to 30' then 80's from there on out. |
| 4/20/2011 | buhlz | eh--- been better | What A day!!!Got a dive in with my good buddies and had a nice '420' day to say the least! 147' ffws 12 min deco. Triing out the siderig ounce again... Tuff, but getting through it! |
| 3/27/2011 | buhlz | awesome | Well, Walt and eric Ya missed a great dive.. basically messed around with my sidemount again and was a nice flawless dive except for the fact that my bcd is not "perfect" yet (mikey!!) so other than that!! 184 ffsw 35 min- 60 min w deco..chasing the fish!... Checked out a possible crack in the wall at 13 feet..maybe a lead but who knows. I guess me and mike are gonna bring my camera there and see if it goes anywnere! |
| 2/20/2011 | buhlz | descent | Well, had a dive I must say.. Scott and Vince, Mike and I dove to the mound and of course I tried out my need configured sidemount rig. Let's just say, I dove.. That was it. made it to 160' and had issues with my new rig but was only my fault. So, tis another day and more configuring once again. I like sound mount alot though I'd have to agree backmount is much easier.. I won't let it get the best of me just yet guys! Thanks again for dealing with me and my issues and given me support! |
| 12/31/2010 | buhlz | 100 | Dove with Mikey and Johnny to the debri mound. Just farting around and checking around the area.. Pretty much messing with my sidemount rig.. One tank was realy low and the other had 2300 so what the hell. pretty much had a bail out and made sure johnny enjoyed the dive.. 35 min @ 149 ffw no deco.. Awesome end of the year dive!!!! |
| 12/5/2010 | buhlz | 90' above 90-- 60 below | Jack Marut,Mike and I dove around the breakdown deep section for a nice leisurely tour for Mr.Marut.. Awesome dive as always and anything to get back in the water esp with my side-mount rig... 190' 22 min 25 min deco!!! Thanx as always my broo mikey!!! |
| 11/5/2010 | buhlz | 100 | nite dive w/ mikey checking out the rig that we made. Still got some bugs to work out but making progress!! Only dove to the mound and had mike configure my gear- He was having some issues for himself but nothing we can't handle. BT 18 min @ 133 TDT 63 min --deco low @ 15 min.... But stayed plenty after to configure eq |
| 10/20/2010 | buhlz | 120 - 60 | First time on sidemount.. Let me tell ya..Not easy!! But a few little glitches and I think I'll get it. Definatley different than back mount but nice to be stream lined. 185 ' 25 min BDT. Actually removed all gear at 35 feet and swapped with Mikey. His rig is defiantley alot better. The armedillo is a much more real way to dive SM. Thanks again |
| 9/19/2010 | buhlz | 80 | hung out with Curt, Scott, Mike, Jacob and Eric @ the hole. Awesome time! Where were ya Walter!Really wanted to meet ya! Anyways, I've been annitiated. They got me with footballs and other lovely toys stuck between my isolator! THANX! Now I definatley gotta go side mount.. All in good fun! Thanks for the beer!!!! Awesome time! Hope to do again soon! 185 bt 17 mins. not enough air but 45 min deco.. |
| 8/29/2010 | Walter Pickel | 100 | Great dive today with "the gang"...mixed groups, CC and OC. Top 20' are crap de to rain run off but after 20' it is the best viz I have seen here. At 170 the viz is gin clear. |
| 8/13/2010 | buhlz | night dive 100| | Mike and I tested his Salvo 21watter.Vis was awesome as usual and did the same deep section as last. 183 for 19 min...hung around 70-80 ft for a while checking out stuff. This place kicks ass even at night! 63 min 25 min deco 100% |
| 7/26/2010 | buhlz | Awesome | Mike and I did a recon dive just to get wet. Hung out about 185 for 14 minutes circling around counter clock wise this time. Interesting not to much going on. We seem to think the sting-ray took a turn for the worst or he found the cave we've been searching for!! |
| 7/9/2010 | Scott Pulliam | 20-100 | Vis clears to 100' just pass 20' mark. Max depth on bottom 189' Top 20' warm water for deco TDT 164min. |
| 2/13/2010 | Walter Pickel | 30' - 60' | Did a photo/video shoot from Advanced Diver Magazine. We focused on the Kiss Sport rebreather. Viz was a bit cloudy on the bottom with lower viz on the bottom. As always, I appreciated Mike letting us visit and enjoy his wonderful "pool". |
| 12/30/2009 | Buhlz | 150 awesome | Did a recon dive w/ Mike @ his sinkhole today. Really clear today and the fish were waiting for us to feed them. Entered north side around 173' and circled around clockwise and tried to look for the stingray again. No luck but still nevertheless, awesome clear and wonderful. total BT was 25min @ 193 deco'd arouind 80' for a while checking out the fissure cracks. Anyone thats been there knows what I mean. cold 69 deg. and really thinkin about drysuit time. |
| 7/30/2009 | Buhlz | 60 | Mike, Dave and I did a nice little quicky @ wards. Nice to get wet again because it's been a month (not like me). Wife problems if ya know what I mean. Once entering the water was really green. Go below 30' and it cleared very nicely but I've seen ALOT better. This was prob the worst I've seen of Mikes. 193 ' 26 BT. 26 min deco w/ 100%. Still a beautiful place and good people! Thanx guys |
| 6/14/2009 | Walter Pickel | 100 | What a great dive. Many thanks to Mike Ward for having us out today. Viz on top is hazy at best with a green tint. Below 25' the water color is cobalt blue and the viz in unbelievable. Nice relaxing Sunday dive. |
| 4/16/2009 | Buhlz | 30' top 75 ' bottom | Mike, Kyle and I did a little check out dive. Tried to find his sting ray but no luck. Nice dive 97min. 45 min deco |
| 3/11/2009 | Buhlz | 30' and100' | Must be nice is allI gotta say. Helped Mike clean up debri field from the grating we both destroyed. The grating at the 10' mark was getting rusted badly so we removed it on am earlier dive a few months ago. We hung around the bottom at 185' for a little checking out the syphon area: "where the fresh sting ray hangs out". Not bringing my deco bottle, we made haste for the debri mond and started working. Very easy here to gain bottom time. You can easily see the surface from 185' (a bit hazy) so it's like feeling like nothing to ya. Beofre you know it, you have to deco for 45 minutes. So... try to prepare for deco while at this place. Still a gem! |
| 8/25/2005 | Mike Ward | 150' | Visibility in the sink is the best it has been in years. The top of the debris cone is visible from the start of descent. |
Click here if you would like to contribute any information or resources for this system.
Sslect Search Radius:
| System | Depth | Cave | Cavern | OW | Last Report | Distance (mi) |
| --- | --- | --- | --- | --- | --- | --- |
| Lost 40 | 165 | True | False | False | 7/15/2023 | 9.8 |
| Hospital Hole | 143 | False | True | True | 4/30/2023 | 10.1 |
| Hudson Grotto | 110 | False | True | True | 10/30/2021 | 9.1 |
| Arch Sink | 197 | True | True | False | 7/18/2021 | 2.4 |
| Bulldozer Sink | 60 | False | True | True | 3/22/2020 | 10.3 |
| Palm Sink | 197 | True | True | True | 10/15/2019 | 8.8 |
| Rock Sink | | False | False | True | 3/24/2019 | 10.2 |
| Diepolder III | 300 | True | False | False | 5/27/2017 | 9.1 |
| Salt Spring | 330 | True | False | False | 12/13/2014 | 11.7 |
| Wayne's World | 280 | True | False | False | 8/16/2013 | 8.2 |
| Twin Dees | 335 | True | False | False | 8/3/2013 | 8.3 |
| Isabella Spring | 110 | True | False | False | 5/22/2013 | 6.8 |
| Weeki Wachee Spring | 407 | True | False | True | 4/28/2012 | 8.5 |
| Diepolder II | 360 | True | False | False | 12/23/2010 | 8.8 |
| Free Ride Cave | 120 | True | False | False | 10/10/2009 | 7.9 |
| Cedar Island Springs | | False | False | False | 9/19/2009 | 8.9 |
| Double Keyhole | 230 | True | False | False | 1/11/2009 | 7 |
| Horseshoe Spring | | True | True | False | 1/10/2009 | 7.4 |
| Bobhill Springs | | False | False | False | 12/29/2007 | 5.6 |
| Jewfish Sink | 200 | True | False | False | 9/2/2007 | 9.2 |
| The Jewel | 315 | True | True | False | 6/2/2006 | 6.7 |
| Beacon Woods - Round Sink | 150 | True | True | False | 9/25/2005 | 8.3 |
| Jenkins Creek | 50 | True | False | False | | 9.8 |
| Beacon Woods - Smokehouse Pond | 150 | True | False | False | | 8.3 |
| Hospital Spring | 40 | False | True | False | | 10.2 |
| Wolf Sink | | False | False | False | | 7.2 |
| Star Sun Spring | 120 | True | False | False | | 7.8 |
| Snook Spring | 120 | True | False | False | | 7.8 |
| Joe's Sink | 60 | True | False | True | | 9.5 |
| Coffee Sink | | False | False | False | | 0.9 |
| Nemesis Sink | 250 | True | True | True | | 2.1 |
| Whiskey Spring | | True | False | False | | 11.6 |
| Beacon Woods - Stratamax | 150 | True | False | False | | 8.3 |
| Garden World Sink | 250 | True | False | False | | 5.5 |
| Beacon Woods - Briar Sink | 150 | True | False | False | | 8.4 |
| Beacon Woods - Golfball | 150 | True | False | False | | 8.4 |
| Gar Spring | | True | False | False | | 11.6 |
| Cauldron Spring | 85 | True | False | False | | 12 |
| Brett's Toilet Bowl | 40 | True | False | False | | 12 |
| Willow Sink | | True | False | False | | 6.4 |
| Nursery Sink | 214 | True | False | False | | 9.1 |
| Mary's Sink | 58 | True | False | True | | 9.6 |
| Beacon Woods - Nexxus | 150 | True | False | False | | 8.3 |