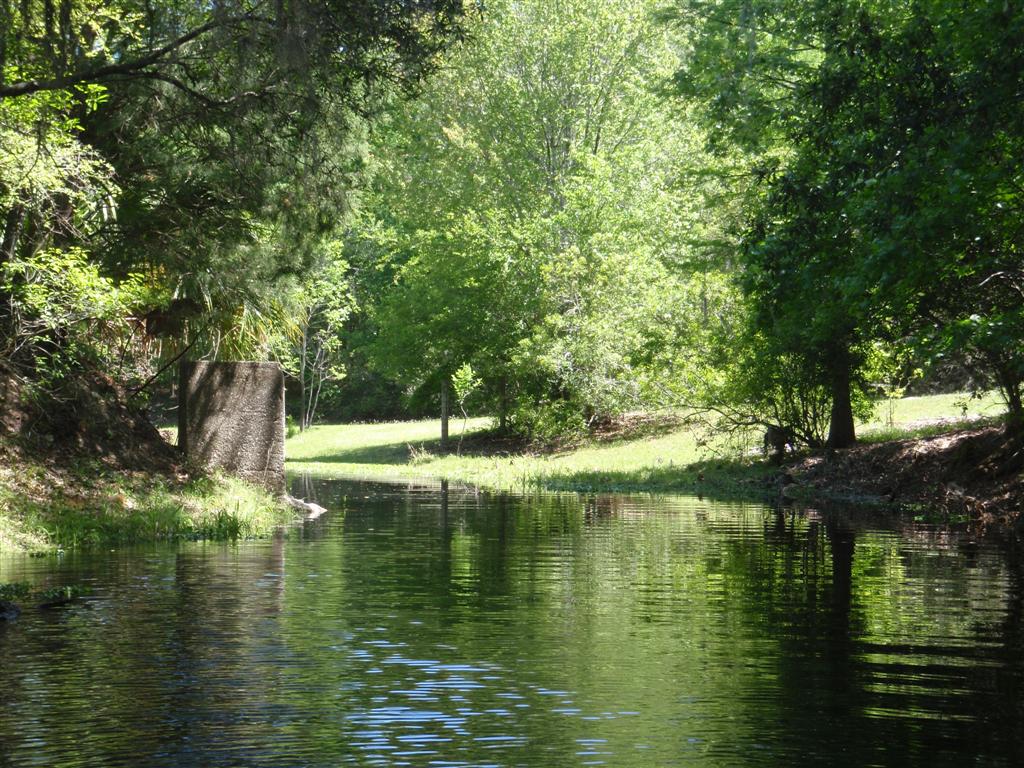 Portions of the following information were taken from Florida Geological Survey Bulletin 66.
Darby Spring is located approximately 1.8 miles north of High Springs. From the intersection of US 441 and CR 236 in High Springs, travel 1.8 miles northwest on US 441 to the Santa Fe River. The spring is approximately 0.1 miles upstream from the public boat ramp off SR 441 along the south bank of the Santa Fe River.
Description
– The Darby Spring pool has a diameter of 40 ft and a depth of 10 ft. In December 2002, the spring pool had an abundance of aquatic vegetation and was covered with duckweed. The bottom of the pool and the spring vent were not discernable. During the December 2002 visit, the spring was no longer flowing and its run contained stagnant water. The run is 150 ft long, 4.0 ft wide and 0.5 ft deep. The run bottom is soft detritus and is covered with leaves and tree branches. High ground surrounding the spring gently slopes upward to 7.0 ft. To the east, there is a large, grassy pasture. Darby Spring is located on wooded private property.
| Date | Submitter | Visbility | Remarks |
| --- | --- | --- | --- |
| 4/7/2009 | Charles Read | 6 feet | I thought I'd take a peek in this one. There is a line there, not very old (white coloured not brown) so someone recently had the same idea. It will be pretty when the visibility gets back up but will always be dark with a dark mud floor. Guideline is buried 6 inches deep in the mud in places, expect some zero visibility on exit. There is a slight hydrogen sulphide smell in parts of the cave. Depth around 44 feet for the first 500 feet or so which is what I did. To find this place you go up the Hornsby spring run for about 100 feet to a huge obnoxious patch of hydrilla. On the left, in a little bay where the hydrilla is thickest the depth suddenly falls off from 2 to 10 feet and there's your cave. The guideline is hard to miss as the spring vent seems only about 15 feet across, though it's hard to tell with all that hydrilla-wrestling. Good fun. |
Click here if you would like to contribute any information or resources for this system.
| Description | Type | Date | Author | Remarks |
| --- | --- | --- | --- | --- |
Sslect Search Radius:
| System | Depth | Cave | Cavern | OW | Last Report | Distance (mi) |
| --- | --- | --- | --- | --- | --- | --- |
| Jug Spring | 80 | True | True | False | 1/12/2023 | 12.7 |
| Sunbeam Spring | 80 | True | False | False | 10/15/2022 | 11.1 |
| Ginnie Springs - Devil's Ear / Eye | 173 | True | True | True | 9/28/2021 | 5.6 |
| Syphon Creek - Myrtle's Fissure | 95 | True | False | False | 2/29/2020 | 7.7 |
| Treehouse Spring | 65 | True | False | False | 9/1/2019 | 0.2 |
| Gator Hole Spring | 115 | True | False | False | 6/7/2019 | 1.6 |
| Gator Hole Sink | 115 | True | False | False | 5/18/2019 | 1.5 |
| Ginnie Springs - Ginnie Spring | 60 | False | True | True | 9/25/2018 | 5.8 |
| Jess's Hole | | True | False | False | 7/4/2017 | 2.7 |
| Wilson Spring | | True | False | False | 7/18/2015 | 9.7 |
| Ginnie Springs - Dogwood Spring | 43 | True | False | False | 9/7/2014 | 6 |
| Alachua Sink | 227 | True | False | False | 1/11/2014 | 6.8 |
| Ginnie Springs - Little Devil's | | True | False | False | 7/1/2011 | 5.6 |
| Syphon Creek - Resurgence | | True | False | False | 6/23/2011 | 7.6 |
| Vampire Sink | | True | False | False | 11/21/2010 | 2.7 |
| Whippoorwill Sink | | False | False | False | 1/31/2010 | 1.6 |
| Old Bellamy - Sweetwater Lake | 150 | True | True | False | 9/15/2007 | 2.8 |
| Sante Fe River Rise | 150 | True | True | False | | 1.7 |
| Hornsby Spring | 190 | True | True | False | | 0.8 |
| Old Bellamy - Two Hole Sink | 160 | True | False | False | | 3.5 |
| Old Bellamy - Alligator Sink | 160 | True | False | False | | 3.5 |
| Old Bellamy - Mae Callie Pond | 160 | True | False | False | | 3.8 |
| Old Bellamy - Big Blue Sink | 160 | True | False | False | | 3.5 |
| Sawdust Spring | | True | False | False | | 5.9 |
| Syphon Creek - Track One | | True | False | False | | 7.5 |
| Syphon Creek - Lil' Awesome | 80 | True | False | False | | 7.1 |
| Syphon Creek - Big Awesome | 110 | True | False | False | | 6.8 |
| Syphon Creek - Swallow Hole | 188 | True | False | False | | 7.3 |
| Old Bellamy - Pfv | 150 | True | False | False | | 5.6 |
| Old Bellamy - Pfc | 150 | True | False | False | | 5.8 |
| Old Bellamy - Bee Tree Sink | 160 | True | False | False | | 3.5 |