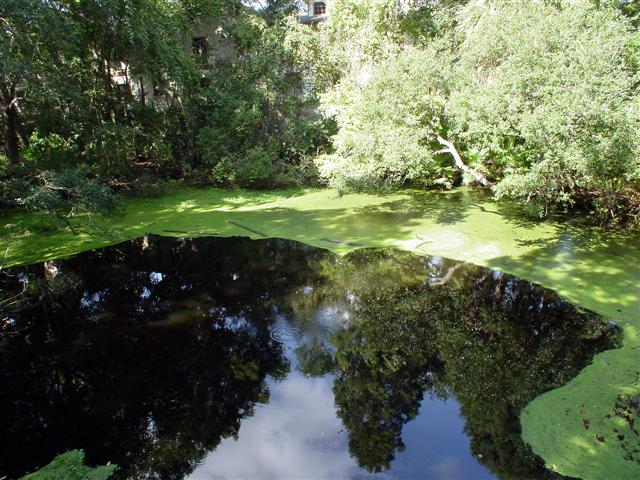 The Beacon Woods cave system was connected to
Wayne's World
(School Sink) in June 2002 by the South East Exploration Team (S.E.E. Team). This created a system with about 60,000 linear feet of explored passage. The system has been on-and-off explored for almost 30 years starting in the late 1970's. Currently the system is closed to the public. In order to get permission to dive the system you must first contact the
Beacon Woods Civic Association
.
The Beacon Woods system consists of at least 6 windows and has an average depth of about 150 feet. This means that this dive should be considered and advanced dive due to the need for TRIMIX as well as the deco obligations that will be encountered.
The southern most being
Round Sink
and the northern most being
Smokehouse Pond
. In the past, most dives were staged out of Round Sink. There is a pretty good deco trapeze from 10' to 40' and deco ladder of sorts from 50' to 90'. Be careful as these can get pretty tangled up with the debris in the sink.
Looking at the
overview map
from
Coastal Karst Foundation
, you can see that most of the Beacon Woods system is east of US-19 and north of SR-52 in Bayonet Point, FL.
Access via this entrance:
Round Sink is located near the end of a cul-de-sac next to a large pond. If you don't have permission to dive the system you can look forward to a group of residents waiting for you when you get out (maybe even with a deputy). The sink is just inside the woods and can only be reached by foot with the path starting near the pond. At the beginning of the path you will find a break in the woods. This foot path is marked with a no trespassing sign.
Date
Submitter
Visbility
Remarks
9/25/2005
Walter Pickel
1'-2'
The system was pretty nasty. A lot of crap on the surface as well as trees and branches tangled up in the trapeze. Very tannic!

Eric and I went to the 400' marker and turned it as the viz was not getting any better. A solid 2' if you didn't touch anything.
Click here if you would like to contribute any information or resources for this system.
Sslect Search Radius:
| System | Depth | Cave | Cavern | OW | Last Report | Distance (mi) |
| --- | --- | --- | --- | --- | --- | --- |
| Ward's Sink | 198 | True | True | True | 9/30/2022 | 8.3 |
| Hudson Grotto | 110 | False | True | True | 10/30/2021 | 1.6 |
| Arch Sink | 197 | True | True | False | 7/18/2021 | 8.9 |
| Palm Sink | 197 | True | True | True | 10/15/2019 | 2 |
| Rock Sink | | False | False | True | 3/24/2019 | 3.8 |
| Salt Spring | 330 | True | False | False | 12/13/2014 | 3.6 |
| Wayne's World | 280 | True | False | False | 8/16/2013 | 2.7 |
| Isabella Spring | 110 | True | False | False | 5/22/2013 | 4.6 |
| Free Ride Cave | 120 | True | False | False | 10/10/2009 | 5.1 |
| Cedar Island Springs | | False | False | False | 9/19/2009 | 3.7 |
| Double Keyhole | 230 | True | False | False | 1/11/2009 | 5.7 |
| Horseshoe Spring | | True | True | False | 1/10/2009 | 4.4 |
| Heart Spring | 270 | True | True | False | 8/3/2008 | 3.1 |
| Bobhill Springs | | False | False | False | 12/29/2007 | 7.5 |
| Jewfish Sink | 200 | True | False | False | 9/2/2007 | 7 |
| The Jewel | 315 | True | True | False | 6/2/2006 | 5.3 |
| Beacon Woods - Smokehouse Pond | 150 | True | False | False | | 1.2 |
| Snook Spring | 120 | True | False | False | | 5.1 |
| Coffee Sink | | False | False | False | | 7.4 |
| Nemesis Sink | 250 | True | True | True | | 6.6 |
| Beacon Woods - Nexxus | 150 | True | False | False | | 0.4 |
| Whiskey Spring | | True | False | False | | 3.4 |
| Beacon Woods - Stratamax | 150 | True | False | False | | 1 |
| Cauldron Spring | 85 | True | False | False | | 3.8 |
| Garden World Sink | 250 | True | False | False | | 5.4 |
| Brett's Toilet Bowl | 40 | True | False | False | | 3.8 |
| Star Sun Spring | 120 | True | False | False | | 5 |
| Beacon Woods - Golfball | 150 | True | False | False | | 1.2 |
| Beacon Woods - Briar Sink | 150 | True | False | False | | 1.1 |
| Gar Spring | | True | False | False | | 3.3 |