Rated 2.3/5 stars (292 ratings) Thanks for rating this cave system!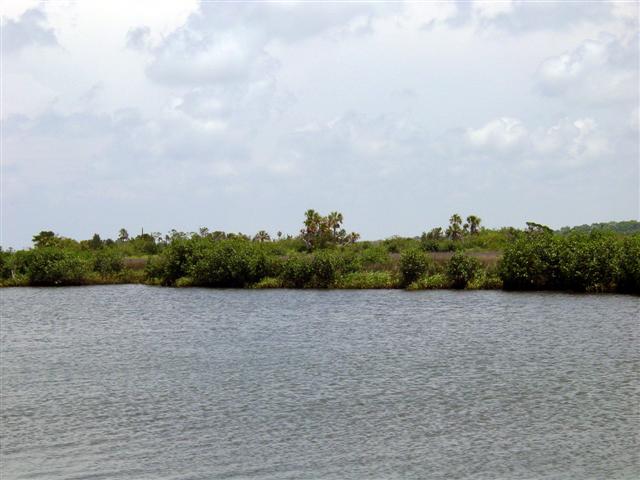 Data for this system is still being collected and analyzed. Click
here
if you would like to contribute any information or resources for this cave system.
Date
Submitter
Visbility
Remarks
1/11/2009
Walter Pickel
2'
Eric and I were going to map the resurgence of Double Keyhole from the western entrance. Visibility would not support surveying so Eric and Brett relined the resurgence passage. Be aware that there are now 2 guidelines in the system.
1/30/2007
Eric Deister
10'-20'
This weeks mid week dive took us to Double Keyhole, Walter and I arrived about 5:30 at the site to find out that the 4th of our group was missing a important piece of gear – his wing. Making a quick call to the nearest local dive shop, he was told that they wouldn't rent or even sell him a new wing since they were going to close in a few minutes. So now were down to a 3 man team. So after loading our gear in the boat we were off…Very slowly, with 3 guys and gear we had a couple of inches of clearance till we would swamp the boat, making it across the channel, we go out and walked/pulled the boat through the marsh. Making it to the open water again we cross to the far side near the cave. Standing in waist deep water we hauled all the tanks, stages and o2 to the edge of the spring, Walter also got the fish out of the boat that jumped in. Being Walters first dive here he ran a line from the top of the spring to the main line ( which starts in open water and the bottom ) Maestro went first followed by Walter. Dropping down in nice 74 degree water I'm greeted by big "chunky" silt and a nice flow since we were diving it just after low tide. Vis was a good 20 feet for the most part, I'm sure Maestro had it better leading in. Making our way up the main line we dropped stages at the deep section jump and keep going. The plan was for us to get to the super room and tie off and check out the top. The last time Maestro and I were in there the vis was 60 and were able to find a couple of leads dropping off. After tying off at 145 feet we ascended up, Walter had to do a deco stop that wasn't planned. While he did that, Maestro and I headed up to 40 feet to the fresh water lens up in the top. Going into the fresh water we hit a thermocline that was a20 degrees colder. The vis up in the fresh water was good but not great, maybe 50-70 feet. Going back down quickly to avoid the cold, Walter was coming up since he just finished his deco stop, and had to turn around ( sorry about that ). Going back out was nice since the slit had pretty much cleared out. Maestro checked out a couple of leads but decided not to do anything with them tonight. Deco was nothing special till we hit 20 feet, I took the passage that lead to the other spring about 200ft from Double Keyhole. Vis in there was nice, maybe 30 feet. At the half way point I met up with Maestro coming in. Between the two of us the tight passage between the spring and the halfway point now had zero vis…Making it back I found Walter and some how got him to do the traverse in the zero vis. The trip back to the trucks wasn't too bad since the tide had come in and we were able to ride the whole way back to the shore. After dinner at IHOP, a nice drive home and a quick shower, I was in bed a little after 1am..
1/30/2007
Walter Pickel
10'-15'
Viz was pretty consistant throughout the system at about 10'. Flow was positive and manageable. We dove midway between low and high tides with the tide ebbing.

We tied in at the bottom of the big room (135') and did an excursion to the top of the room (40'). Didn't make it to the top as the water was frigid. Overall a GREAT dive. As Brett says, "this is a caver's cave". If you are looking for great viz you won't find it here. However, it is an awesome cave that reminds me of both Wayne's World and Little Salt Spring.
4/2/2006
Eric Deister
10 feet
Vis was about 10 feet. My dive buddy was doing surveying work as we went up the main line to all most the big deep room. You can tell no one has been diving there in awhile.
9/9/2005
Steve Straatsma
8-10'
Access via canoe only, run is extremely shallow at low tide. Flow extremely high (Manatee-like), with highly particulate visibility. Dove during a rising tide, conditions improve slightly if you dive at high tide or slightly after. Short penetration to 92 ft, thumbed it on poor conditions.
Click here if you would like to contribute any information or resources for this system.
| Description | Type | Date | Author | Remarks |
| --- | --- | --- | --- | --- |
| Profile | Map | 2009 | Karst Underwater Research | |
| System Map | Map | 2009 | Karst Underwater Research | |
| System Map #2 | Map | 2005 | Gary Lemme | |
Sslect Search Radius:
| System | Depth | Cave | Cavern | OW | Last Report | Distance (mi) |
| --- | --- | --- | --- | --- | --- | --- |
| Eagle's Nest | 315 | True | False | False | 11/2/2022 | 10.4 |
| Ward's Sink | 198 | True | True | True | 9/30/2022 | 7 |
| Hudson Grotto | 110 | False | True | True | 10/30/2021 | 5.1 |
| Arch Sink | 197 | True | True | False | 7/18/2021 | 5.9 |
| Bulldozer Sink | 60 | False | True | True | 3/22/2020 | 8.7 |
| Palm Sink | 197 | True | True | True | 10/15/2019 | 4.4 |
| Hospital Hole | 143 | False | True | True | 4/15/2019 | 8.6 |
| Rock Sink | | False | False | True | 3/24/2019 | 9.4 |
| Diepolder III | 300 | True | False | False | 5/27/2017 | 11.6 |
| Salt Spring | 330 | True | False | False | 12/13/2014 | 8.8 |
| Wayne's World | 280 | True | False | False | 8/16/2013 | 3.4 |
| Twin Dees | 335 | True | False | False | 8/3/2013 | 8.9 |
| Isabella Spring | 110 | True | False | False | 5/22/2013 | 1.2 |
| Weeki Wachee Spring | 407 | True | False | True | 4/28/2012 | 9.4 |
| Diepolder II | 360 | True | False | False | 12/23/2010 | 11.4 |
| Gator Spring | 192 | True | False | False | 12/6/2009 | 10.8 |
| Free Ride Cave | 120 | True | False | False | 10/10/2009 | 1.2 |
| Cedar Island Springs | | False | False | False | 9/19/2009 | 3.1 |
| Horseshoe Spring | | True | True | False | 1/10/2009 | 1.5 |
| Little Salt Spring | 240 | True | False | False | 9/23/2008 | 9.7 |
| Heart Spring | 270 | True | True | False | 8/3/2008 | 6.2 |
| Bobhill Springs | | False | False | False | 12/29/2007 | 2.5 |
| Jewfish Sink | 200 | True | False | False | 9/2/2007 | 2.3 |
| The Jewel | 315 | True | True | False | 6/2/2006 | 0.5 |
| Mud Spring | 210 | True | True | False | 11/20/2005 | 9.6 |
| Lost 40 | 165 | True | False | False | 11/5/2005 | 11.6 |
| Beacon Woods - Round Sink | 150 | True | True | False | 9/25/2005 | 5.7 |
| Beacon Woods - Nexxus | 150 | True | False | False | | 5.4 |
| Beacon Woods - Smokehouse Pond | 150 | True | False | False | | 4.7 |
| Hospital Spring | 40 | False | True | False | | 8.5 |
| Wolf Sink | | False | False | False | | 9.5 |
| Snake Eyes | | False | False | False | | 10.7 |
| Star Sun Spring | 120 | True | False | False | | 1.2 |
| Snook Spring | 120 | True | False | False | | 1.2 |
| Joe's Sink | 60 | True | False | True | | 11.3 |
| Beacon Woods - Briar Sink | 150 | True | False | False | | 4.9 |
| Whiskey Spring | | True | False | False | | 8.6 |
| Nemesis Sink | 250 | True | True | True | | 6.7 |
| Nursery Sink | 214 | True | False | False | | 10.8 |
| Coffee Sink | | False | False | False | | 6.2 |
| Beacon Woods - Stratamax | 150 | True | False | False | | 5 |
| Jenkins Creek | 50 | True | False | False | | 7.8 |
| Garden World Sink | 250 | True | False | False | | 1.5 |
| Mary's Sink | 58 | True | False | True | | 11.4 |
| Gar Spring | | True | False | False | | 8.5 |
| Cauldron Spring | 85 | True | False | False | | 9.1 |
| Brett's Toilet Bowl | 40 | True | False | False | | 9.1 |
| Willow Sink | | True | False | False | | 9.2 |
| Beacon Woods - Golfball | 150 | True | False | False | | 4.8 |